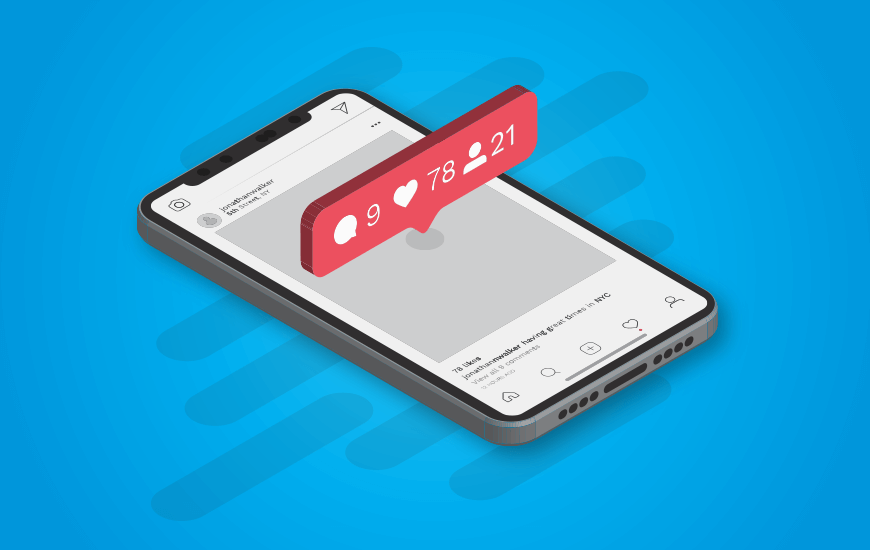 Instagram has already been considered as one of the best application of the decade and not just for the entertainment purpose but for professional reasons as well.
Right now, many of you might be thinking that Instagram is a just a social media application where all you can do is share pictures and videos. And people on instagram, will only like the pictures that seems entertaining to them.
That's the part where a majority of end-users are mistaken!
Instagram has now evolved into a much professional network of connections which consists of the end-users, celebrities, companies, influencers and brands. Just last week, this social networking site made its announcement of soon launching a standalone e-commerce app specifically focusing on shopping.
As per the recent reports by Statistia, the mobile internet advertising revenue of instagram worldwide is estimated to cross a threshold of $6.5 Billion (U.S. Dollars). And in the last three years or so, instagram app has shown remarkable growth in the mobile internet advertising segment.
Today, local as well as international brands are making their presence known through the means of this platform. Here, the size of your already existing fan following does not decide the success of your product or services. So, if you are a newbie on instagram who wants to cover more audience on social media then don't worry you can still make it big on instagram.
All you need to do is share high quality content and be consistent with your posts on social media platforms.
Now, that you are aware of the instagram mantra, let's move ahead with the basics of instagram marketing. Below are some of the key statistics about instagram that you need to know to get a better understanding of the platform:
There are over 25 million business profiles on Instagram and more than 200 million users visit at least one business profile on daily basis.
Around 80% of the total users follow more than one business or brand on Instagram.
Approximately 60% of people are introduced to a new product on Instagram.
After visiting a post, more than 70% of users take action for example, like the post, share the post, visit the website link, or make a purchase through the link etc.
Instagram app has proved to have the highest interaction rate, leaving behind other social media platforms like Facebook and Twitter.
Majority of people are spending more time on Instagram as users under the age of 25 spend at least half an hour on Instagram.
Getting to known Insta-ads
There are a number of ways that you can use to promote your company's service or brand's product on instagram. But in today's article we will be discussing more about how to promote your application using the Instagram Ads or we can say advertisements on instagram.
The option of Insta-Ads is comparatively new as the instagram app was released almost 8 years ago but this social media platform always gave the first priority to its users' security. But now the gates are open and every business profile has access to this option of advertisement on instagram.
Basically, the Instagram ads for apps are the sponsored posts that the user comes across while scrolling on his/her social media feed. You might have came across some sponsored ads on your image feed at some point in time.
The sponsored Instagram posts/ads are used by brands and other business profiles to promote their products and services to the users with a variety of different offers and deals. The main aim of Instagram ads is to influence the users to try out your services and then turn them into your loyal customers.
Types of Instagram Ads
Mainly there are two different types of instagram ads which are 'image' ads and 'video' ads. The image ad posts are the ones which are look similar to your basic Instagram post. Whereas, the video ad posts are those which include motion and sound to capture the user's attention. The average duration for an instagram video advertisement is 30 seconds.
Another type of ad posts is the carousel type, which is not so popular in comparison to the above-mentioned ones. In carousel ads, the business can add several images instead of one single image so the user can swipe to see all the content.
The Instagram ads are highly indistinguishable because of the way they are placed in between the user's image feed. That's the reason why many times the user fails to spot a sponsored ad in their feed.
Role of CTA in Instagram Ads
CTA stands for Call-to-Action and these Instagram ads offer various different CTA options to the users. The most popular CTA option among them is the option of 'Install Now' which is widely used to drive the app downloading number especially in the case of a new application.
Whenever the end-user clicks on a CTA option, they are then directed straight to the respective app store i.e. Google Play Store or Apple App Store. There are ten more 'call to action' options to choose from, other than the 'install now' option. Some of those CTA options are:
Watch More/ Watch Video: This CTA option is used preferably with a video ad post by showing the user a short 30 seconds clip and urging them to watch the complete video with the 'watch more' button.

Learn More: This CTA option is a general one as it can be used with both image ad post as well as video ad post, this is to offer the user to get to know more about the post and the business profile that is posting.

Sign Up/ Book Now: These are the kinds of call to action options where an initiation is being suggested for the end-user. For example, signing up for a new subscription service or book a spot for an event etc.
App Promotion on Instagram can be efficiently and effectively carried out with the help of the above-mentioned call to action options.
Reasons To Use Instagram For App Promotion
To promote your mobile app on social media platforms like Facebook, Instagram, Snapchat, and twitter it is essential to maintain a posting schedule so that the users can see the consistency in your posting routine.
With social media becoming a basic marketing strategy for mobile app to follow in order to escalate the number of application downloads. The Instagram ads are a phenomenal tactic to gain a larger social media following and if you have targeted the right audience. Then they might go ahead and install your app to access the service that your app is offering.
Here are some of the reasons why you should be using the instagram app and its platform for promoting your app business.
High Audience Engagement
A highly valuable asset of the Instagram application is the people who are the users of the Instagram that makes the audience of this multi-billion social media app. The Instagram has a high rate of an extremely engaging audience which has also contributed to increasing the average interaction rate of each post on this app.
Availability of Facebook Targeting
A few years back, Facebook acquired Instagram which gave the Instagram app users the access to the excellent targeting options of Facebook. These targeting options work great in creating posts that are highly relevant to the user's target audience. Using this powerful targeting method will ensure that your business profile is being showcased to your target audience group.
Focused User Attention
The users on the Instagram app offers their singular and focused attention on the posts, this is mainly because of the display style that this social media platform follows. The insta-ad posts are displayed in the native style format which displays the sponsored advertisement posts in between the user's image feed. Due to this technique, the Instagram app ads are able to receive the undivided attention of the audience which is what business profiles need.
Incredible Click-Through-Rates
This social media application offers incredible CTRs to its users i.e. a great click-through rate on posts including advertisements. This CTR also plays an important role when it comes to your app's placing in the Android or iOS app stores listing. So, give prior attention to the app store optimization techniques as well for example, including your app's video demo, using the right keywords, mentioning all features etc.
These ads are a significant method that answers the question of 'how to promote your app on Instagram'. With the help of the call to action buttons, the users are bound to click on those options if they want to know more about a particular application and the services that are being offered by that app.
Hope you enjoyed reading the role of instagram in promoting an application to a greater number of users. If you want to read more about latest updates in the social media then ahead over to our 'News' section to know what's trending.