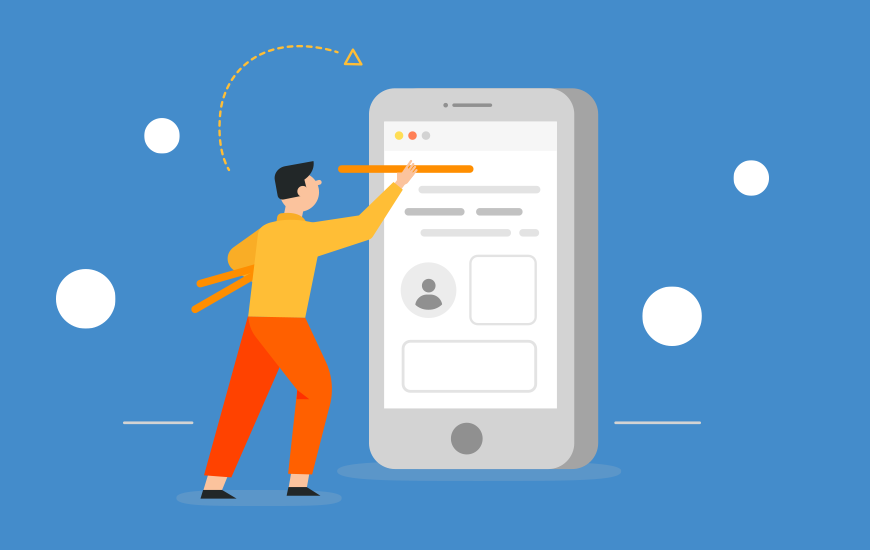 App Notifications can be referred to as a complex feature to design for applications and it doesn't matter if they are mobile apps or web apps, the process is similar. And this is exactly what has motivated the team of 'MobileAppDaily' to cover this topic. So in this article, we will be sharing with you the basic guidelines that you should follow while designing app notifications.
Along with this, we will be sharing three different notification design models for applications that can be used for designing app notifications. To know the right notification design model for your mobile app keep on reading. But before proceeding towards the notification app designing models, let's go through the basics quickly.
What are App Notifications?
The term notifications can be defined as compact pieces of information consisting mainly of a small amount of content like text or any other media like image and video. These notifications are generally originated from the web or mobile application and are targeted towards the app users i.e targeted audience.  
Main Components of an App Notification
A mobile app notification has a few important components that are required by notification to effectively serve its purpose.
Type: There are two types of app notifications which are actionable and informational. The actionable notifications provide the user an option to initiate an app while the other type just provides basic information. The types of notifications are finalized within the context of what the application is based upon.
Notification Badge: This component of app notification acts as a visual indicator for the users to alert them about the in-app notification. It's up to the app designers if they want their notification badge to be just a plain dot or something much more visually appealing.
Source: The source is considered to be a crucial component throughout the process because this is the place where app notifications generate from. A mobile app architecture can consist of several buckets where necessary information about the app and users are stored, and that's why these sources act as a key source for notification.
Information: The information component can be defined as the message or piece of content that needs to be sent to the end-users through app notifications. A couple of examples of this component are requests on social media platforms.
Anchor: The anchor is another visual component of the application where push notifications get surfaced on the user interface. In other words, an anchor is a base where the notification badge is displayed. One thing to keep in mind is that anchors cannot be stated as sources for the app notifications. A particular anchor can also contain notifications from multiple sources at different information levels.
Now you know that notifications are just a medium through which an app communicates with its end-users to increase the overall application engagement. It's time we move towards the top notification models that are currently trending and are being used by well-known organizations and businesses.
Top Notification Models For Designing App Notifications
Below are the top three notification models that are suitable options for designing notifications for your web or mobile apps:
1. Source Anchored Notification
In the case of a source anchored notification model, each and every notification is primarily anchored to a navigation option, which can be the source of that particular notification. This model does not have a single section for storing all the app notifications. One of the most common examples of the source anchored notification model is WhatsApp chat messenger.
This model offers several advantages to users such as leading them a way to discover more options regarding the application. Due to this, the user can directly reach the new content that is being promoted by the app notification without any requirement of including a mediator.
Model Guidelines
Because this heavily depends on the information architecture of the mobile app, you need to make sure that all notifications can be anchored to one of the navigation options on the landing screen of the app.
The number of sources of app notifications also increases as the complexity of the app is increased, for example, the number of sources is more in high-level complex apps in comparison to medium-level complex apps.
You should use source anchored notifications only when all the active notification sources can be fitted on the app's landing screen.
It is very important to differentiate between the notifications that are read and the notifications which are still unread by the user.
2. Notification Center
The notification center model is considered to be a much more flexible model than the previously discussed source anchored notification model. This model provides a set portion for the storing of all app notifications, we can also say that it is a dedicated screen that is available for storage purposes.
The source of the notifications does not impact the storage locations regardless of their type. A great example of the navigation center model is the Medium, content sharing platform. On this platform, the bell icon can be referred to as the notification badge for the application.
Model Guidelines
The flexibility of accommodating every notification in the notification center model is what makes it a great choice for designing app notifications.
To avoid cluttering phenomena due to the repetition of notifications in this model, the app developer should avoid adding a large number of sources of app notifications.
One of your key responsibilities is to make notification easily accessible and discoverable for the app users. And in case of more possible notification sources, you can effortlessly use the notification center.
Even if you are running short on time, the flexible nature of the notification center model helps to minimize the chances of errors in finding anchors for all notifications.
3. Mixed Model
The name of this model speaks for itself, and the mixed model is basically the result of combining two of the above-mentioned notification models for designing. Almost every social medium platform is an example of this kind of app notification model that includes names like Instagram, Twitter, Facebook, LinkedIn etc.
For instance, the notification center part of this model acts as an option in the navigation menu of the application, which can also be used as an anchor for other notification sources later. Here, these anchors are not qualified as the landing screen for the app notifications.
Model Guidelines
As this model combines the source announced notification model and notification center model, it can be easily used for the majority of real-time case scenarios.
The mixed model is also dependent upon the navigation menu just like the source anchored notification model. So, to use this model the user has to go through different sources of notification.
If you have opted for this model, then you also have access to the nested sources in your application navigation menu i.e. notifications that are similar in nature fall under a certain category.
The mixed model consists of the properties from the other two models so it is crucial that you should identify and then rank the information buckets accordingly. The user can place these buckets of information in the architecture of the mobile app as per priority of the content it holds.
Final Thoughts
App Notifications don't work the same for everyone and tend to raise different emotions. For instance, some people find notifications useful but there are also people who find these notifications to be annoying. But in the end, app notifications are here to serve a purpose and also act as a powerful means to pass on important updates to the app users.
Designing notifications for an app can be a little tricky, but there's no denying the fact that app notifications act as a great tool for promoting user engagement with a marketing point of view. In case you want to get acquainted with more similar informative articles, just click on that 'Subscribe' button to stay notified.
And if you still have some answered questions regarding app notification designing then all you need to do is 'Comment' down below and we will get back to you ASAP!
Written By
Tanya Singh
Tanya Singh currently works as a Content Strategist for MobileAppDaily who is known to have an undying appetite for good content especially when it comes to trending technologies like Artificial Intelligence, Blockchain, and IoT. In her free time, you will find her binge-reading through the latest gadget and app reviews.
Follow