Lights, Camera, Edit- Find The Best Instagram Reels Editing App in 2023
We have listed some of the leading video editing apps that can elevate your social media presence by creating impressive reels for your Instagram posts.
Last Updated on :
May 23, 2023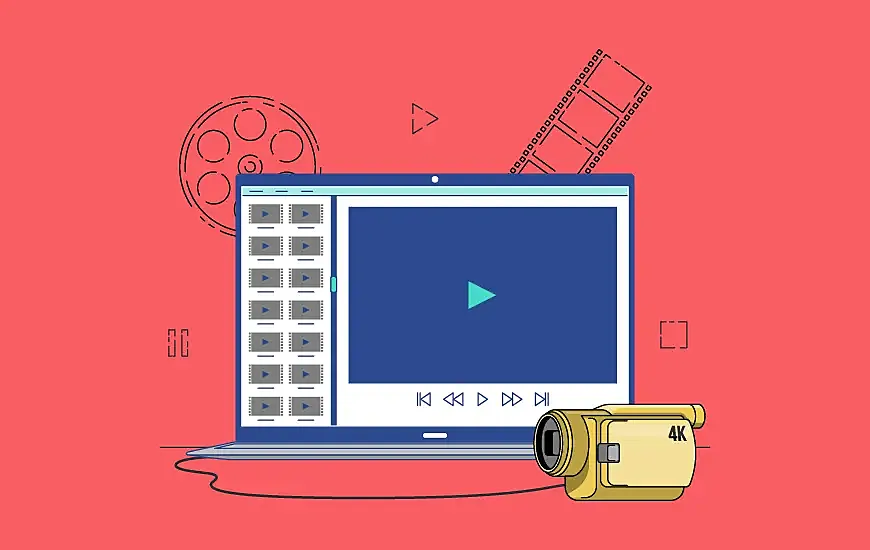 Instagram reels have become immensely popular kind of posts on the leading social media platform. Comparable to TikTok, the reels feature of Instagram allows users to upload and watch bite-sized video clips on trending songs and topics. This feature can be used for both educational and entertainment purposes.
The
latest Instagram updates
have made content much easier and quicker to consume. Instagram reels are an ideal solution to strengthen marketing, boost engagement, increase brand awareness, and do much more for your brand and business.
That being said, there are many brands and users jumping on the Instagram reels bandwagon as an effective strategy to
grow and enhance Instagram's reach
. With the increasing competition, it can be hectic to create content to catch viewers' attention. Creating mediocre-quality content will take you nowhere and will be put to waste.
Instagram does not offer many options to edit reels on the app, this is where
video editing apps
and tools can come in handy for you. In our article, we have highlighted the best editing tools that can help you create amazing-looking and professional-quality content for your Instagram reels.
Our Top Picks
Often dubbed as a replica of TikTok videos, Instagram reels are extremely popular and fun to watch. We have curated a list of Instagram reel-editing apps that are available for both iOS and Android devices.
Video Editing Apps For Instagram That You Should Try For Your Next Post
Our article covers the best video editing apps for Instagram reels that can help you edit like a pro. All the Instagram reel editors are easy-to-use and are vetted based on their usability, interface, customer reviews, and other features. Let's head to our list now!
1.
InShot
4.9
4.6
InShot is one of the most popular video editing apps for Instagram. It is a feature-rich app that is available for both Android and iOS devices. This Instagram reels editor lets you drill down into all sorts of editing for your social media posts. The app lets you edit videos in both horizontal and vertical formats.
You can convert and edit video formats with just a single tap using this Instagram reels editor app. The app provides a plethora of options, including after-effects, transitions, splits, pre-cuts, animations, and more.
Features of InShot - Popular Instagram Reels Editor
Edit and compile multiple videos in one go

Enables you to add and edit songs and audio

Simple and easy-to-use interface

Allows you to precut, duplicate, and manipulate the speed

Offers a 'Canvas' option that allows multiple orientation options
2.
KineMaster
4.7
4.1
KineMaster is one of the easiest and best video editing apps for Instagram reels. It is a go-to app for many users as it offers multiple transition effects, animation tools, editing, and motion movements as well. It is the best Insta reels editing app that can turn a raw video into a flawless and professional-looking post.
This Instagram reels editor can be used without any charges; however, the video be downloaded with a watermark. You can try the app for yourself through the 7-day free trial. You can also export the video in high resolution and save it to your device.
Features of KineMaster - Best editor for Instagram reels
Multiple editing options- cutting, relocating, reversing, clipping, and more

Allows you to monitor the progress alongside editing

Offers an Assets Marketplace which is filled with effects, title slides, transitions, etc.

Simple and intuitive interface

Advanced editing tools for professional-looking videos
3.
Splice
4.6
4.4
Splice is one of the best video editing apps for Instagram, which is suitable for users who are inspired by Hollywood-style transitions and effects. This app is highly rated and recommended by users for its easy-to-use professional editing tools.
This app makes it easy for both professional and amateur content creators to edit Instagram reels through their smartphones. You can enhance your videos with a variety of editing tools and transition options available on the app.
Features of Splice - Simplest and the Best Video Editor for Reels
Best Instagram reel editor app for social media influencers who post regularly

Allows you to trim and crop videos as per your requirements

Allows you to add music through the audio library and also supports iTunes integration

Smooth out shifts between images and videos

Apply effects, transitions, animations, and more to enhance Insta reels
4.
Adobe Rush
4.6
4.0
Adobe Rush is the most premier and popular Instagram reels editing app that is used by many social media content creators. The app allows you to edit Instagram reels with a comprehensive suite of the simplest and the most straightforward editing tools. This app is thus extremely simple to use and create social videos and reels.
It is an advanced Insta reel editing app that is available for both smartphones and desktops. In addition to editing, the app also allows you to add titles, fix colors, customize motion graphics, and do a lot more with just a few simple clicks.
Features of Adobe Rush - Free and the best video editor for reels
Cross-platform editing software

Allows you to effortlessly work from any location

Supports heavy editing work with its exclusive editing tool kit

Exports videos in HD quality

Provides ready-to-publish content for Instagram
hype your product on mobileAppDaily
With our strategically designed marketing solutions
5.
Canva
3.5
4.8
Canva is the best video editing app for Insta reels that has turned out to be the creator's favorite for many years now. The app benefits all, be it a professional or a new beginner. Canva provides a wide range of tools that can help you create high-definition reels for social media that are sure to perform well in the algorithm.
The best part about using this Insta reels editing app is that it lets you share the video directly to your social handle. Canva offers a set of powerful editing tools that can assist you in creating projects even as a beginner.
Features of Canva - Free Instagram reels editing app for your smartphone
Ready-to-use templates for Instagram reels and posts

Social media scheduler that can automatically post the video to your account

Export, schedule, and publish videos from anywhere

Multiple team collaboration features for users

Basic tools and templates can be used for free
6.
Filmora Go
4.7
4.7
Filmora Go is an Instagram reels editing app is a popular choice for users that allows you create stunning videos at your fingertips. It is a simple-to-use app that provides all the essential and professional-like tools to support video editing.
You can access all the tools for free; however, there will be a watermark on the video when you import it to your device. With its simple-to-use editing tools, Filmora Go is the best video editing app for Instagram reels.
Features of Filmora Go - Best Insta reels editing app for phone
Available for mobile phones and desktops

Hosts a range of features- stickers, animations, voiceovers, and more

Offers a royalty-free music library

A range of canvas options to suit your requirements

Best-suited for beginners
7.
LumaFusion
4.8
3.7
LumaFusion is set to be the best free video editing app for Android. The app offers a seamless editing experience for beginners and professionals. Comparable to other Instagram reel editing apps, LumaFusion offers powerful editing tools and features, including green screen, chroma key VFX effects, color correction tools, and more.
The app has been a hit and is the best video editor for reels on Mac and other iOS devices. It is rated among the best video editing apps for Instagram as it supports fast and smooth working and is filled with all the advanced editing tools.
Features of LumaFusion - Insta reels editing app for Android and iOS
Allows you to add your favorite music and audio

Supports fast loading and downloads

Simple and intuitive UI/UX

Enables editing in portrait and landscape mode

Easy to use editing tools to achieve cinematic quality videos
8.
WeVideo
4.6
3.8
WeVideo is an Instagram reels editor online that provides the best editing tools for content creators and professional video editors. This is an all-in-one video editing app for Instagram that can be used to capture, edit, and view video footage.
This Insta reels editing app is preferred by users as it is cloud-based and thus takes up very little storage space. WeVideo is both web-based and app-based, it can support you with an inclusive suite of editing tools for all levels of expertise. You can create professional-quality reel videos for both personal use and online sharing.
Features of WeVideo - Best Insta reels editing app
Supports 4k resolution and high-definition videos

Enables green screen and other effects

Intuitive and user-friendly interface for beginners

Huge library of royalty-free music

Cloud service that allows easy access from anywhere
publish unbiased & detailed reviews
That Promote Your Product's USPs
Conclusion
After reviewing all the best video editing apps for Instagram reels, it is safe to say that there are tons of options available on the app stores. Instagram reels editing apps can help you create high-quality content to engage your audience. These apps can be used to customize and enhance your reel videos in no time.
A video editor for Instagram reels can cover the limitations of the native reel editor available on Instagram. The best video editing apps for Instagram reels will create a video that will make you stand out from the rest. So, we recommend you use these apps to improve your reel visuals and improve your chances of a better reach on popular social media platforms. We hope that this list of the best video editing apps for Instagram reels will level up your editing skills.
Lastly, if you are an app owner and wish to get your app reviewed, contact us at MobileAppDaily. Our expert reviews can help you explore new grounds of success for your app and will ensure a better reach for the same. Till then, keep on exploring MobileAppDaily for more insights, information, and updates on mobile apps and more.
Written By
Pallavi
Content Head at MobileAppDaily
She is an avid writer of technology and trending mobile apps. When she is not busy updating you about the tech world, she spends time reading books and playing guitar.
Follow
Take the first step to
your Product's growth