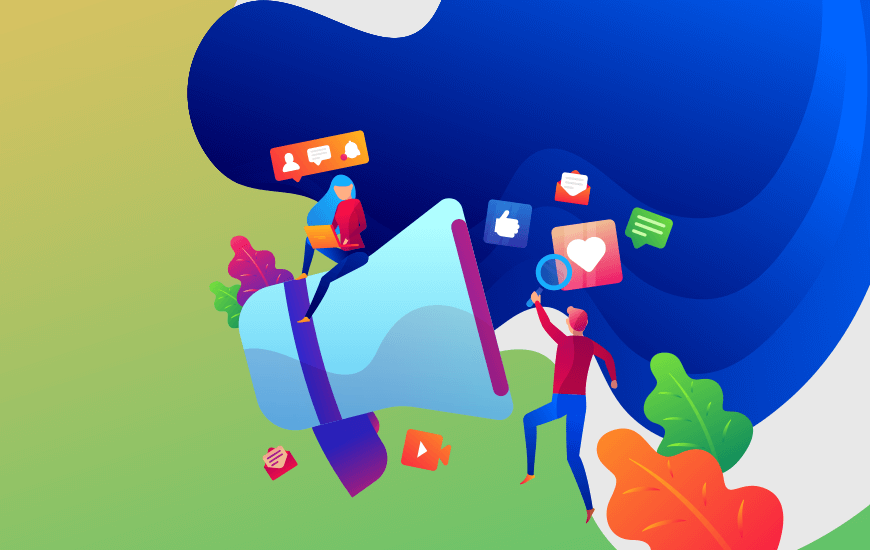 One thing that we can say about trends is that they keep on changing, and every year we get introduced to new and latest trends. The same thing is with Marketing Trends, and if you are not up-to-date with current trends then your business can suffer major blowbacks. That's why we have curated a list of the top Mobile App Marketing Trends for 2019 with experts in the respective field.
As many of you might think that these advances in mobile app marketing are coming too fast to catch up. So, we took this all a step ahead by providing you a platform where you will be the first one to get notified with these upcoming advancements. And not just in the field of marketing but everything else related to the mobile app industry like mobile app development trends.
Two years back in 2017, tech giants like Apple, Facebook and Google made some major headlines by launching advanced products that were specially built to increase their share in the app marketing industry. This was the same time when social media platforms like Snapchat, Pinterest and Instagram were stepping up their game as well.
Mobile App Marketing Trends That Will Shine Bright in 2019
'Go Mobile or Go Home' is the motto that entrepreneurs and companies are opting for their businesses. The main focus of these mobile app marketing trends is to achieve exponential growth while catering to the needs of the consumers through the means of mobile devices.
According to a report by Gartner, it was stated that more than half of the total number of consumers will be using their mobile devices first for anything that they require to do online. For example, reading a product review, ordering groceries online or binge-watching a TV series.
Another report by Comscore released that the mobile devices (i.e. smartphones and tablets) dominate the total time in terms of minutes that is spent online by users. For instance, in the USA approximately 71% of total digital minutes comes from mobile devices while in Indonesia a total of 91% of time spent online comes from mobile devices.
Now that the stats and facts regarding mobile devices taking over the world are out of the way, let's move straight to the trends of the mobile app marketing sector that will be highlighted in the year 2019.
Here's a list of mobile app marketing trends that you just can't ignore:
1. Influencer Marketing: For True Capitalization
We are currently living in a world where social media platforms play a very important role in spreading news or for promoting different products and services. And social media influencers are the ones who rule platforms like Snapchat, Instagram, Twitter etc. As the name suggests, the influencers are the people who use the power of their social media profiles to influence the user base that follows them.
Today, major brands are adopting the means of collaborating with top influencers of their respective industry vertical as a means of marketing, this is known as influencer marketing. This marketing strategy has yet to achieve its full caliber so it will be interesting to see how influencers will contribute to marketing a company's product/service to the targeted audience.
Example of Influencer Marketing:  The brand can hire an influencer to spread the word about your business by reviewing the brand's services and posting your options on social media platforms in the form of a YouTube video, a testimonial or a blog. For instance, we have taken the example of a fitness blogger that is promoting a beverage brand via their Instagram profile here.
2. Fraud Protection: Spreading Awareness
It's 2018 and one of the things that is giving the web and mobile app development industry a hard time is digital frauds that is happening so often. Everything that you see on the internet is not true like many news turns out to be hoaxes and some eye-catching deals can be hazardous for the user's mobile device as well as personal data.
From the past two to three years, the incidences of security breaches, valuable data compromisation, and software hacking have escalated to a level of worry. And this is the reason why mobile app users want the surety that the service that you are offering is secure and doesn't have a potential risk to it.
The below-mentioned steps can be taken to prevent yourself from being a victim of fraud:
Fraud Alerts: The fraud alerts are those message notifications that inform people about potential threats related to their identity verification. These alerts are very effective in preventing a fraud against an individual as they have the option to decline the verification check.
Security Freezes: The aim of a security freeze is to stop any financial fraud from happening in terms of loans, credit cards, money transactions etc. The consent of the user is required in order to proceed with the transactions and if there is no consent the user's account freezes automatically.
Responding to Identity Theft: Be informative about the process of preventing and responding to identity theft. Take immediate instructions and follow the step-by-step guide to recover your personal data from identity theft.
3. Marketing Ecosystem: Simplifying the Complications
Another trend that is likely to be among the top mobile application marketing trends is the evolution of the marketing ecosystem. This can be referred to as focusing on a wider ecosystem that doesn't revolve around a single aspect of marketing. Smartphones are much more than just mobile and web apps, as they can be transformed into a solution for almost every problem. For example, on-demand solutions like healthcare, retail, transport and many more.
Today, mobile engagement involves several channels like mobile wallets, push notifications, messaging with extra conventional facilities such as chatbots in the messaging applications. The businesses need to focus on targeting users with customer-centric marketing strategies where products and media are not the centers of the whole process. With these customer-focused strategies, the organizations will be able to bridge the gap between the companies and the customers.
One key point to remember here is that customers are no longer the responsibility of just the marketing department of a company now the customers are the biggest concern for the entire organization.
4. User Targeting: By Customer-centric Approach
An effective marketing technique is the one where a specific user target approach is implemented and that can be achieved by using the STP model. The term STP stands for Segmentation, targeting and positioning, which is an approach that is gaining popularity as a modern marketing tactic. This model comes in handy during the process of creating marketing communications plans as it also helps in prioritizing the development propositions to engage with various user bases.
The above image shows the working process of the STD model which starts with segmentation of the market to target one or more than one targeted segments. Once the target segments are finalized, then the user needs to develop a marketing mix with a product positioning strategy for each segment that was selected earlier.
The STP approach is a great choice for those businesses who are looking forward to adopting some modern marketing tactics. It is also very relevant with respect to digital marketing as it can help in creating much more relevant digital communications using an audience segmentation approach.
5. Ad Monetization: For Incremental Revenue
As we have also stated in one of our previous articles on mobile app monetization, ad monetization is the future of how free apps will earn money.  Ad monetization is bound to grow as well as drive incremental revenue for companies in the next few years. This has also led to the rise of freemium apps in both the Apple App Store and the Google Play Store.
Now let's have a look at monetization techniques that can fulfill the criterion of being a progressive ad monetization strategy:
Sponsorship Model: The sponsorship model is a great app monetization technique where app developers or app owners try to build partnerships with brands and advertisers that also have the same industry vertical. For example, an online shopping mobile app should be sponsored by a  company that belongs to the retail industry.
IAP Services: The IAP services are also known as the In-App Purchase services that are considered highly valuable for promoting a product or service provided by the mobile application. Some of the most common use cases in IAP services are coupons, discounts, sale deals or limited time period offers etc.
Crowdfunding: This marketing strategy is a brilliant way of raising money from a large number of people who are willing to contribute small portions to an individual's project or startup business. The entrepreneurs/companies can also offer these contributors some additional benefits regarding their products or services. Some examples of successful crowdfunding campaigns are Ouya, Pebble E-Paper Watch and Pono Music.
6. Data Optimization: Adopting a Creative Way
Another major app marketing trend that we are likely to witness next year is the optimization of data in a creative way. This creative data optimization will also help in increasing the return on ad spending as well. These are the two things that are focused on:
Better optimization of brand campaigns to reach expected revenue goals rather than CPI (Cost-Per-Install) goals.
To run creative ads that can lead to more genuine and long-term users that contribute to overall revenue profits.
In 2019, marketers will surely take progressive steps to increase the post per install conversations as well as deep funnel actions. This will be done by including more platform tools that are specially designed for targeting the deep funnel actions and its value.
7. Content Formats: Dynamic and Engaging
Advertisements have now become the ultimate source of revenue for many online businesses that means if not used properly, these ads can either make or break your major income goals. And this is the part where the ad formats come into action because you can't just place ads in your mobile app and then expect it to make a large amount of money.   
There are several types of digital ad formats like content/native, video, social, display, and search ad formats. The reason you need to choose the ad formats for your app wisely is that in the upcoming years, ad formats will be required to become more interactive, dynamic and engaging.
According to a recent report by Smart Insights, it was stated that video, social, and display are the three main digital ad formats that have the highest annual growth.
Another thing that will play a crucial role in these ad formats is AI i.e. Artificial Intelligence, we will be discussing the role of artificial intelligence in more detail in the next trend. The marketers will integrate AI concepts to know about what types of content should be placed inside different types of ad units
8. Imposition of A.I.: Optimizing Media
Artificial intelligence marketing a.k.a. AI Marketing is an advanced method of leveraging user data with the help of various AI concepts like machine learning. This method is mainly used to predict the next move of your target user and thus, improve their user experience.
Here are two of the main reasons why marketers are imposing the concepts of artificial intelligence in the field of marketing:
For Creative Ads: The marketers and advertisers will no longer have to worry about media buying functions because those operations will be taken over by artificial intelligence configured devices. Along with media buying, AI can also handle other functions like bid rate optimization and budget allocation. Some of the organizations that have been developing AI technology for years to make the media buying process more efficient and also effective are Snapchat, Google and Facebook.
For Optimization of Media: As we have briefly discussed before, the AI technology will be used to make the advertisements smarter and more creative. Now, we are not suggesting that AI-powered computers will entirely take over the creative process as it requires two main factors that currently computers lack: Imagination and Emotions. But this fusion of human-powered creativity and computer-powered analysis will surely bring an evolution in the marketing industry.
Artificial Intelligence helps in bridging the gap between creative elements and the use of machine learning concepts to achieve certain marketing goals.
9. Geolocation Optimization: For Impactful Performance
The term geolocation marketing can be defined as a marketing approach that is mainly based on the consumer's physical location (i.e. geolocation). This information about the location is provided through the means of GPS satellites, for instance, when you open the Google map and zoom in to see the accurate location represented by a blue dot.
Some of the main reasons why we should use geolocation marketing are to send location-targeted communications, to deliver personalized as well as contextual content, and to maximize the overall business revenue.
These are the different techniques that can be used to employ geolocation marketing:
Geo-targeting: In Geo-targeting the user's IP address is used for the purpose of tracking their exact locations. This method can be said to be ancient in comparison to the geo-fencing technique. One of the most common examples of geo-targeting is the online shopping websites that change the site's URL based on the visitor's company.
Geo-fencing: The method of geo-fencing can be referred to as a solution to the traditional approach of geo-targeting. In this type of targeting, the mobile device's GPS location is used rather than its IP address, that's why the information collection is much more precise.
10.  App Stores: Domination Tactics
The curation of app stores is another major trend that is claimed by many marketing experts to take over in the upcoming years. The two app stores that hold the majority of the web and mobile application shares are Google play store and Apple app store. In total, there are millions of apps in these app stores but only a couple of them end up being successful. The issue that arises here is to find an appropriate app that matches the preferences and requirements of the user.
To resolve this issue, both Google and Apple came forward with the app store curation that consists of editorial curation. Even though the app store curation is still in its initial stages, many believe that this trend will have a significant impact on the app monetization models.
Conclusion: Important Takeaways
Here are some of the most important takeaways from this entire article on the mobile app marketing trends of 2019:
Social Media Platforms that have now become crucial for marketing purposes.
With influencer marketing, a number of mediators are eliminated.
Fraud protection can not only be recovered but also prevented.
The STP model is the best option for modern-day user-centric marketing.
There's so much more in the marketing ecosystem to cover.
Sponsorship, IAP, Crowdfunding are the best ad monetization models.
In 2019, the data will be optimized in a more creative way.
The ad formats & content will become dynamic and engaging.
We will be witnessing high usage of AI Marketing.
Smarter approaches will be adopted to eliminate obstacles.
Geolocation marketing will be used for impactful marketing performance.
The way we use app stores will be changed.
Optimization will be the buzzword of the year as marketers will be focusing on upgrading their marketing strategies by integrating emerging technologies into their approaches.
With the help of this article, we have shared some of the latest mobile app marketing trends that are likely to be adopted in the year 2019. Hope that these valuable insights have answered some of the questions that you had in mind regarding the topic of app marketing.
Do let us know which trend according to you will turn out to be the biggest Mobile App Marketing Trend in 2019, in the 'Comment' section down below.