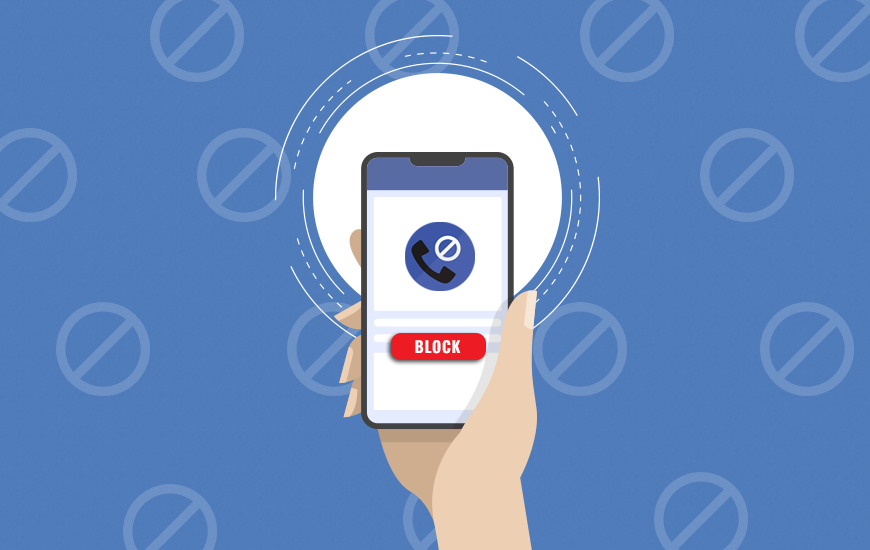 You can't deny that the smartphone is by far one of the coolest inventions, which not only establishes an effective communication channel but also serves multiple benefits. It will take you no time to connect with anyone across the globe using a smartphone - you just need to dial the person's number.
However, this accessibility can get annoying when unwelcomed people keep calling on your smartphones repeatedly. In these situations, you can use a call blocker app that blocks these unwanted callers to save your valuable time and save you from constant pestering.
In addition to blocking spam calls, these top call blocker apps also serve additional features like caller identity and other information about the caller.
List of Top Call Blocker Apps
If you are among those smartphone users who are having a hard time avoiding spam calls on a daily basis, then you shouldn't miss our list of the best call blocker apps in the market. Read on to know more about these call blocking apps:
1. Should I Answer?
Rating - 4.8
Downloads - 2,000,000+
The app functions just like its name, it helps users in deciding whether to pick up the call or let it ring. Should I Answer app also enables the users to block any particular number or contact form the phone. It divides the number into various categories to let the user know about incoming calls.
Among all the call blocker apps this one has the simplest user interface, the app contains billions of numbers in a database to help users. Should I Answer app is available at Google Play Store for Android Users only.
Key Features of Should I Answer:
Displays phone number rating immediately once the phone starts ringing.
Works in offline mode by using offline rating databases.
Quick access to detailed phone number information and user reviews.
It blocks calls from hidden numbers and premium rate numbers.  
Availability: Download for Android
2. Truecaller
Rating - 4.6
Downloads - 9,000,000+
Truecaller is the most popular choice among all call blocking apps, it is used by millions of users across the globe. Truecaller not only blocks the calls that you don't want to entertain but also provides substantial information about incoming calls.
Truecaller shows details like names, residential locations, and the professional community of the number holders. Truecaller works efficiently in delivering details about a number holder, you can also search the number in the search tab. Truecaller is available for both iOS and Android users.
Key Features of Truecaller:
Free chat options to connect with your friends and family on Truecaller
It can automatically identify every unknown SMS sent to you.
Users can block by a specific name and number series.
With Call Recording features, record important phone calls and save them.
Flash messaging for sharing locations and status updates with your friends.   
Availability: Download for Android & Download for iPhone
3. Avast Mobile Security & Antivirus
Rating - 4.6
Downloads - 5,000,000+
The popular Antivirus Avast also offers call and SMS blocking services in its mobile app. You can access the feature in your Avast antivirus mobile app, the app offers some extra features under its premium membership. But the free version offers a call and message blocking service, and that would be enough for you.
You can put the desired numbers in the app's block list option to avoid calls from certain numbers. This option is ideal for the users who are already using the Avast antivirus on their phone. Avast antivirus app is available for both iOS and Android users.
Key Features of Avast Mobile Security & Antivirus:
Junk Cleaner features can instantly clean out unnecessary data, junk files, system caches, etc..
Antivirus Engine can automatically scan for viruses and other kinds of malware.
App Insights option to help users discover how much time they spend on each application.
The option of Wi-Fi Security can help users browse in a secure and safe manner.  
Availability: Download for Android & Download for iPhone
4. Sync.ME
Rating -  4.5
Downloads -  2,00,000+
Sync.ME can be easily referred to as one of the top call blocker apps that is available at the Google Play Store and the Apple App store. Here, users can update their contact photos, which are linked to their social networks, identify unknown phone calls, block spammers from all around the globe and much more. With the Sync.ME Widget, you can quickly identify unknown phone numbers without even having to open the app. Sync.ME is also free to download for platforms including Android and iOS.
Key Features of Sync.ME:
Users can get a Full Report with complete contact ID on their contact list, including names, numbers, and data from social media profiles as well.
With Caller ID, you can identify unknown caller ID and block unwanted calls.
Block Spammers features allow users to create their own block list.
The Merge Contacts option finds duplicate and similar contacts and combines them into one single contact with all information.  
Availability: Download for Android & Download for iOS
5. Call Control
Rating - 4.4
Downloads - 90,000+
Call Control is another great option for users who are experiencing a lot of spam calls a day and tired of hanging them up. It also shows the caller's identity to look up the details along with the call blocking ability.
Call Control also allows users to block SMS from a particular number. Along with this, the app also gathers scam reports from the users against the numbers and warns them about those spam numbers. The app is available for both Android as well as the iOS platforms.
Key Features of Call Control:
It provides backup for your contacts.
Users get features for advanced phone calls and SMS text blockers.
With the option of community blacklist, this app blocks spam, and telemarketers' calls.
Users can even find information about the last received calls without answering them.
It also offers the option to schedule the Do Not Disturb mode.  
Availability: Download for Android & Download for iPhone
6. Safest Call Blocker
Rating - 4.4
Downloads - 25,000+
This is one of the best call blocker apps for users looking for a call blocker app with a small memory storage need. The lightweight blocking app does the work efficiently and only serves the basic function of blocking calls and messages from blocked numbers.
Due to the small size, it takes very small space on the phone and works faster than its competitors. Safest Call Blocker app is the perfect option for users who just want to keep away unwanted calls from themselves.
Key Features of Safest Call Blocker:
It adds wildcards for 800 numbers like 1800#######.
It is one of the lightweight call blocker apps.
No subscription is required for this app.
Get notifications of blocked calls and blacklist numbers.  
Availability: Download for Android
7. Hiya
Rating - 4.4
Downloads -  150,000+
Hiya is an Android call blocker app that is free from any kind of advertisements. In addition to this, Hiya includes various features like reverse phone number lookup, caller ID security protection and many more. This call blocking app conducts a reverse phone search on an unknown number to find out if the call is being made from a fraud or a legitimate caller.
Key Features of Hiya:
Call Block & Spam Blocker features blacklist spam and robocalls.
Automatic alerts are sent to users to warn them about spam calls.
Unknown Callers feature identifies unknown callers in real-time.
With SMS Caller ID, users can identify unknown SMS text messages.  
Availability: Download for Android
8. YouMail
Rating - 4.3
Downloads - 70,000+
YouMail is a robocall blocker application which automatically stops scammers as well as telemarketers with an 'out of service' message. Users can block unwanted calls with YouMail with ease. It also has the option to delight callers by greeting them with custom greeting messages. The call blocking app also responds instantly to your contacts with an automated text or SMS asking them to provide updated contact information when they call.
Key Features of YouMail:
It automatically stops robocalls and telemarketers by playing them a "Number Out of Service" greeting.
YouMail app provides a better visual voicemail service.
The option of custom greetings for special callers.
It also includes free and effortless conference calls.  
Availability: Download for Android & Download for iOS
9. Mr. Number
Rating - 4.2
Downloads - 100,000+
This app is the smartest call blocker app among all the available choices. The app comes for free and lets users look up the 20 numbers for free and after that, the user needs to pay for the service.
Mr. number automatically blocks spam calls without blacklisting them and looks up users' call logs to detect and block 20 spam calls. You can download Mr. Number app from here which is available only for Android smartphones.
Key Features of Mr. Number:
It can block calls from a particular person, area code or even an entire country.
The app can intercept calls from private or unknown numbers and sends them to voicemail
It reports spam calls to warn other users as well.
The app comes with automatic caller lookup for recent calls in the phone's history.  
Availability: Download for Android
10. Call Blocker
Rating - 4.1
Downloads - 15,000+
Call Blocker app is a full-featured application that is available for free without any annoying ads. You can access all the features of the app without any subscription or extra charge, just download it and start using it.
The app offers all the basic functions for blocking calls and messages. While blocking a call you can choose options like silencing the call, answer a hangup or airplane mode in the Call Blocker app.
Key Features of Call Blocker:
Users can block the caller instantly with just a click.
It can directly whitelist or blacklist the callers.
Call Blocker app is easy and simple to use for beginners.
It provides you with quick access to the app setting. 
Availability: Download for Android
Conclusion 
So, this was our take on some of the best call blocker apps for Android as well as iOS platforms. We hope that this article provided you with some valuable insights regarding 'how to avoid unwanted calls with the help of call blocking apps'.
Also in case you are interested in reading more about such informative articles, then make sure to follow MobileAppDaily by clicking on the 'Subscribe' button to stay tuned with all updates.