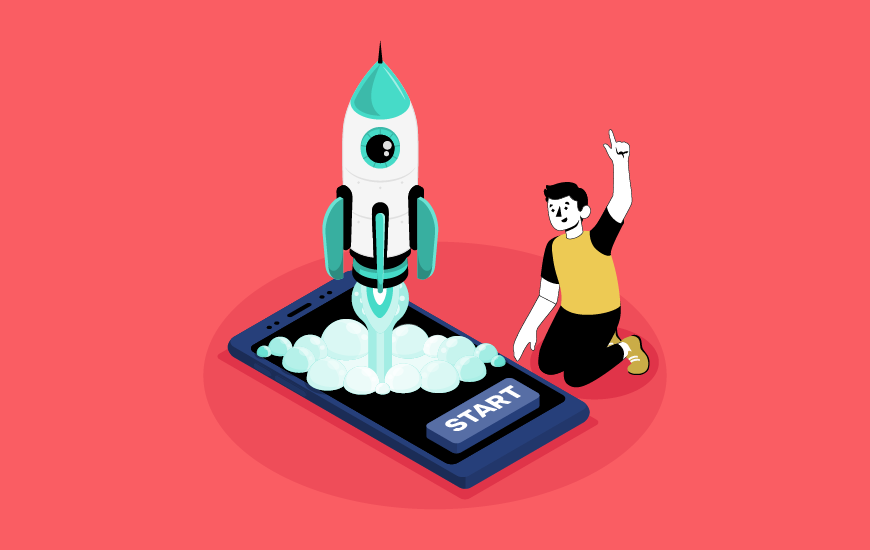 The quality of your product launch strategy influences the future growth of your product. If you are focusing on post-launch marketing more rather than first coming up with a successful product launch tactic, it is time to stop and rethink your strategy.
To entice potential customers, help them know your product better, and even make your product visible to the target user, your plan to create a successful product launch that drives sales has to be foolproof.
Clayton Christensen, a professor at Harvard Business School says, every year, 30,000 new products are introduced in the market, and among them, more than 95% of products fail.
Checklist of a successful product launch that drives sales
1. Research
The initial product launch marketing plan stage is researching the target market to find out problems that you can solve with your product. At this stage, the launch plan for new products is focused on the problems this product solves. To identify these problems, there are several categories of research that will take place-
Target consumer research - The success of the new product launch is based on how well you know your target consumers. Consumer research is important to gather data like demographics, income, employment, and more. This data can help you figure out the probability of your product's success in the target market.
Competitor research - There are products that have faced failed product launches due to the lack of time they spent on researching their competitors. Including competitor research in your product launch plan will help you figure out the pricing, features, sales volume, etc, of your competitors' products.
2. Product strategy
Once the market research is done and you have identified and targeted the problem you will solve with your product, it is time to develop a product strategy. This stage of your product launch marketing planning will cover any possible tweaks required for your product. If your research tells you that before launching the product, it needs some tweaks or upgrades, you will have to figure out a plan to make that possible.
3. Product testing
The product testing stage of marketing strategy for new product launches can help you predict user satisfaction levels. This stage will help you predict future bugs and glitches that might impact your product.
If your product is software or an app, there are plenty of automated software tools existing to help you identify the health of your product. This stage in your product launch marketing plan can save you from any negative impressions in the future.
Beta or Early release - A successful product launch marketing campaign that includes the Beta release of digital products has a better chance of success. The Beta release, or early release, as some call it, can help you collect useful feedback that can improve your product's quality.
4. Product release
Once the product is ready to be released in the actual market, your product launch plan roadmap has to discuss factors such as the pricing of the product, how you will market it, what communication channels you will use to target customers, etc.
Marketing strategy - Your marketing plan and what strategies you involve will impact the permanent reputation of your product. There are several marketing strategies mobile app marketing agencies recommend. For instance, social media marketing, email marketing, chat marketing, and more.
Pre-registrations - Inviting early registration or pre-launch registrations can be quite beneficial for the growth of your platform. Businesses even provide rewards to attract more users to register for their products. These early-stage registrations are also helpful if you want to have an idea of the usefulness of your product launch marketing campaign. Depending on the attention you attract and the engagement rates you see, you can decide whether your strategy is useful or requires a revamp.
Relevant communication channels - Depending on the target audience, the success of a new product launch strategy depends on its choice of communication channels. If you are targeting a younger audience, social media channels can be the perfect communication tool for the promotion of your product. Social media channels are perfect for product demonstrations, creative promotions, creating events, display ads, and more.
Lessons to learn - Examples of unsuccessful product launches
There have been many instances where product launch plans did not work out as product owners had planned. Here are three examples of failed product launch marketing plans that you can learn from.
1. Desti- An online travel guide app
The product launch plan of Desti did not help the app survive in the market for too long. Desti's services were useful, but the existence of trustworthy alternatives, like Lonely Planet and Tripadvisor, slowed down the growth of the platform.
Users in the market preferred other alternatives which they knew well for a long time. Lastly, Nokia acquired the app to use its map technology.
2. Blippy- A social networking/finance
A fusion of social networking and finance, Blippy existed between 2009 to 2011. The app allowed users to share credit card payments with friends and strangers. Blippy, a popular finance app, also overshared the data.
The platform showed users' friends the data of every purchase they made. A data breach in 2010 killed the user's trust in the app and became a reason behind its popularity decline.
3. Yik Yak- A British-born taxi app
The idea of anonymous social networking was interesting enough but soon it became a tool that people started misusing. Yik Yak became a platform where harassment, cyberbullying, and threats became the new norm due to user privacy.
These cases impacted the growth of the communication app and caused its developers to close the app down within four years.
Promotional tools for your digital product launch plan strategy
A successful product launch that drives sales is a combination of multiple tactics in motion. To promote your product, whether software or an app, you can use tools to reach out to potential users. These tools include-
1. E-mail marketing - One of the most effective methods to make potential users aware of your digital product, e-mails can be a great way to invite pre-registrations and often drop reminders of the product launch. Some popular email marketing tools that you can use are Mailchimp, HubSpot, MailerLite, GetResponse, Omnisend, and more.
2. Influencer marketing - Social media is the best way to connect with your potential product customers to get good engagement. Influencers on social media often have large networks of followers, which marketers prefer to leverage to promote products. Influencers can create dedicated content or promote the product in their regular content as well.
3. SEO - Including a dedicated website for your product in your digital marketing strategy for product launches can help you gain momentum as soon as you release it in the market. To grow the visibility of your website on search engines, Search Engine Optimization (SEO) is the technique that will come in handy.
This new product launch strategy includes steps like keyword optimization, high-quality content drafting and publishing, well-optimized web pages, and an easy-to-navigate website strategy, among others. You can hire in-house teams of SEO experts or recruit freelancers to help you with your SEO.
4. Referral programs - A marketing strategy for a new product launch that includes a referral program has a better chance of getting successful results. Referral programs attract user engagement by offering them some kind of rewards or perks. Also, referral programs help your product build trust in the mind of potential users as referrals come from the people they personally know.
5. Social media - Even without partnering with influencers, social media is still a perfect tool to promote your product launch. One of the best marketing tips for product launches is to create hype about the product even before it is launched in the market.
To do that, you can regularly post about the product, inform target users about its features and post creative content around the product regularly. Social media also allows paid ads, so you can boost your engagement if you have enough budget for it.
6. Target advertisements - Digital platforms paired with technologies like Artificial Intelligence (AI) and Machine Learning (ML) have revolutionized the advertising industry massively. Now, targeted ads are a thing that most mobile app launch checklists, software launch checklists, and other such promotional activities include.
Targeted ads are powered by user behavior data. These ads recognize users who might be interested in your product and show them your ads instead of showing it to everyone, which can be annoying for some people. This strategy helps you reach out to the right people and attract better conversion rates.
Examples of successful product launch marketing plans
There are many examples of recent successful product launches existing in the global app market. However, the new product launch marketing plans that were used by popular brands like Robinhood are always useful to get inspired. Here is the product launch story of Robinhood and a couple of other popular brands.
1. Evernote - A successful task management app
One of the most popular note-taking apps, Evernote's initial success is credited to its press coverage. The press coverage attracted thousands of users who were interested in Evernote's beta version of the app. Evernote also attracted lots of word-of-mouth traffic thanks to the initial stage of users and made a permanent presence for itself in the market.
2. Camera+ - A popular camera app
The story of growth behind this one of the most popular camera apps of today is quite inspiring. The product launch roadmap leveraged social media platforms well. The founders of Camera+ introduced the feature that lets people directly share their captures from the app to their social media platforms like Facebook or Twitter.
Camera+ also used its email networks which had 70,000+ followers by the time of its launch and marketed the app to them in their inboxes. Not only that, the global launch of the app helped, too, as there were many countries out there where an app like Camera+ had not existed yet.
3. Robinhood - A popular investment app
Did you know that Robinhood had almost one million users even before the app was launched? It's true. One of the most popular investment apps out there, Robinhood managed to hold people's undivided attention by offering a $0 commission fee.
Not only that but signing up for early access of the Robinhood app was as simple as entering your email address. Robinhood also organized a referral program where users with more referrals would get faster access to the app.
Wrapping up
Well, the success of a product launch that drives sales depends on multiple factors as we discussed above in the blog. So, however, one step that worked for many successful brands is proper research to identify if the product they are launching is able to solve a problem or offer something unique.
Take Camera+ for instance, the platform created the demand for a camera app that makes it easier to share on social media platforms. And it targeted the global market to create this demand.
Another example is Netflix which started as a DVD rental service but later transitioned into a successful streaming service. Netflix's story also became a survival guide for many app development startups looking forward to infiltrating the segment.
Both of these popular brands adopted and evolved based while also focusing on communicating well with their target markets. Anyway, that is all for this guide on creating a plan for a successful product launch that drives sales and helps your software attract amazing numbers of installations.
Written By
Aparna is a growth specialist with handsful knowledge in business development. She values marketing as key a driver for sales, keeping up with the latest in the Mobile App industry. Her getting things done attitude makes her a magnet for the trickiest of tasks. In free times, which are few and far between, you can catch up with her at a game of Fussball.
Follow
Want To Hire The Best Service Provider?
MobileAppDaily will help you explore the best service providers depending on your vision, budget, project requirements and industry. Get in touch and create a list of best-suited companies for your needs.