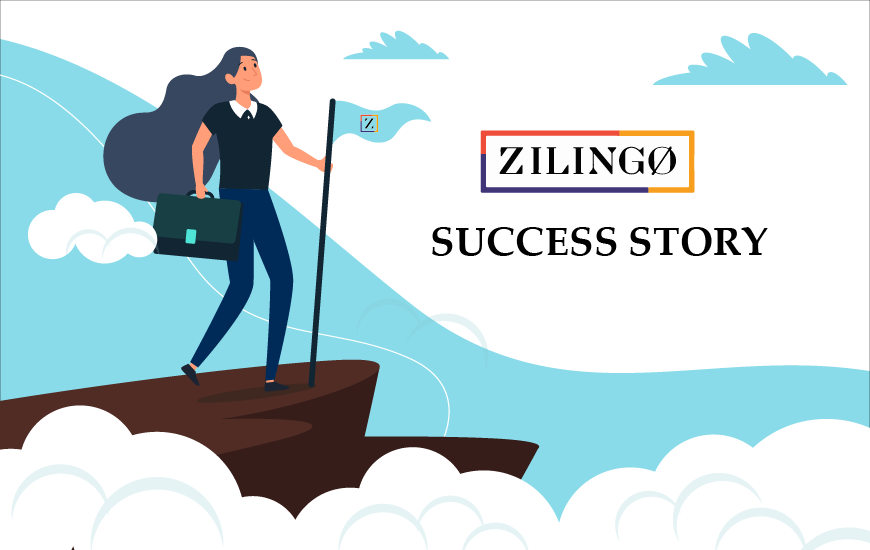 Ankiti Bose, 27, is on her way to being the first Indian woman to co-found a unicorn startup, soon to be valued at $1 billion.
Zilingo, the Singapore-based fashion startup, has not just digitized factory operations in S.E. Asia, but also lent working capital to businesses that don't get help from traditional financial institutions.
According to Bose,
Stairway to success
Zilingo was incepted in 2014, when Bose, while visiting Bangkok's iconic Chatuchak market, saw the untapped potential of business there. It had over 15,000 stalls, where 11,500 independent sellers had no digital access other than Facebook.
A year later, Bose met Dhruv Kapoor who had tagged along with a neighbor for drinks at her flat in Bengaluru. Following a discussion on potential prospects of Bose's business idea, the then 24-year-old software engineer was quickly sold on the idea.
Within six months, both of them quit their jobs, pooled their savings — $30,000 each, and convinced a handful of trusted friends to quit their jobs to found Zilingo — a play on the word "zillion".
Founding this billion-dollar startup wasn't easy. In order to get buy-ins from merchants, Bose had to travel across Southeast Asia and convince retailers that Zilingo could boost their businesses by plugging in the gaps- listing procurement, design, and financing. Meanwhile, Kapoor was building Zilingo's tech capabilities in Bengaluru, aiming to make it "as easy to use as Facebook. "
Funding Rounds
Over the last four years, Zilingo has raised plausible funding rounds, closing in on the unicorn status. The first seed funding round in 2015 was from Bose's former employer, Sequoia Capital India.
In September 2016, they raised an additional Series A funding of $8 million. The next year, Zillingo had an additional $18 million in the Series B round.
While in 2018, the company's revenue grew nearly four times, with an additional $54 million raised in the Series C round.
As of this year, the company has raised $226 million in the Series D round and has received $308 million in funding from investors, including Singapore's Economic Development Board Investments (EDBI) and sovereign fund, Temasek.
Where can you find Zilingo?
Today, the soon to be unicorn startup runs its operations with 27,000 merchants in 15 regions and has more than 500 employees across eight locations including the U.S., Australia and Hong Kong.
At present, Zilingo's primary revenue source (nearly 80 percent) is from its business-to-business operations, connecting brands with suppliers in Southeast and South Asia. This service was recently launched in the US to attract more American brands to use Zilingo's network of suppliers. Whereas, the rest 20 percent is from its business-to-consumer e-commerce service operates in six Asia-Pacific markets where it sells both branded products and items from smaller merchants.
The Next Step
By digitizing factory operations and connecting suppliers to brands, Zilingo was able to collect valuable data on the creditworthiness of companies. So anytime a company that did not meet Zilingo's loan requirements needed capital, the fashion start-up could provide the financial data of these users to other prospective lenders.
As of 2018, Online shopping in S.E. Asia reached $23 billion in 2018, according to a report by Google and Temasek. It's expected to exceed $100 billion by 2025. Bose is a part of a group of founders who are capitalizing on the region's rapid adoption of smartphones and rising incomes.
With the rise of e-commerce apps in the mobile ecosystem, Zilingo has trumped its way to the top. Especially with the US-China Trade War, as more and more US retail brands decide to relocate their manufacturing units out of China and into lower-cost countries in S.E. Asia. Zilingo along with its 4,000 factory operations in the region is rising as a winner.
Written By
Aparna is a growth specialist with handsful knowledge in business development. She values marketing as key a driver for sales, keeping up with the latest in the Mobile App industry. Her getting things done attitude makes her a magnet for the trickiest of tasks. In free times, which are few and far between, you can catch up with her at a game of Fussball.
Follow
Have your brand's
success story ready?
Our Audience Loves Reading Them.