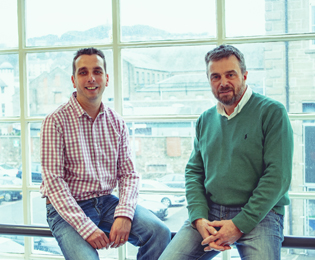 Nowadays, earning a name in this cut-throat competition is way too grueling. But, people who aspire high are never short of ideas, and that ultimately turns them into an idol for many budding talents. Same goes for Mark Petrie and Bob Lawson. Both of them are tech gentlemen, who kick-started their journey of a Mobile App software development business together in 2014 and till date, there is no looking back.
Kumulos is the company where they embarked their expedition and decided to build a hosting an API management system to help manage the server side of a mobile app. It worked so well that both the founders decided to keep this backend and start using it for lots of their apps. Since their platform was based on cloud, they decided that they needed to name their product after - what else - a cloud, and Kumulos was born.
The company spun out of Waracle, the UK's Largest Mobile App Development company. The technology was originally built to solve common problems they had with building and managing mobile app developments for their enterprise clients. Kumulos is easy to use mobile app management platform is trusted by thousands of app developers all across the globe with millions of connected devices managing billions of API calls & push messages a month.
Kumulos Now
Kumulos has evolved into the most comprehensive mobile app management platform for mobile app developers with Push Notifications, App Store Optimization, App Analytics, Mobile Backend as a Service, Crash Reporting, Document sharing & collaboration, content editing all in one place. But that's not all. It comes with a number of unique, turn-key features, like Client Reporting, Customer Web-portal, and full white label capability. The features are custom built to help busy mobile app development businesses who offer services to their clients.
"What makes Kumulos truly unique is the way it works for mobile app development businesses. Our platform is the only place to manage both the commercial and technical success of the mobile app. We call it Unified Mobile Application Performance Management. This lets you get control and manage the health and well being of the app, while at the same time get actionable insights into how the app is being used to improve the commercial outcome of the app." Bob Lawson, Director & Co-founder, Kumulos
Kumulos helps mobile app developers in more than 25 countries around the world and have an ever-growing list of Software Development businesses, Mobile App Developers and Digital Agencies building their business on the Kumulos Platform.
Kumulos Future
In the last couple of years, the Mobile Backend as a Service and Push Notifications market has seen major changes, as big players like Parse, Telerik, Xtify (others) have either consolidated into larger providers or left the marketplace. Through it all, Kumulos continues to offer industries leading award-winning services like push notifications, crash analytics, a robust mobile backend and more.
In 2018, Kumulos will continue to expand the features and functions it offers under Unified Mobile Application Performance Management platform to build an ever more comprehensive platform for mobile app developers.
Written By
Aparna is a growth specialist with handsful knowledge in business development. She values marketing as key a driver for sales, keeping up with the latest in the Mobile App industry. Her getting things done attitude makes her a magnet for the trickiest of tasks. In free times, which are few and far between, you can catch up with her at a game of Fussball.
Follow
Have your brand's
success story ready?
Our Audience Loves Reading Them.