There have been many mobile apps promising to ease the lives of small business owners. Today you'll find a range of apps for businesses on the market. With so many apps available, how do you choose the right one as a small business owner? What if we told you about an app that can save you time and money and eliminate the need of using separate apps for workers' comp, payroll, and time-tracking?
Hourly.io, an insurtech startup that combines workers' comp, payroll, and time tracking in one software platform, understands the needs of small and medium businesses with mobile and hourly workers. Hourly's payroll software is available for both Apple and Android mobile devices and online through www.hourly.io. Before using the app, you'll need to connect with Hourly's sales team to set up your account.
Hourly is the only company to combine workers' comp, payroll, and time-tracking on one platform for small and medium businesses in the skilled trade industry. Why put them all on the same platform? Usually, workers' comp premiums are based on yearly payroll estimates. And at the end of the year, a business's payroll is audited—and if they underestimated their payroll, they're slammed with a big workers' comp bill. They essentially have to pay for all that insurance they didn't realize they needed.
Hourly's innovation connects payroll and workers' comp using real-time data so small businesses get accurate premiums every month. Unlike its competitors, Hourly uses real-time payroll numbers to calculate workers' comp premiums to ensure that they are accurate down to the penny. While most insurance carriers only collect two data points, Hourly collects millions to ensure that premiums are always accurate. This is especially helpful for businesses with mobile and hourly workers who are constantly shifting between projects.
Whether you run a small company of your own, are planning to start a small business, or manage a small team with hourly or mobile workers, Hourly is one of the best workers' comps, payroll, and time-tracking applications that can help you save time and money and simplify workers' comp.
Background of Hourly
Tom Sagi, Shay Litvak, and Amir Faintuch co-founded and launched this workers' comp, payroll, and time-tracking service in 2018. Tom Sagi was inspired to create Hourly after previously running a real estate development company where he oversaw a team of more than 30 people.
He struggled to process payroll manually and calculate accurate workers' comp premiums. He searched for a solution to his problem and was shocked to discover that there were no companies offering services that directly linked payroll and workers' comp to calculate premiums based on real payroll numbers. He decided to do something about it—and Hourly was born.
Features of Hourly 
Hourly's platform comes with features that streamline workers' comp and payroll processes for small businesses—while saving customers money on premiums by linking payroll data to workers' comp. Here's how this software makes it possible.

1. Comes with a GPS-based attendance system


Hourly uses GPS data to determine the location of employees working for you along with additional data such as hours worked, clock-in and clock-out time, job location, job type, etc. 
Hourly offers these GPS-based features :
Designate areas for employees to clock in and clock out
Enforce 8-hour days to limit employees from working overtime
Enforce time card approvals so employees sign their time cards before receiving their pay
Enforce mandatory breaks for employees
Set up and enforce clock-out reminders for employees
2. Streamlines the payroll system

Hourly offers a set of features for small businesses to help them streamline their payroll system: 
With Hourly, it's easy to calculate, file, and pay local, state, and federal payroll taxes with a single click
The platform also issues and files W-2s and shares them with employees and contractors of the business
Hourly uses e-file, e-sign, and e-fax technologies to file tax forms like W-2, 1099, 940, 941, and other such local, federal and state payroll tax forms for companies
3. Pay your team on the same day with direct deposit
Hourly pays your employees on the same day if you process payroll before 10 AM. And you can run as many payrolls as you want without having to pay any extra costs. Some additional payroll benefits include:
Flexibility to pay weekly, bi-weekly, or bi-monthly
Suitable for both temporary and salaried employees
Monitor and approve employee expenses manually
Process prevailing wages from the same app
4. Automate the tax filing process
With Hourly, you don't have to calculate payroll taxes manually. Hourly's platform saves time and cuts down on paperwork by calculating your payroll taxes and filing them on your behalf. Press the payroll button and let the app do its magic. 
Hourly offers additional tax-related features as well, including:
Export payroll reports in Excel and PDFs
Automate deductions of pre-tax benefits like medical insurance and 401(k) among others
Add pre-tax or post-tax deductions
5. Smoother employee management with Hourly
When you run a business, you face many different challenges. Hourly's team of experts understands this. As a result, Hourly provides assistance from experts that can help you solve your HR queries—and users can always speak to someone on the customer success team. Hourly also offers other features to upscale your employee management experience, including:
New employees can fill in their information like contact details, bank information, and W-4s directly on the application
Employees' paychecks are directly deposited to their bank accounts
Set leave policies and keep track of employees' time off
Provide employees with a reloadable debit card so they can access their pay immediately and without a bank account
The Employee Document Center keeps employee forms organized in one place. Employees can even sign forms directly from their phone
How does Hourly work?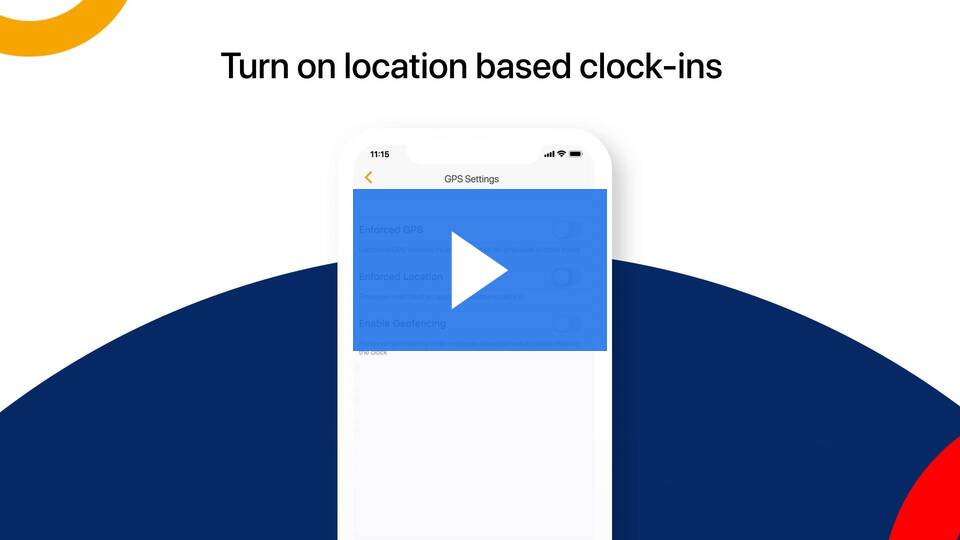 Contact the Hourly sales team to set up your account
Download the Hourly software from your smartphone's app store
Hourly uses GPS to provide employee location data 
Financial information like bank account and tax information is used to streamline payroll
Hourly's Premium Plans
Hourly comes with a 90-day money-back guarantee. Whether you don't like the payroll service software or don't find it suitable for your business, you can request a complete refund of your subscription cost within 90 days of signing up for Hourly.
The premium Hourly subscriptions are divided into two categories: Gold and Platinum. 
Additional features of Hourly
Wrapping up
If you need a tool to bridge the gap between your workers' comp and payroll, Hourly may be the right solution for your small business. The app is a cost-efficient option and comes with many different features to pay and protect your team, including unlimited payroll runs, same-day direct deposits, next-day paper check delivery, automatic tax filings, and precision time tracking among many other features. The interface is user-friendly and onboarding is quick and seamless, making Hourly ideal for even the non-tech-savvy.  
The app is continuously updated and new features will be added in the future. Hourly is available as an app for both Apple and Android and is accessible online at www.hourly.io.   
The Hourly platform complies with workers' comp and payroll regulations making it perfect for small enterprises seeking to avoid the hassle and paperwork of manually filing payroll taxes and calculating workers' comp premiums. The Hourly app makes billing easy, accurate, and automatic—with just the press of a button.
Do you have an app that you'd like us to review? Get your app reviewed by sending it to us for an in-depth review to help build your app's virtual presence.
Visit Website