Get Personal Financial Assistant on your Smartphone with these 10+ best AI-Based Financial Apps
The article provides an inclusive list of the best AI-based financial apps that can assist you in all financial services, from trading to budgeting.
Last Updated on :
May 01, 2023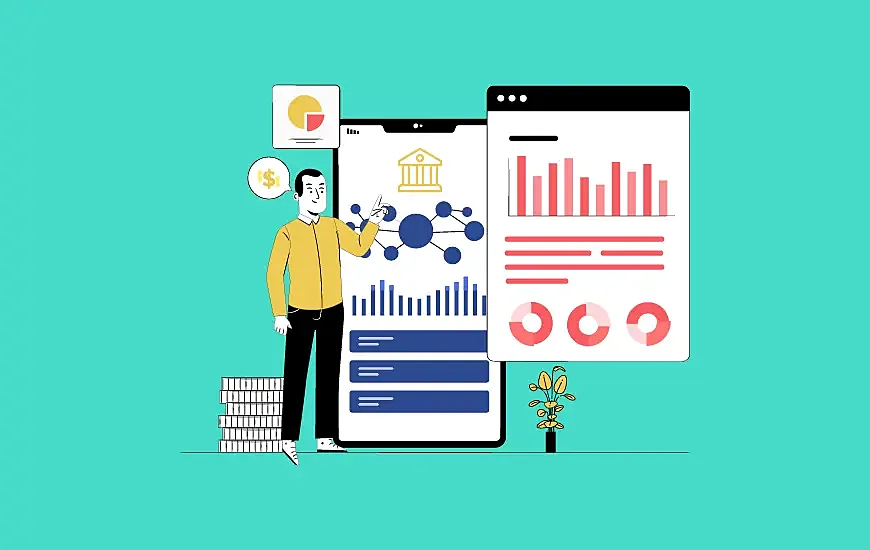 With technological advancement, the mobile app industry has witnessed massive growth over the years. From streaming videos to trading shares to even regulating fans and lights in your rooms, today we have an app for everything. AI has substantially improved accuracy and security in many sectors, including finance, travel, healthcare, entertainment, etc.
Financial apps
have gained immense popularity due to their convenience and high accuracy. These apps allow users to manage their finances and keep track of their spending and savings. AI-based financial apps can minimize the repetition of tasks, reduce human errors and false positives.
The Covid-19 outbreak has trembled the global economy and has consequently affected the finances of every individual. The issue of efficient and effective personal finance management has become especially acute; AI financial apps and
investment apps
to help in this are in demand like never before.
As we know that AI-based financial apps rule a significant part of the personal finances market. But what exactly are the applications of AI in finance? AI tools enable applications to provide automated and accurate solutions for financial planning and can also be used for setting and maintaining a budget.
The article below elaborates on the top AI financial apps that can cater to all your lists related to financial planning and management. From offering personalized solutions to detecting fraud, there is no limit to the perks that these financial apps have to offer.
Our Top Picks
We have listed some of the best AI apps for finance that are based on deep research and a thorough study of the market. The article highlights all the peculiarities of the finance apps available in the market.
Manage Your Finances with the Top AI Financial App
The apps mentioned below have successfully integrated AI technology to provide the best finance solutions for users. These are the leading apps for finance that can help you manage your finances in the most efficient manner. These apps are mentioned with downloadable links that will make it easy to install and use the app. Let's head to the list now.
1.
Robinhood
4.2
4.0
Robinhood is an online finance app that aims to offer an accessible investing market for all users. With tech-savvy investors and new traders, the app has grown in its popularity over the years.
The company offers fee-free trading that attracts many investors and traders. Users can trade stocks, cryptocurrencies, and ETFs easily using this platform. The ability to sell fractional shares gives traders access to a wider variety of assets.
It is one of the leading financial apps that lets you manage and run your money your way. The app enables you to identify technical indicators that can help you with investment decisions. Along with this, you can also learn about the market and investing strategies through in-app lessons.
Features of Robinhood -
Simple design and intuitive trading experience

Explore stock market news and monitor your stock performance

Free of any charges, trading fees, or commissions

Enables you to invest with an amount as little as 1$

Buy and sell crypto with 0% charges

Offers a prepaid cash card for enhanced convenience
2.
Wealthfront
4.8
4.5
Wealthfront is a US-based Robo-advisor fintech that is trusted by many users across the globe. The app is equipped with all the essential tools that will help you keep your money safe and invested on the right track.
The expert-built portfolios on the app empower you to stay diversified for all your long-term investment goals. You can minimize the chances of risks and loss, save on your tax, and can expect a good return for all your investments.
With this online financial app, you can get easy access to a diverse investment lineup, smart planning tools, and exceptional tax-saving strategies. You can get all of it at the most affordable prices. It is best suited for high-balanced investors, goal-setters, and beginners.
Features of Wealthfront -
Offers low ETF expense ratio

Access to individual stocks and automated investing options

Access to financial planning tools that are exceptionally accurate

Offers daily tax-loss harvesting

Enables sophisticated portfolio management

Empowers you to buy and sell with no commission fee
3.
Betterment Invest & Save Money
4.7
4.6
Betterment is an AI-powered financial app that offers you the best way to save and manage your money. It provides you with a platform to earn high interest on your savings and offers effective automated investing solutions.
It is one of the best AI finance applications that provides all users with a comprehensive financial planning solution. The app can cater to the needs of both new investors and high-net-worth clients.
You can choose your portfolio from some of the best options available, including- Core, Goldman Sachs SmartBeta, and BlackRock Target Income. The app streamlines your financial planning by allowing you to create multiple goals and monitor average and worst-case scenario returns.
Features of Betterment Invest & Save Money -
Easy to set up multiple goals and monitor your progress

Adjustable portfolios based on the user's changing goals and risk tolerance

Tax-loss harvesting can be availed by all customers

Offers low-cost investing and no-fee cash accounts

Get access to human planners with a premium subscription

Automatically manages your investment and is easy to use
4.
Coinbase
4.7
4.1
Coinbase is a free AI-based app for finance that offers an online platform for trading cryptocurrencies. It facilitates the buying, selling, and transfer of crypto and also gives you the option to store it. You can buy and sell any 120 types of cryptocurrencies, including Bitcoin, Litecoin, and more.
The fee for using Coinbase can vary depending on your account type, funding source, and the size of the transaction. This AI financial app is best suited for beginners; however, if you are an advanced trader, you can use Coinbase Pro. With the 'Pro' version, you can access additional trading options and avail a more straightforward and lower fee structure.
It is a leading crypto trading app that offers the simplest and the most secure way to support crypto transactions. Through this app, you can also monitor the current price and the latest trends in cryptocurrencies.
Features of Coinbase -
Easiest app to be used by complete beginners

Supports different types of cryptocurrencies

It can be used to convert one cryptocurrency into another

Enables you to send and receive crypto to and from other people

You can earn money and rewards by completing crypto education with Coinbase
hype your product on mobileAppDaily
With our strategically designed marketing solutions
5.
Wizely
5.0
4.2
Wizley is one of the best online financial apps that provides automated savings for all users. The app promotes saving and budgeting as per your goal. It is one of the fastest-growing apps for financial wellness.
Based on your monthly income and spending, the app gives you a Wellness Score. With this, the app also suggests ways and methods to improve this score. The app makes it simple for users to save money and fulfill their ultimate financial goals.
It is the most trusted and one of the best financial apps that helps you categorize your expenses as per the necessities. With this, you can be assured of limiting your spending and staying within the constraints of your budget. The AI alerts provide personalized and accurate suggestions about when and how much to save.
Features of Wizley -
Creates personalized saving plans to meet individual needs

Promotes automated savings for emergencies or for buying an asset

Improves your financial discipline and takes you forward toward your goals

Enables budget planning and expense monitoring

Allows you to save a small amount of money

Allows withdrawal at any time without any restrictions
6.
Cleo
4.6
4.1
Cleo is a top financial app that uses AI technology to make managing money much more convenient and fun for users. The app works by linking the digital assistant to your bank account, which will help in tracking your spending and managing your budget.
By a thorough analysis of your spending, the app also suggests the amount of money that you can easily save. You can easily use Cleo by chatting with a chatbot that assists you with the process and clarifies your doubts and queries.
The app is completely free to download, use, and set up. Users can avail of tracking, budgeting, and expenditure analysis without any additional cost. However, if you are looking for salary advance and cashback offers, you will have to pay charges for using Cleo+.
Features of Cleo -
Enables you to track your spending and expenses by categorizing them

Alerts you when your expenses are going over the set budget

Automates the savings by moving a part of your salary to an e-money account

Friendly chatbot that can either 'roast' or 'hype' you about your spending habits

Equipped with AI tools that can help you save money and build a credit score
7.
Gemini
4.8
4.3
Gemini markets itself as one of the top financial apps for people who are looking to get started with trading cryptocurrencies. This app enables you to trade crypto anytime and anywhere through your smartphone.
The app offers different services with separate interfaces and fee structures for both casual investors and full-time investors. Gemini has expanded its services to include a payment app, a credit card facility, an interest-paying savings account, and a trading platform for users.
Through this app, you can exchange over 100 cryptocurrencies, including Ether, Bitcoin, etc. Similar to many crypto exchanges, Gemini has a mobile app that is quick and simple to use. Apart from facilitating crypto transactions, the app also provides educational resources for new investors.
Features of Gemini -
Offers a wide selection of cryptocurrencies for all users

Simple and intuitive interface which ensures a beginner-friendly platform

Offers industrial-standard security and promotes safe trading

Provides insurance for digital assets

Enables you to trade with its currency - Gemini Dollar
8.
Wealthsimple
4.7
4.6
Wealthsimple is an AI-based financial app that promotes long-term wealth by providing smart and accurate investing and saving plans. The app provides algorithmic plans that are tailored to client's needs and demands.
It is a simple-to-use financial platform for new or average-experienced investors who are looking for a technology that can automate their investments. It can make the complex process and decision-making related to investment extremely clear and effortless.
It offers easy access to the investors to trade online, saving their time and effort of physically visiting the branch. Wealthsimple is one of the top financial apps that promote financial freedom for users, irrespective of their financial status.
Features of Wealthsimple -
Offers the best credibility and charges a low fee on small accounts

Provides access to human advisors for better understanding

Equipped with a sleek, easy-to-navigate, and user-friendly interface

Offers a broad selection of investment options, including SRI Funds, Halal, etc.

Offers a portfolio review service and free tax loss harvesting
9.
Fidelity Investments
4.8
4.3
Fidelity Investments functions as the largest brokerage firm in the United States. This app is best suited for investors who are looking for an online, low-cost broker. It is one of the most trusted AI banking apps that offers banking and financial services to over 40 million users.
Fidelity does not charge any fee on stocks and ETF trades and thus holds a strong position in the market. The customers are also accessible to multiple currencies, options, mutual funds, etc. You can also access many fixed-income products like municipal bonds, treasury corporate, etc.
It is a mutual fund giant which is regarded as the market leader in defining personalized investment strategies for its clients. Beyond a wide spectrum of products, Fidelity offers a comprehensive suite of tools and investable assets for users.
Features of Fidelity Investments -
Offers mutual funds, including no-fee Fidelity index funds

Supports international trading and fractional share investing

Provides both desktop and mobile platforms that are simple to use

Provides excellent and accurate research without any commissions

Comprehensive tools for planning and managing finances throughout retirement
10.
Schwab Mobile
4.8
3.6
Schwab Mobile is an all-in-one AI financial mobile app that lets you monitor and trade in the market. You can also research investments and can follow the latest updates and current happenings of the market through the app.
The app takes on the full-service approach and offers a wide range of products and services that are suitable for investors at any level. It offers multiple platforms that are tailored to its wide consumer base. As a Schwab Mobile app user, you can get access to educational resources, responsive customer support, and highly accurate research tools.
It is one of the most advanced online financial apps that assigns a robo-advisor as your personal digital investment manager. With this, you get the best AI research tools that can help you ace the financial market.
Features of Schwab Mobile -
Offers three different platforms for a vast consumer base

Enables large fund selection

Provides commission-free stock and ETF-trading

Extensive and accurate AI research tools

AI-enhanced customer support that can facilitate trade and resolve queries
11.
Wells Fargo Mobile
4.8
4.8
Wells Fargo Mobile functions as an AI banking app that lets you add funds to your deposit accounts in the fastest and most secure way. The app aims to offer a simpler and revolutionized banking way by simplifying mobile payments for users.
This one of the best credit score apps offers multiple checking and saving options and other simplified banking solutions for businesses, corporations, and individuals. Some of the products offered by Well Fargo include credit cards, loans, wealth and investment management, etc.
This app enables customers to access their accounts on the go. You can view and manage your account activity, pay bills, track investments, transfer funds, deposit checks and do much more with a simple mobile app.
Features of Wells Fargo Mobile -
Allows monthly fee waiver on some checking and savings accounts

A best-rated mobile app that is simple to use

Supports an extensive network of local ATMs and banks

Enables credit score monitoring within the app

Monitor transactions and make payments easily
publish unbiased & detailed reviews
That Promote Your Product's USPs
Conclusion
AI-based financial apps can streamline and simplify the way of managing and investing your funds in the best possible manner. These apps can suggest the best and most accurate ways to manage your funds. With smart AI tools, you can be assured of making the right investment decisions.
The best AI-based financial apps can be used to fully optimize and make the most of your funds. Successful financial management will make you extremely secure and set for any kind of emergency situation. You can track your daily expenses, access your bank accounts, automate your savings, and can achieve a lot more with these financial apps.
Further, if you are an app developer and want to list your product, you can contact MobileAppDaily. Our expert review will ensure a better reach and will maximize the potential of your app. Till then, keep exploring MobileAppDaily for insightful information and updates.
Written By
Pallavi
Content Head at MobileAppDaily
She is an avid writer of technology and trending mobile apps. When she is not busy updating you about the tech world, she spends time reading books and playing guitar.
Follow
Take the first step to
your Product's growth