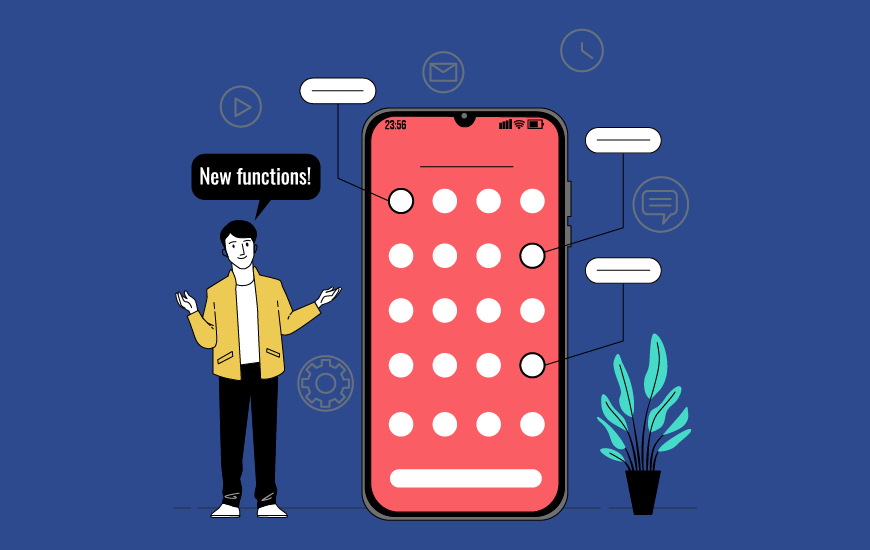 Super apps (or superapps), as the name suggests, are more powerful versions of the usual apps you use daily. A Statista report concluded on the basis of a survey done in Australia, Germany, the UK, and the US, that the best super apps are preferred by 66% of users for the convenience benefits, by 61% of users for the security benefits, and by 54% users for the coordination benefits.
Super apps in the world are performing the role of reducing the number of apps an average smartphone user keeps on their smartphones. In simpler words, the superapp benefits allow users to use one app that can offer multiple apps or features of various apps in one interface. And as for the super app platforms' popularity, a Gartner report expects that over 50% of the global population will use multiple superapps by 2027.
How do superapps work?
Multiple micro-apps are deployed on the top superapps to provide users with numerous options. Additionally, some of the superapps in the world also provide users with the option to customize their options on the app.
Some of the common superapp trends that you will come across are-
The superapp development usually uses the same UI/UX components for all micro apps as the overall visual structure is supposed to follow the same theme. Whether you are building banking superapps or chat superapps, every microapp included in your superapps will probably have the same kind of user interface for consistency.
Micro apps included in the superapp platforms are also able to share the data with each other easily which makes it faster to offer data-sync features to the app users.
Security is another main factor prioritized while building the top superapps especially if you are building the finance superapp. These security features are applied on the entire app which makes other micro apps safer as well.
Some of the best superapps out there
To understand the superapp platforms better, we should go through the list of superapps to understand their features and functionalities better. It will also be helpful in understanding how these products by the top app development companies work-

1. Paytm
Among the best superapps in the world, Paytm remains a leading name with over 78.8 million monthly transacting users (MTU) by August 2022 with a 40% year-to-year growth rate. One of the best payment apps out there Paytm has offered its users multiple fintech features like scan and pay, loans, pay later, movie tickets, flight tickets, and more. In short, this one of the top banking superapps is almost equipped with all features that one might need in their daily life. Additionally, above 95% of the traffic of Paytm comes from India itself as the country is the target market for the superapp.
2. Careem
The leading superapp by one of the top app development companies, Careem started its journey as a taxi-sharing service. However, later on, it expanded its services across more categories, and now, this one of the top superapp trends offers additional services like car rentals, taxis, bike-sharing, food delivery, retail, payments, recharge, and more. According to SimiliarWeb, Careem.com currently has a global rank of 66,064 and the majority of its traffic i.e. 22.87% comes from Saudi Arabia.
3. WeChat
This is one of the largest communication apps in the market and has over a billion active users. The superapp allows its users to chat, order groceries, book a ride, and book doctor appointments among other features. WeChat started its journey in 2011 as a smartphone messaging app. Since its origin, it has expanded into an effective replacement for top apps like Uber, Venmo, and Craiglist in China. According to SimiliarWeb, in November, WeChat's 19%+ traffic came from China while Hong Kong and the US were responsible for 14.22% and 11.73% of web traffic respectively.
What are the benefits of superapps?
Superapps are seeing growing popularity, especially in the modern market when internet users are able to access faster internet speed due to technologies like 4G or 5G. Faster internet provides developers with the freedom to integrate more features and better visuals in their apps to make them more user-friendly as it is easier for the fast internet to help apps in loading faster as well.
To understand why are developers focused on increasing the number of superapp downloads, we have to go through the benefits of these apps. Let's have a look-
1. Better customer engagement
The leading superapps in the world have witnessed an increase in their usual customer engagement rates after onboarding the culture of superapp development. As superapps are capable of offering more features that eliminate the requirement for alternative apps, users spend more time on apps and interact with more pages.
2. Reduction in development and maintenance costs
Building a single app, upgrading it, and regularly maintaining it costs lesser compared to managing multiple apps. Whether to modify the user experience or add a new feature, superapps allow developers to focus on a single product and save unnecessary costs involved in the app development process by reducing the requirements of resources.
3. Improved ROIs and customer satisfaction levels
As mentioned above that due to focusing on a single product, the costs of superapps are lesser than the costs associated with managing multiple apps. However, multiple features allow developers to onboard more categories of users which eventually can lead to a better user base and revenue. Also, a single app providing all important features also leads to a better user satisfaction level as customers do not have to shuffle between multiple options.
4. Enhanced brand recognition and presence
Building a superapp means eliminating the need for many alternative apps. So, it gives your app an opportunity to attract the majority of user engagement as well. It can help in building the brand image of the app positively especially if your superapp helps users in replacing many apps that they would have to install otherwise.
5. Collect more user data easily
Data is the treasure that helps organizations in thriving. By integrating more features into your superapp, you have the opportunity to easily gather more user behavior data. You can collect data like how many movies your users watch in a month, how many times they go out using a cab or if they order food regularly or not, etc. All this data is helpful in multiple ways whether you want to use it to customize ads or you want to sell it.
Best companies to take help in the superapp development
The superapp development is a tricky process. So, if you are not a developer yourself then you need some of the best app development companies with experience in building the best superapps so that they can help you in building and deploying your product effectively. Let us name a few recommendations that we think are the best for such partnerships if you ever plan to build a superapp of your own-
1. Appinventiv
Appinventiv started its journey in 2015 and since its origin, it has partnered with some of the leading brands across the world including names like KFC, IKEA, Adidas, Domino's, and more. So, you can imagine the level of quality it offers. The app developers at Appinventiv can help you at every stage of the development process of your superapp whether it's coming up with a development roadmap or figuring out the suitable UI/UX. Appinventiv experts can also assist you with the marketing and maintenance phases of your app development process.
2. Triare
Founded in 2015, Triare is an expert app development company with expertise in various IT requirements such as app designing and development, web designing and development, game designing and development, and more. The company has worked with some of the leading brands across the globe including Amazon, MGM, Founder Institute, and so on. For your superapp idea, you can definitely rely on the best app developers of Triare.
3. Interexy
A leading app development startup, Interexy came into existence in 2017. The company runs its operations from Miami, Florida, and has over 200 IT professionals. These leading IT professionals include app developers and designers with different levels of expertise. So, Interexy experts can help you out in coming up with a roadmap, UI/UX strategy, development, and all other phases of building and deploying your superapp.
Wrapping up
Well, that is all for the superapps that we had to discuss in this blog. The above details like benefits and top superapps helped us in understanding one fact i.e. the trend of superapps is not going to slow anytime, especially with a rise in the average internet speed available to people.
Also, modern smartphones are better equipped for handling and running smoothly even heavier apps and the average internet speed in many countries is boosting too, so, the opportunity to launch superapps in markets is higher than ever. And when such app development trends are seen in the market, we will be the earlier source of information where you will be able to read about the evolving superapp trends. So, keep visiting MobileAppDaily to stay updated.
Written By
Manish
Content Strategist
With a mixture of literature, cinema, and photography, Manish is mostly traveling. When he is not, he is probably writing another tech news for you!
Follow
Want To Hire The Best Service Provider?
MobileAppDaily will help you explore the best service providers depending on your vision, budget, project requirements and industry. Get in touch and create a list of best-suited companies for your needs.