12 Best Ridesharing Apps for Carpooling in 2023
Commuting is a part of daily life and the below-mentioned ride sharing apps can surely make daily traveling easy, convenient, and comfortable.
Last Updated on :
March 16, 2023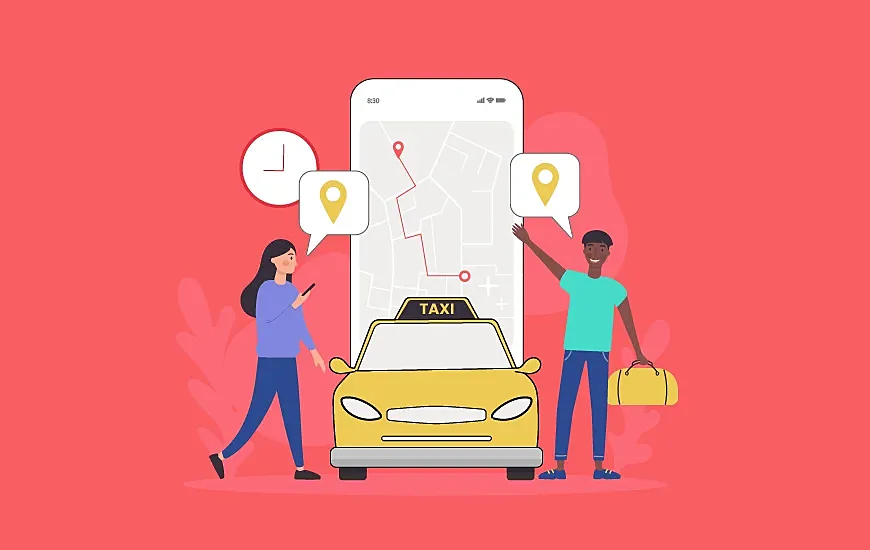 The way people commute and travel nowadays has changed since the upsurge of ride sharing apps. With the increase in smartphone users, a slew of new ride sharing apps or carpooling apps are transforming how consumers hail rides. Ride sharing is an eco-friendly mode of commuting and traveling that people worldwide are choosing.
Using the best carpool apps, users can easily contribute to the environment as sharing rides reduces emissions, traffic congestion, and saves time. Being able to hail a ride at the doorstep with a few clicks has become more accessible and effortless. According to a
report
, the global ride sharing market is anticipated to clock $205.83 billion by 2030, at a CAGR of 13.2% from 2021 to 2030.
So, if you are interested in ride sharing, you might be wondering what is the best app for getting a ride or what is the most popular ride share company. Well, you're right to be here.
Our Top Picks
Best rideshare apps come with all the latest and advanced features to engage the consumers. In this blog, we have discussed 10+ best rideshare apps to make your journey cost-effective and convenient. These apps are vetted by MAD experts based on their features, usability, design, popularity, services, and reviews.
List of Best Ride Sharing Apps in 2023
To help you with smart commuting, we have a roundup of new ride sharing apps that are delivering the best services worldwide. These apps will make your travel smooth with options like fare-split, liability insurance, multiple payment options, and more. So, without delaying further, let's know the best new ride sharing apps and carpooling apps that you can use in 2023.
1.
BlaBlaCar
4.7
4.6
BlaBlaCar, BlaBlaCarpool, and bus service are some of the best and cheapest rideshare apps in recent times. Addressing the problem of rising traffic and gas prices, BlaBlaCar offers a great deal to all of its users. With this new ride sharing app, you can pool with other vehicles or passengers covering your common routes.
It is among the best long distance rideshare apps that you can use to find a car to carpool, or if you have a car, you can find people who can travel with you and share your expenses.
Notable features of BlaBlaCar, one of the best long-distance rideshare apps
Share rides

Publish your rides

Find the ride closest

Organize your trips
2.
Uber
4.7
4.4
Uber is among the top rideshare apps and best carpool app that can be availed 24/7. With its reliability and popularity, Uber has increased its footsteps in over 72 countries and 10,000+ cities across the globe.
Uber is developed in a way that caters to user convenience. The best ride sharing app USA offers multiple payment options like credit, Android Pay, PayPal, and even cash in selected cities. Also, Uber pricing is highly competitive, however, it becomes the cheapest rideshare apps as it offers low-fare options for a certain period during the day.
The working of Uber, one of the best carpooling apps, is simple. Open the app and then enter the desired destination and the app matches you with the nearest driver by sharing your location. Once matched, you will receive the driver's details along with the ETA and live location.
Notable features of Uber, one of the most popular apps for car rides
Option to share ride details

Fare split option

Sync meetings using Calendar Shortcuts

Multiple payment options and more
3.
Lyft
4.9
3.6
Considering the ridership volume, Lyft is the second-largest carpooling apps service currently available. Lyft, one of the most popular ride sharing apps USA, has its presence in over 300 US cities like NY city, San Francisco, Los Angeles, and more. This one of the best apps for car rides sharing service also has its international presence in cities like Ottawa and Toronto. Recently, the company acquired PBSC Urban Solutions, a world leader in bike-sharing systems.
The vehicles that it offers range from mid-sized Lyft autos to larger Lyft Plus cars. To make commuters' lives easier, Lyft allows demand-based pricing during peak hours. This one of the best ride sharing apps USA also offers the user to go for an autonomous car as well.
The working of a Lyft application is similar to that of Uber. After launching the app, the next step is to request a ride by entering your location details. The app will match you with the driver and after that, you can track the real-time location or contact the driver to get current updates.
For safety purposes, Lyft employs a thorough background check-up for all the Lyft drivers, including DMV (Department of Motor Vehicles) checks. After getting the license to be on the road, the drivers with the highest rating are only allowed for rideshare app for long-distance and short-distance traveling.
Notable features of Lyft, one of the most popular apps for car rides
Comprehensive background and DMV checks of the drivers

Liability insurance from the company's side

Ride receipt overview

Shared-ride commuter benefits and more
Rideshare app for long distance
4.
Gett
4.8
4.3
Gett was formerly known as GetTaxi and is an Israel-based rideshare app. Gett is among the new ride sharing apps that is best for car rides. This short and long-distance ride sharing app caters to over 100 cities across Europe, including London, Moscow, and Tel Aviv, whereas in the USA, it only covers New York through its partner company, Juno. Due to its user base of daily commuters, Gett is considered the most popular app for car rides and is often compared to other ride sharing services like Uber and Lyft.
Gett is known as one of the most popular and cheapest rideshare apps mainly because of the company's pricing policies as they don't charge the customers more during busy hours.
Also, Gett's payment procedure for drivers is somewhat different from what other companies comply with. The ride sharing service pays more to its drivers than that of its competitors.
Notable features of Gett, one of the long distance ride sharing apps
Affordable pricing

In-app tipping

Best rated drivers

Up to two weeks of booking and more
hype your product on mobileAppDaily
With our strategically designed marketing solutions
5.
Curb
4.8
2.7
Curb is another best and cheapest rideshare app that doesn't add surge pricing. Curb was acquired by Verifone Systems, a company that deals in providing technology for electronic payment transactions and value-added services. The best ride sharing apps USA has over 50,000 fleets of taxis in 65 US cities like New York City, Boston, Philadelphia, Chicago, Los Angeles, and more.
Additionally, the passenger has the comfort of a backseat monitor for entertainment and a running tally of the fare. With it, the passenger can even look out for nearby restaurants and reserve tables accordingly. This unique feature makes this app among the best long distance rideshare apps in the US.
Notable features of Curb, one of the top rideshare apps
Connect with nearby licensed, fully-insured drivers

The option of wheelchair accessible vehicle

Can earn free Curb rides by sharing the personal referral code

Option to book a cab in advance and more
6.
Wingz
4.9
3.4
The peer-to-peer transportation network company started off with transportation service from airports and later moved on to ride sharing services in other parts of the cities as well. As of now, Wingz has reached over 16 metro areas and 22 airports.
Going one step further, the ride sharing app lets the passenger book a ride from the airport up to two months in advance, and on top of it, Wingz doesn't apply any hidden fees or surge charges.
Moreover, the passenger can pick the driver from a list of drivers. Going forward, the company promises to cut down on fares, which will make it even cheaper than a taxi.
Notable features of Wingz, one of the best carpool apps
Scheduled rides

Option to personalize a list of the favorite drivers

No unpredictable surge pricing

Liability insurance and more
7.
Via
4.4
3.4
Via is among the top rideshare apps that was co-founded by Daniel Ramot, a Stanford neuroscience Ph.D. who added a "logistics engine" to the app that tries to fill all the seats of the cars that are headed toward popular destinations. The rideshare app for long-distance and short-distance sharing services doesn't cover all the areas of the cities. It has its set routes, and once the passenger sets his destination, the Via app tries to drop the passenger at the nearest drop location.
To make up for the route pattern, Via operates 24 hours a day, seven days a week, and is present in Chicago, New York, and Washington. To garner more user base in New York, Via has partnered with Curb to offer carpooling service in yellow cabs. The move has significantly brought down fares and reduced car emissions as well.
Notable features of Via, one of the best long distance rideshare apps
Picks up multiple passengers heading in the same direction

Option to share ride with others

More affordable pricing

Picks up the passengers from designated spots and more
8.
Bridj
4.0
3.4
Bridj is an on-demand app for public transport, which was started in Boston. Interestingly, this rideshare app for long distance and short distance was started by the Chicago, and Washington, D.C. transportation department heads.
This one of the best long distance ride sharing app is for people who are headed for the same journey path and the app shortlists its customers accordingly. It further helps in reducing the travel time of all the passengers. The cost of the one-way journey is around $3.10, which makes it an affordable pick.
Interestingly, unlike all other ride sharing services, Bridj operates a fleet of 14-seat luxury shuttles with Wi-Fi and leather seating. With their top-class comforts, the Bridj buses are at par with the top luxury vehicles.
Notable features of Bridj, one of the best long distance ride sharing apps
Always guaranteed a seat

Onboard Wi-Fi in all the vehicles

Pick up from mutually decided points

Real-time tracking and more
9.
Cabify
4.8
4.0
Cabify is among the most popular ride sharing apps that consumers can use to move around the city, order private car rides, or send their stuff from one location to another within the city. Cabify is a one-of-a-kind transportation and mobility app that offers the utmost safety and quality for your trips. Currently, the app is available in 10 countries and 90 cities like Bogota, Madrid, Lima, Buenos Aires, and more. Consumers can access the details of all the services available in each city at their official website.
The ride sharing app does offer carbon-neutral trips, the best drivers, a 100% customization option, easy delivery, and quality for your day-to-day moving. Using the app is highly easy- all you need to do is reserve or request a taxi ride at your pickup location. You can select the type of transportation, and after confirming, the ride is booked.
Notable features of Cabify, the best rideshare app for long distance
Reliability and safety

Vetted drivers

100% customization

Easy-to-use app
10.
Heetch
4.7
4.5
Heetch is the latest entry among the best rideshare apps that thrive on the quality of their drivers. Heetch boasts to pay their drivers the best in the class and hence assures the best services from them. It offers VTC, LVC, taxi, or moto-taxi services in several countries.
If you are still thinking about what is the best app for getting a ride? The Heetch is astonishingly perfect as it avoids costly fares and allows you to travel while spending minimum money.
Notable features of Heetch, the best rideshare app for long distance
Low fares

Readily available

Reliable and safe

More human assessable and responsible
11.
Scoop
4.8
4.0
Scoop is an amazing ride sharing app specially designed for office-going folks. The app offers ample features to keep you engaged but the best feature is carpooling feature. You can simply check out employees that are going the same way in a safe, reliable, and convenient door-to-door carpool. Moreover, the makers of this app perform routine maintenance to ensure that it runs smoothly as always.
Notable features of Scoop, one of the top rideshare apps
Connect with coworkers

Easy-to-use app

Smooth UI

Multiple functionalities
12.
Flywheel
3.0
5.0
Flywheel is among the most popular ride sharing apps in the USA that offers the easiest way to get a taxi cab. Consumers can easily request a ride with a single tap, watch it come, and get notifications when it arrives. Moreover, users can opt for the automatic pay-in option with their phones. Additionally, the app offers a fresher convenient user interface to offer quality customer satisfaction.
Notable features of Flywheel, one of the best ride sharing apps
Fast, convenient, reliable, and affordable

Offers great services

Easy-to-use app

Smooth UI
publish unbiased & detailed reviews
That Promote Your Product's USPs
Hope you got the answer to the most common FAQ - what is the most popular ride share app? The above list comprises of the best ride sharing apps that you can use depending on your current location. Also, kindly note, all these services are not available everywhere, but mainly in the US. Therefore, before trying any of these ride sharing services, first ensure that the service is available in your area.
If you want more information or want to list your product for better audience reach, get in touch with MobileAppDaily.
Written By
Pallavi
Content Head at MobileAppDaily
She is an avid writer of technology and trending mobile apps. When she is not busy updating you about the tech world, she spends time reading books and playing guitar.
Follow
Take the first step to
your Product's growth