10 Best AI-Based Healthcare apps That Can Revolutionize the Healthcare Industry
We have rounded up the best AI-based healthcare apps based on their functionality, interface, and features that they offer.
Last Updated on :
April 28, 2023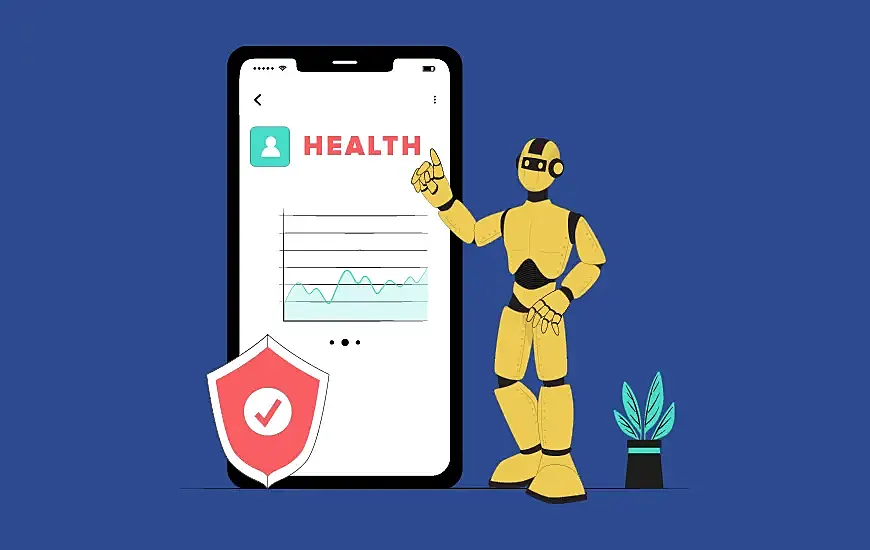 The popularity of Artificial Intelligence and its integration into different fields is driven by its potential to revolutionize various fields and industries. AI tools can improve efficiency and accuracy while analyzing data. Nowadays, discussing technology and innovations without discussing AI is impossible. It seems to provide infinite applications in terms of use cases, sectors, and solutions. From large-scale businesses to retail, from banking to telecommunications, and from education to agriculture,
Artificial Intelligence is everywhere
.
The rise in the amount and complexity of data in the healthcare industry implies an extensive
application of AI in healthcare
. AI healthcare apps can be used to understand the complexities of the case and suggest a suitable treatment for the same.
This article will introduce you to some of the best healthcare apps based on artificial intelligence. With their latest technology, these apps are gaining momentum in the healthcare industry to meet the ever-increasing demands of the population.
Our Top Picks
We have prepared a comprehensive list of the top AI healthcare apps based on thorough study and research. This article elaborates on the essential and peculiar features of the leading AI apps in healthcare industry .
Monitoring Your Health with the Best AI-Based Healthcare Apps!
The apps mentioned below offer the most straightforward and convenient methods of managing and monitoring your health. These apps will significantly reduce the cost of healthcare and will surely improve your health. The free AI-based apps for healthcare are mentioned with downloadable links that will make it easy for you to install and use these apps. Let's head to the list now.
1.
Noom
4.7
4.2
Unlike other weight loss and fitness apps, Noom is based on the principles of psychology. The app takes an indifferent behavioral approach that tricks your body into adopting a healthier lifestyle to stay fit.
Noom coaches are your companions on the fitness journey. The coaches allow you to set achievable goals that are easier to realize. The health experts are specialists in oncology, diabetic management, hypertension management, and more.
A curriculum is designed based on your gender, age, lifestyle, weight, disorders, and goals that allow you to overcome weight loss struggles. Losing weight, the Noom way is much easier, sustainable, and simple to maintain.
Features of Noom:
It enables you to practice accountability by managing your emotions

Promotes lifestyle changes that result in sustained weight loss

Equipped with tools to track your regular progress

Noom Circle- a team of health coaches and an interest-based community

Allows biometric tracking - blood pressure and sugar levels in the body
2.
Healthily
4.4
4.2
Healthily is the world's first medically-approved platform designed to promote self-care. This self-help app has been built to cater to the personal needs of consumers, which is achieved by combining responsive AI tools and trusted insights.
Your information is carefully studied by a team of doctors and healthcare professionals, who suggest you the best way forward as per the situation. It is a go-to fitness app for many users because of its high degree of accuracy in symptom tracking or any other health concerns.
You can follow expert-led advice for many health concerns like - Flu, Cold, Covid-19, etc. Users can expect sensible recommendations from their personalized 'AI doctor'. You can quickly get suggestions for medicines and possible diagnosis for the health problem.
Features of Healthily:
You can get medically-approved guidance and suggestions

Smoothens the process of scheduling an appointment

Ensures rapid response for any kind of health emergency

Users can monitor their conditions' progress and recovery

AI-based chatbots provide information related to possible causes and remedy steps
3.
Sensely
4.6
4.4
Sensely is an empathy-driven platform that can be used as the best diagnosis assistant for any disorder. The app is packed with world-class, trusted content ensuring correct and intelligent industry-related conversations. It is one of the best apps for healthcare professionals that allows them to monitor their patients from far away as well.
It is an exceptionally well-designed chatbot-based platform that lets patients stay in touch with their doctors from anywhere. The chatbots provide all the necessary information concerning insurance and healthcare resources.
This conversational platform makes small conversations with users through a series of questions and makes recommendations based on their situation. The company primarily focuses on patients who are 60 years and older and are struggling with health issues like heart failure, diabetes, and other age-related problems.
Features of Sensely:
Patients can simply talk to a 'Nurse Avatar' without having to type

Authorized healthcare professionals review the medical record and give remedy steps

Conducts emotional analysis and provides mental health counseling as well

Effectively combines empathy of human conversations and scalability of the technology

Apart from health assistance, it allows users to manage their claims as well
4.
Hello Heart
4.8
4.8
Hello Heart is a top healthcare app and a digital health-coaching platform that allows you to track and manage your blood pressure and cholesterol. It provides medical adherence on your fingertips and ensures healthy heart health.
This app bills itself as one of the best heart rate monitors that promotes lifestyle changes, medication adherence, and blood pressure monitoring and tracking. It is an AI healthcare mobile app that ensures a personalized experience for users.
You can track your day-to-day activities, such as minutes walked, monitor your blood pressure, and can also ensure timely intake of your medications. The AI insights suggest behavioral changes that can significantly improve your health. The app reinforces lasting healthy habits that lead to sustainable weight management.
Features of Hello Heart:
Empowers people to track and monitor their cardiovascular health

AI-based digital coaching to drive healthy lifestyle changes

It comes with a free blood pressure monitor, shipped to your house

Gamifies and simplifies the process of hypertension management

Enables medication tracking, pulse rate monitoring, and diabetic management
hype your product on mobileAppDaily
With our strategically designed marketing solutions
5.
Aaptiv
4.7
4.0
Aaptiv is a workout app that provides workout programs and routines tailored to your fitness goals. It provides a world-class fitness experience by combining motivating music with structured workout routines.
The app prepares and suggests workout plans based on your current fitness level, fitness goals, workout preferences, and available exercise equipment. Apart from fitness workouts, Aaptiv provides special workout regimens for athletes training for marathons or other games.
It is an online health app that motivates you to stay focused on your fitness goals through continuous positive reinforcement. After the successful completion of the workout, you get awarded with badges, stars, confetti, and encouraging comments.
Features of Aaptiv:
Highly personalized workouts led by professional trainers

Audio instructions and video demonstrations for exercising

Easy to access from any smartphone

Regular release of new and exciting workouts and challenges

It gives a 30-day free trial for all users
6.
My Plate
4.8
4.6
My Plate is one of the most popular AI healthcare apps that promotes weight loss and a healthy lifestyle by helping users to make positive lifestyle changes in their diet. The app provides helpful tips and learning opportunities that help you build a balanced meal and a healthy lifestyle.
Unlike many online healthcare apps and polarizing diets that deprive you of food, My Plate suggests meals that are highly filling and nutritious. It offers a visual representation of how to fill your plate in the most beneficial and nourishing way.
The app provides complete food intake details and tells the users about serving-size information that helps them prepare meals correctly. You will get regular reminders and accountability to meet your goals.
Features of My Plate:
It uses a simple visual to help you eat a balanced meal anywhere

It can accommodate vegetarian, vegan, and other diets of your choice

Decreases your risk of developing heart disease, obesity, and diabetes

Tracks calorie and nutrients intake on a regular basis

Presents graphs and reports that are easy to read and comprehend
7.
SkinVision
4.6
SkinVision is a specialized healthcare app that aims to create skin cancer awareness and provide medical assistance to users to assess the risk and get to the doctor in time. This app is known for providing exceptional clinical services and claims to detect 95% of cases of skin cancer.
This app can help you spot potentially cancerous moles that can cause severe threats to health and life. Through fractal geometry, the app looks for specific patterns in the outlines of a mole that make it more likely to be harmful.
It uses an AI algorithm to analyze the picture of a mole and classes the photo either as high risk or low risk. A SkinVision high-risk alert implies that the mole needs to be treated immediately. This healthcare application can save a thousand lives by putting technology in people's hands for self-assessment.
Features of SkinVision:
Machine learning and AI-based algorithms for assessing the picture in mere 30 seconds

Expands your ability to self-examine your skin and identify any potential risks

Merges AI technology with the expertise of the best skin health professionals

Understands your skin risk profile and suggest remedy steps

Equipped with an in-app camera that aids early detection of a malignant mole
8.
Babylon
4.8
4.8
Babylon Health is one of its kind healthcare application that uses an AI-powered platform to assist patients with online consultations. It creates a telemedicine platform where patients can connect and talk to their doctors via mobile apps, video calls, and chats.
It aims at making healthcare services accessible to all by allowing users to access their medical data easily through their smartphones. The app significantly reduced users' need to visit remote locations to consult a doctor. This AI-powered healthcare app can be useful for diseases that restrict travel and demand self-isolation, such as Covid-19.
It is one of the leading fully-integrated mobile health services providing easy and affordable access to top doctors, clinicians, and staff. You can also communicate with chatbots for simple queries and concerns.
Features of Babylon:
Allows you to proactively manage your healthcare through a smartphone

Connect with GP or staff within minutes via phone or video call

The app also has an online medicine delivery service

Personalized healthcare services that are universally available at affordable prices

All the information is stored in clinical records, which makes it easy to locate
9.
Sleep Cycle
4.7
4.4
Sleep Cycle app is designed with the latest and improved technology that enables users to access sleep monitoring from the comfort of their bedrooms. It has consistently been in the top 5 paid health and fitness apps since its launch.
The app is capable of tracking your sleep with an advanced sound detection system. The Sleep Cycle gathers data on your actions and surroundings and allows you to have a better understanding of your sleep pattern. You can track your day-to-day activities and find out how they are affecting your sleep.
The dashboard displays clean graphs and a simple analysis of your sleep patterns. You can also get a summary of your sleep quality percentage and sleep and wake-up times. It can also measure, detect and track snoring.
Features of Sleep Cycle:
Tracking sleep is easy and extremely hassle-free

It can figure out the best time to wake you up so that you feel rested and energized

It can categorize your sleep as light sleep, deep sleep, or dream state

It has multiple smart-alarm sounds and lulling sounds to choose from

It maintains privacy by deleting the sounds immediately after
10.
Health Tap
4.6
4.6
Health Tap is a smart health app that delivers virtual healthcare services for users. This app enables users to seek professional medical assistance from their smartphones or any other device. All the necessary information is supplied in an interactive manner by a team of licensed doctors who are experts in their field.
You can use this app to get personalized medical advice on any health problem. This app saves you a lot of time and effort visiting the doctor's clinic. You can also avail the convenience of prescription delivery, lab results, and treatment plans.
The Health Tap app allows you to get the best medical assistance at an affordable price, without or without any medical assistance. You can consult doctors on any kind of health issues concerning senior health, women's health, men's health, and children's health.
Features of Health Tap:
Avail weight management counseling, skin and hair care advice, and more

Effective in fighting depression, reducing sleep issues, and smoking cessation

Offers healthcare services at the most affordable prices

Doctors are available seven days a week and can assist you by text or video calls

Freely text your doctor and get same day appointments with a subscription
publish unbiased & detailed reviews
That Promote Your Product's USPs
Conclusion
The article elaborates on the best AI-based Healthcare apps that are available for Android and iOS smartphones. These apps harness the vast potential of Artificial Intelligence and Machine Learning algorithms to revolutionize the healthcare industry. With their exceptional features and usability, it is safe to say that these apps are the future of the healthcare system and are sure to expand in the future.
Top healthcare mobile app development companies have successfully managed to use AI tools to provide affordable and accessible services related to health and well-being. Even the best AI apps for healthcare cannot replace traditional medical care professionals and methods. Rather, these apps can work in conjunction with health professionals to offer the best services for users.
Further, if you are an app owner and wish to list your product, you can get in touch with us. Our expert reviews and feedback can help your app to grow and reach its maximum potential. To know more details about the process, contact us at MobileAppDaily. Till then, keep exploring MobileAppDaily for the latest updates and insights.
Written By
Pallavi
Content Head at MobileAppDaily
She is an avid writer of technology and trending mobile apps. When she is not busy updating you about the tech world, she spends time reading books and playing guitar.
Follow
Take the first step to
your Product's growth