Top 10 Diagnosis Assistant Apps to Learn & Consult about your Body Health
Staying in touch with your actual body health is the need of the hour. To make it possible, one needs to use diagnosis assistant apps both for reference and consultation.
Last Updated on :
April 07, 2023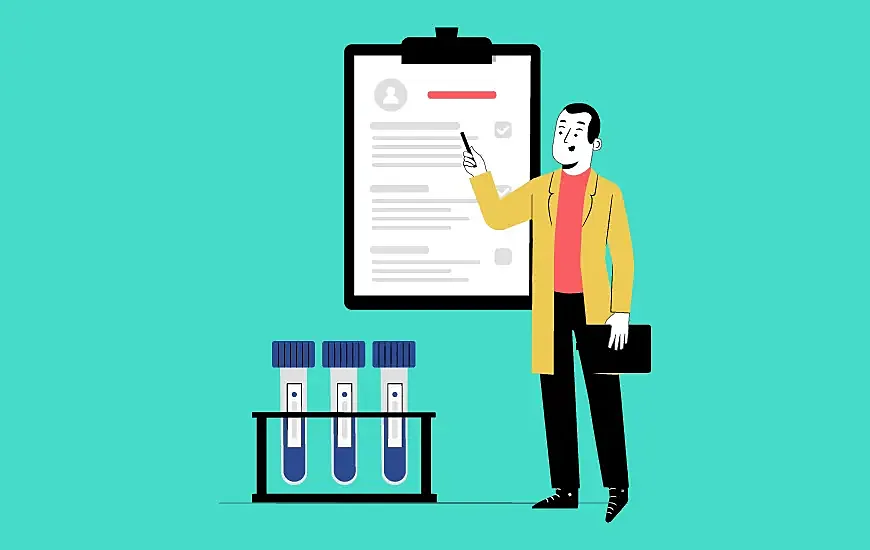 With changing work dynamics and patterns, people are more on the receiving end of health issues. Life of today is filled with stress, junk eating, and filthy habits that often give way to prolonged chronic health problems. Aside from it, issues like the common cold, flu, fever, etc. aren't very surprising with constantly changing weather.
With so many health problems surrounding us from everywhere, and the busy lifestyle of today it is essential to keep an eye on our health. To do so, there are multiple diagnosis assistant
apps based on AI
, which are available on both the Apple App Store and Google Play Store. These best medical diagnosis apps can help both with providing healthcare and figuring out health issues based on symptoms.
Note:
Want to get a similar diagnosis assistant app for your medical app idea, here's a list of the
top 40 healthcare developers
.
Our Top Picks
In order to create this list of the best medical diagnosis apps for doctors, we went through multiple applications to figure out the best. The factors we chose primarily to create our list were the reviews & ratings, features & services it provides, and diversity in the list.
List Of The Most Credible Diagnosis Assistant Apps
We have meticulously created this list of disease diagnosis app. Along with each of these applications, we have provided the link for both Android and iOS. These apps are all verified by the MobileAppDaily experts and are credible sources of getting services.
1.
Medscape
3.7
4.3
Doctors and students studying healthcare often require apps for healthcare professionals to get clinical answers. Medscape is the best medical diagnosis app for bridging this gap. It provides multiple resources on the same platform. With Medscape i.e. a diagnosis app for doctors provides free access to its users to multiple resources. Resources such as the latest news, clinical tools, medical podcasts, CME/CE activities, etc.
Features of Medscape:
Access to more than 450+ medical calculators

Multiple resources such as pill identifiers, drug interaction checker, etc.

Safety information for over 9200 prescriptions, OTC drugs, herbals, etc.

Latest medical news with over 30 specialties

Access to a large network of physicians and medical students
2.
WebMD: Symptom Checker
4.7
4.3
WebMD is amongst the most popular online disease diagnosis app for finding information about any ailment. WebMD: Symptom Checker definitely needs to be on the list of the best diagnosis assistant apps. This best medical apps has tonnes of resources for medical conditions and issues. Adding to it, this apps for medical diagnosis provides medication reminders, allergy alerts, doctors & specialists in the area, etc. It is a great diagnosis assistant apps that can be used for multiple medical-related issues.
Features of WebMD: Symptom Checker:
Choose symptoms, potential conditions & issues, and treatment options

Get a reminder for medication with dosage and timing information

Check levels of allergen in an area

Find nearby doctors and specialists based on location

Find about unsafe drug combinations
3.
Ada
4.8
4.7
Any ongoing ailment that is difficult to understand can end up giving anxiety to anyone. With Ada i.e. an app for healthcare professionals, this problem can be fixed within a couple of seconds. The diagnosis assistant apps lets you check symptoms online 24*7. This top healthcare apps can provide answers for multiple health issues. This AI medical diagnosis app has been trained by doctors for years to provide answers for prediagnosis. ADA checks its record of medical history and provides the user with a concise personalized assessment report.
Features of Ada:
Check your medical symptoms and conditions on the go

Get access to medical knowledge with intelligent technology

Track the symptoms and its intensity on the app

Get personalized health guidance for your unique health profile

Access to exclusive articles on the medical industry written by doctors
4.
Skyscape Medical Library
4.8
4.3
It is an impeccable resource as the best online doctor app. Here is why? Skyscape is a decision-support tool. The only tool that supports physicians, nurses, practitioners, PAs, students, and other medical practitioners. The best medical diagnosis apps provide resources for over 350 titles from reputed publishers, authors, and people from the medical community. This medical apps for doctors is trusted by over 2.6 million users and offers multiple compelling features that are mentioned below.
Features of Skyscape Medical Library:
Information on thousands of brands and generic medicines

Dosage calculator for over 400 medicines

Clinical information available on hundreds of diseases, symptoms, etc.

Tailored news and articles as per the user's profile

Access to over 35 respected publishers and content creators
hype your product on mobileAppDaily
With our strategically designed marketing solutions
5.
Doctor on Demand
4.9
4.8
Want to gain access to experienced medical practitioners at a click of a button, Doctor on Demand is the best online doctor app for you. This best medical diagnosis apps provide practitioners with an average rating of 4.9/5 for psychiatrists, physicians, psychologists, etc. The diagnosis assistant apps also offer reduced rates to its users with or without insurance. Adding to it, the application boasts tonnes of resources for hundreds of issues that are accessible online. Aside from it, medical appointments for therapy on this app are available for as less as 2 weeks.
Features of Doctor on Demand:
Connect with doctors, psychiatrists, and specialists over a video call

Reduced prices available with or without insurance

Videos related to hundreds of medical issues

Capability to select from a diverse list of doctors and therapists

Free mental health assessment via the applications
6.
Symptomate
4.7
4.5
Symptomate is an easy-to-use diagnosis assistant apps that help you get rid of your worries in a matter of second. Symptomate provides free and fast access to its users that are anonymous in nature. The disease diagnosis app advanced system is capable of identifying more than 700 conditions. This medical diagnosis app can provide you with relevant information simply by putting in your symptoms and answering a couple of easy questions. Once done, the diagnosis apps for doctor will show results almost instantly.
Features of Symptomate:
Symptom checker that is powered via AI

Over 60,000+ hours of review for verified physicians

Large database of about 700+ conditions and 1300+ symptoms

Capability to detect conditions based on symptoms

Database of over 100,000+ assessments on a monthly basis
7.
Muscle Trigger Point Anatomy
4.8
4.2
This diagnosis app for doctors is primarily helpful for practitioners looking for information related to muscles. The different types of references to muscles that are accessible in the app are provided below. However, there is more to know about this amazing medical diagnosis app. It provides visual patterns and point locations along with referral, origin, muscle action, nerve, comments, etc. Overall, if you are a massage therapist, chiropractor, physical therapist, etc. then this apps for medical diagnosis is for you.
Features of Muscle Trigger Point Anatomy:
Reference for about 108 muscles for trigger and referral points

Access to 160 trigger points in reference to their referral patterns

Database of about 80 conditions in correspondence to trigger points

25 detailed videos on releasing specific muscles

Capability to choose individual muscles and specific areas
8.
docOPD
4.8
4.4
If you are from India, this excellent diagnosis assistant apps is for you. This app tackles one of the most important issues i.e. out of the pocket expenditure. The majority of corporate insurance only covers hospitalization bills. This application tries to bridge this gap and try to provide people with on-demand health benefits cost-effectively. This doctor appointment app is a subscription-based service that provides support for both individual healthcare and families.
Features of docOPD:
Access to qualified doctors over a phone call

Comprehensive health packages for pathology, radiology, and diagnosis

Free second opinion from some of the best doctors

Dedicated health card to avail of health benefits

Individual as well as a combined family subscription
9.
VisualDX
4.5
3.9
It is truly the best medical diagnosis apps for doctors. The app for healthcare professionals has tonnes of visual references for practitioners who are looking for credible resources for reference. It enhances therapeutic decisions and removes concerns for the patient's safety. This diagnosis assistant apps in essence is an AI-based image atlas. Based on the input provided by the user, this medical apps for doctor uses image recognition to find similar results and provide relevant information related to it. Besides that it has tonnes of other resources related to medical literature.
Features of VisualDX:
Create a custom differential for pediatrics, internal medicine, dermatology, etc.

Access to consolidated patient data such as medical history, travel, allergies, etc.

Access to images related to diverse skin conditions collected over 20 years

Improved accuracy of diagnosis using data-driven differentials

Summary of approximately 3200 diagnoses carried over time
10.
Teladoc Health
4.8
4.0
Teladoc Health is the best medical diagnosis apps if you are looking for a one-stop solution to receive healthcare support. It provides 24*7 support for primary care, programs, and therapy. This apps for medical diagnosis started in the year 2002 and has over 50 million visits in its kitty. This app for medical diagnosis has a well-connected network of in-person care, home lab service, and delivery of prescriptions for easy medical consultation.
Features of Teladoc Health:
24*7 support for primary care, therapy, and different programs

Access to top doctors with data-driven programs

Suite of connected devices, prescription delivery, and lab services

No length of the visit time

Timely notifications to keep you on track with your health
publish unbiased & detailed reviews
That Promote Your Product's USPs
These diagnosis assistant apps are truly a huge relief. These apps have made access to healthcare so much easier and more accessible. Now anyone can simply make a few clicks and gain online medical consultation from verified doctors and information related to their existing health issues. These apps not only assist normal citizens but well-versed practitioners like physicians, specialists, psychologists, etc. working in the industry. Overall, it won't be wrong to say these apps are a boon to society.
Do you have a similar app? Or any app that you have created but which hasn't received its due recognition. Give your app a chance and list your product on our website. Our experts at MobileAppDaily will go through your app and list your application among the best. It will not only create more awareness about your app but will give it ample opportunity to grow.
Written By
Pallavi
Content Head at MobileAppDaily
She is an avid writer of technology and trending mobile apps. When she is not busy updating you about the tech world, she spends time reading books and playing guitar.
Follow
Take the first step to
your Product's growth