10 Best AI-based Entertainment Apps that Deliver Personalization
In this report, we will introduce you to the best AI-based entertainment apps that are inspiring some new trends among different segments of apps!
Last Updated on :
May 02, 2023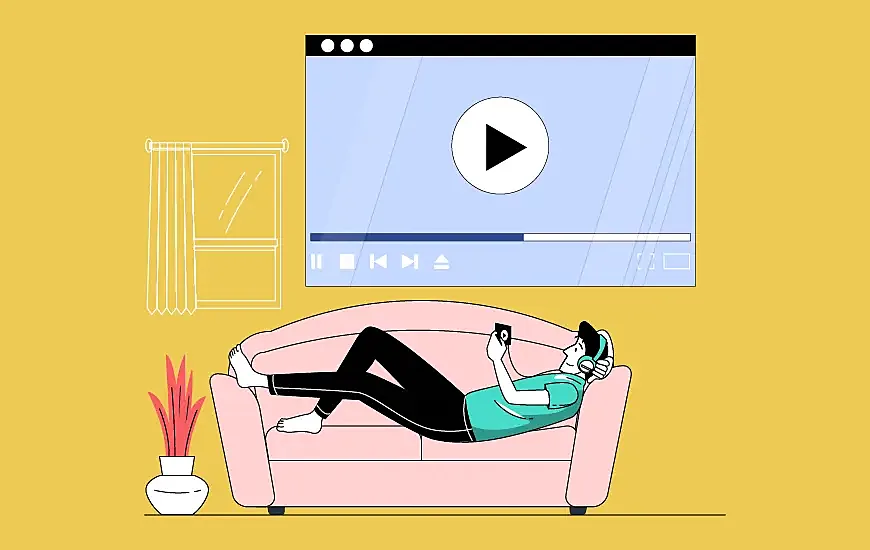 It's a fact that mobile apps have transformed the way we entertain ourselves by launching tons of apps to stream, listen to music, play games, read, and more. Now, these apps are getting smarter thanks to technologies like Artificial intelligence (AI) and Machine Learning (ML).
Among these
top apps
leveraging modern technologies, we curated this list of the best AI entertainment apps. Once you start using these AI-based
entertainment apps
, you will realize that most of these apps know what you like. That is just one of the amazing features that technologies like AI and ML enable for apps.
Our Top Picks
Now, it's time to upscale your entertainment experience, so, without further ado, we will introduce you to the best AI entertainment apps that you can install on your devices without thinking twice. By the way, before we begin, just a note that you can also explore our list of AI music generators if you are a content creator.
Top AI Entertainment Apps for Android and iOS
All artificial intelligence entertainment apps mentioned further are available with their download links which will land you on their official
app store pages
for your smartphone's OS.
So, you will not have to worry about searching for these apps' downloadable links separately.
1.
Amazon Alexa
4.6
4.3
One of the major users of artificial intelligence in entertainment, Amazon Alexa evolves regularly and helps you find the content you might love. Alexa uses machine learning and artificial intelligence to collect user behavior data.
This data is used to offer better content recommendations on Amazon Prime Video and Amazon Prime Music. Alexa also uses your voice, language, pronunciations, and accents using AI to understand your commands better.
Features of Amazon Alexa, one of the top AI in entertainment apps:
Alexa uses AI to understand voice commands

By using your user behavior data, Alexa can optimize content recommendations

AI helps Alexa support more languages and accents

Voice commands eliminate the need of touching any device
2.
AI Dungeon
4.4
3.5
The next name - AI Dungeon is probably a glimpse of the future of artificial intelligence in media and entertainment industry applications. AI Dungeon lets you generate your own stories in seconds.
To make your stories feel personal, you get a range of options equipped with this AI in-media tool. You can choose the genre of the story, ban words of your choice, describe the writing style, and even define memories.
Features of AI Dungeon, one of the best AI entertainment apps:
Describe your preferred story writing style under Author's Note

Select words that you want to ban

You can create stories with any possibilities

There are multiple genres to choose from
3.
Robin - AI Voice Assistant
5.0
4.0
Robin is a continuously evolving platform that leverages the opportunities of artificial intelligence in entertainment possibilities. You can simply use voice commands to ask Robin to entertain you.
The platform lets you personalize playlists where you can curate news of your choice. You can also send text messages and set alarms by using voice commands. In short, Robin makes entertainment more accessible for you.
Features of Robin, the leading application of artificial intelligence in entertainment:
Use commands to create and curate playlists

The app delivers weather and traffic reports

Robin is also best to get curated news

You can also connect with people via call and text with Robin
4.
Spotify
4.8
4.4
As we mentioned above, personalization is one of the common features of AI-based entertainment apps. Spotify leverages this opportunity and delivers the best quality music streaming experience to its users.
Spotify, one of the best AI music generator apps, tracks user data and curates playlists accordingly. On the basis of different factors such as the mood you hear often, the artist you like, etc, Spotify became a part of users' lifestyles.
Features of Spotify, one of the top AI in-media platforms:
Spotify uses AI to curate personalized playlists

Spotify DJ is the AI feature launched to assist content creators

Spotify also provides text to realistic voices feature powered by AI

AI also helps Spotify prepare personalized Spotify Wraps annually for each user
hype your product on mobileAppDaily
With our strategically designed marketing solutions
5.
Netflix
3.7
4.4
AI has transformed the streaming industry effectively. Famous streaming services like Netflix use AI to offer better quality entertainment to their users. AI helps Netflix figure out the taste of the viewer, accordingly, it curates recommendations.
Another best fact about this streaming platform is that it can separate the taste according to the profile that is being used to stream the content. For instance, A can keep using his profile without worrying about how B's profile on the Netflix account will impact A's recommendations.
Features of Netflix, one of the top AI entertainment apps:
Uses AI to offer content recommendations

You can cancel the subscription anytime you like

Multiple users can use the same account

Separate profiles will be optimized separately according to their users
6.
YouTube
4.7
4.1
The streaming giant YouTube uses AI to optimize not only recommendations but also sponsored ads, external ads, and much more. This giant user of AI in media applications is probably the only streaming platform that has every genre of content and something for everyone. Whether you want to watch a movie or you like interactive games, YouTube got your back.
Features of YouTube, one of the leading users of AI in entertainment apps:
Uses evolving AI algorithms to show relevant search results

YouTube uses AI to optimize page navigation as well on the app and website

In March 2023, YouTube teased some upcoming AI-powered video effects

YouTube uses AI algorithms to rank them better
7.
Chess
4.8
4.8
AI has made it possible for app developers to build games that are actually super challenging and capable of continuously evolving. Among these leading challenging games, Chess is a top name. On this one of the AI-based apps, you can compete against AI players, ask AI to observe your skills, train yourselves with AI to improve your skills, and more.
Features of Chess, one of the top AI apps:
Get trained with AI players to boost your skills

Let AI observe your playing strengths and weaknesses

The app includes AI bots of different skill levels

Over 120 million players are playing this game already
8.
Replika AI
4.5
3.1
This one of the top AI entertainment apps, Replika AI is perfect if you are bored and want to kill some time. The tool allows you to communicate with a smart AI that you can customize.
Not only that, Replika AI is a mental health companion as well which can help you calm your anxiety. You can use this one of the top mental health apps to track how you are feeling, learn coping skills, calm your anxiety, and more.
Replika AI has also been featured in Best AI Apps.
Features of Replika AI, one of the best AI-based entertainment apps:
A customized AI companion that comes with a 3D avatar

Use Replika to evolve together

Its AI supports AR features

Replika AI uses your data to personalize itself accordingly
9.
Wysa
4.9
4.5
Nothing can entertain you better than an AI friend and Wysa knows it. On Wysa, you get a smart AI friend that understands your mental health requirements and help you improve your mental health. The app also offers a range of therapeutic exercises that can help you boost your mental health in the long run. The best thing about Wysa is that it keeps your conversations anonymous and safe and cares about your privacy.
Features of Wysa, one of the top AI in entertainment apps:
Comes with over 100 therapeutic exercises

Includes an AI friend that learns and understands you

Your conversations with its AI remain private

You can also book a session with professional therapists
10.
Hulu
4.6
4.6
Last addition to this list of top artificial intelligence entertainment apps, Hulu is one of the leading streaming platforms in the USA. The app offers a range of streaming genres along with some amazing Hulu-exclusive shows and movies. As for AI, Hulu uses this AI technology for better personalization of recommendations as well. The way you use Hulu decides what recommendations you see on your Hulu Homepage.
Features of Hulu, one of the top users of AI in media:
Offers a range of shows and movies to stream

Supports cross-platform streaming

Can use a single account on multiple platforms

Uses AI to learn user behavior for better personalization
publish unbiased & detailed reviews
That Promote Your Product's USPs
Conclusion
Well, that is all for this list of AI entertainment apps. Here we curated top names like Netflix, Alexa, Robin, etc. All of these recommendations are also leaders in leveraging AI features and for their respective industries, these names can also be counted among the early adopters of this technology.
Now, writing about these smart entertainment apps gave us some insights into what the future of entertainment looks like, how developers can optimize the mobile gaming experience better, and more. Hopefully, you, as a business owner or a developer find these insights useful.
Lastly, it is time to wrap up this report on top AI entertainment apps. If you are a developer and looking forward to list your product as well among these leading AI-based entertainment apps, you can write to us and submit your product for a review. This will give your product an opportunity to get featured on our platform.
Written By
Pallavi
Content Head at MobileAppDaily
She is an avid writer of technology and trending mobile apps. When she is not busy updating you about the tech world, she spends time reading books and playing guitar.
Follow
Take the first step to
your Product's growth