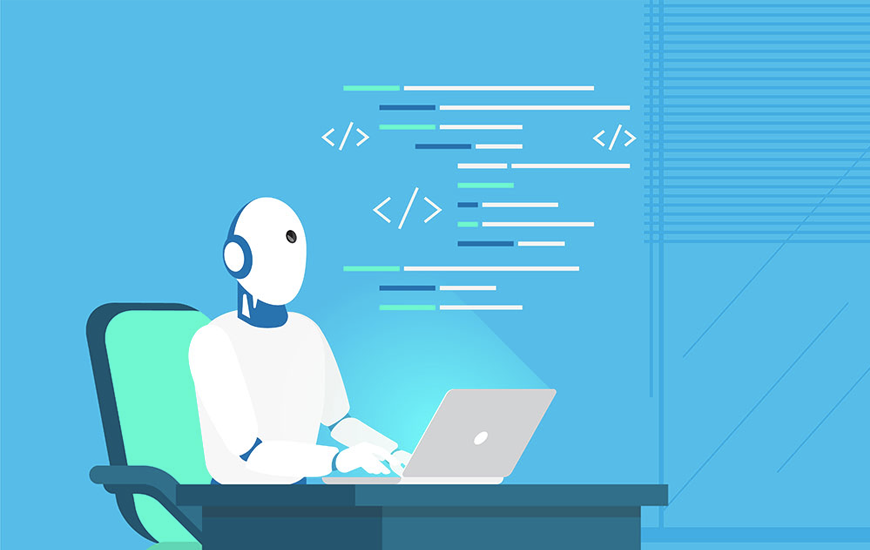 It won't be wrong to say that the education sector has been providing information that we've been aggregating for 200,000 years (age of human society). Education marks multiple disciplines that let us explore different facets of life to create, build, and sustain. However, it's neither accessible to every last human nor its quality always has the capacity to engage students. Engagement that keeps the learner hooked.
In this situation, the education sector is constantly trying to revamp the way we educate students. The intent behind this ordeal is to make the quality of education better and provide accessibility to every student in remote locations especially in economically backward communities.
To solve this problem, AI in education is being introduced and utilized effectively for numerous use cases in the industry. Therefore, let's explore what artificial intelligence in education can accomplish
Challenges of the Education Sector
Before starting with what AI in education can achieve, it is important to understand the challenges associated with it.
The education sector has played a massive role in uplifting society. It has been providing knowledge to our future generation that can help them build a better tomorrow.
Keeping these thoughts in mind, these are some of the challenges that the education industry has been facing for years:
Quality of education for the underprivileged communities
Shortage of qualified teachers leading to overcrowded classrooms
Retention rate of teachers is very low
With changing demands, the curriculum is also changing
Access to personalized education that fits the style of learning for the student
Number of resources in public schools are very limited
Limited funding from the government to boost the quality of education in public schools
What is Artificial Intelligence?
In order to understand the role of AI in education, it is important to understand what is AI. There are several definitions of this technology online most of which describe it as such:
Artificial intelligence is the technology that allows computer systems to make decisions and perform operations automatically.
To create an AI model for education, the AI model is trained on labeled datasets and user data with pre-defined rules. This helps the AI engine learn and evolve over time, thereby, helping in decision-making by collecting insights related to different facets of education and automating the process.
Role of Artificial Intelligence in the Education Industry
AI in the education sector is poised to have a similar impact as it is having on the rest of the industries in this dynamically evolving world. In the next couple of years, the old and dogmatic ways of learning will eventually vanish. The future of AI upholds multiple promises such as:
Personalization of education for students
Gamification of complex concepts
Adaptive learning for different learning styles
New & innovative ways of teaching
There are numerous challenges that can be solved with the implementation of AI in the education industry. It can provide a custom-made curriculum as per the requirement of the student. AI for education can enable the use of technologies like augmented reality and virtual reality. It can provide experiential learning to the students for understanding complicated concepts of physics, chemistry, mathematics, etc. with ease.
Unlike the traditional education system which at times burdens the students with education loans, the use of AI in the education sector can reduce this financial burden dramatically. This can be done, among other things, by providing various affordable courses that are prepared using AI engines.
Importance of Artificial Intelligence in the Education Industry
With compelling use cases that AI can serve, AI for education has a massive role to enhance its reach, quality, and customization as per the requirements.
To further add to this idea, there are several things that artificial intelligence in education can do for students. These are:
Artificial intelligence in education can unlock new modes of communication with students. An AI is capable of generating automated translations of languages and hand gestures. In fact, AI can heavily help in communicating with specially-abled children
No two students are similar. In fact, the way people learn is also very different. An AI can provide insights to the teachers and lecturers to customize their learning such that it is easily understandable by each and every student in the classroom
AI has the capability to morph the style of learning by constantly getting responses from the students. An AI will try to suit itself as per the student's accord and guide him/her at every step of the way
AI can constantly provide suggestions to improve the learning process and provide relevant resources that can improve it
AI can be used to create tools for educators that can help them in order to improve their teaching process and engage better with their students
What is the use of AI in Education? - Applications of AI in Education
With the inclusion of artificial intelligence in education, there are multiple problems that can be fixed. While using AI in the education sector teachers and educators can come up with compelling new ways of teaching thus easing out multiple bottlenecks in the education industry.
Therefore without wasting any time, let's check out some of the applications of AI in the education industry:
1. Grading the papers
In many schools and universities, students are given options for answers using an OMR (optical mark recognition) sheet. These sheets usually have four options that can be scanned through a printer and run through an AI to detect the correct answer.
Adding to it, if the students are provided with subjective questions, an AI model can be developed to assess the accuracy of the answer. It will pick all the important phrases from the answer, and based on that can provide relevant scoring to the students.
Furthermore, the more that AI model is used along with teachers providing intervention (to check the accuracy of the scoring), the better the AI model will become overtime. In fact in the near future, the AI model might become autonomous with time, thereby, providing full autonomy while grading the students.
2. Individualized learning
Learning gets more individualized and student-focused; that's why it makes education today better and a lot more functional. With AI being an assistant teacher, teachers can create the best-individualized curriculum for every student.
It works and changes every time the program sees a flaw, giving students additional questions about harder topics, hints for answers and creating a perfect pace of studying.
3. Tutoring
For now, technology tutoring is not perfect, but AI can already help kids or the ones grabbing a new subject to learn with basics, making it possible to not involve real living teachers at the beginning of the process.
Of course, technology can't make an interesting and creative studying course as a human professional, but it still rids students of using writers from essayontime when they don't have time for real tutors. Year after year, AI is developing and giving us a glimpse of how it can help students.
4. Failing and receiving grades
It's always scary to be put on the spot and get judged by your teacher or classmates when you get low scores in a test or essay. With better education, AI tutoring, and a grading system, it won't be as intimidating to get your tests checked and receive the grades. In fact, the grades can be personally sent to the students via email, thereby, saving them from embarrassment and saving their confidence.
Moreover, it can help students build the courage to study and express themselves more when they want to test their knowledge and coping skills.
5. Accessible education
When you have so many things to experience on the internet, it also gives you huge possibilities like educating yourself and even getting a degree online. With a list of web-courses and even universities available online it's not a surprise to receive a diploma even if you've never visited the building of your university.
Most important is that it's helping in improving education for those who are not fluent in certain languages or have hearing or visual impairments. For example, some programs can create subtitles for the ongoing lecture right in the classroom.
6. Content Creation
The tragedy with education is that even with traditional books and other resources, the process is boring and monotonous. Think about this for a second, lessons from history are practically stories, however, there are so many students who constantly get distracted by what's going around them during the lesson.
With the application of AI in education, educators will be able to create presentations, images, and even videos with ease in the future. The inclusion of AI will enable ease of learning via different types of content and make sure that the classroom becomes as much interactive as possible.
7. Bridging the Skill Gap
The application of artificial intelligence in education is not limited to school or university students instead it can be applied for corporate training as well. A GPT-3 enabled tool that has been trained in a specific industry can engage its users by training them with the necessary skillset. Also, the great aspect of this would be that it'll all be conversational.
8. Feedback Based on AI Insights
An AI-based feedback system that processes the daily data can provide relevant feedback. This feedback can be used to figure out the strengths and weaknesses of an individual using the system. In fact, the system can use those feedback and create a step-by-step how-to guide to work with its student.
Best AI Tools for Education
AI has been r transforming the entire education sector. Right now, there are so many tools that use AI in order to ease the work of teachers and make learning more fun for students.
AI has already started to transform the education sector. As time is advancing, we are seeing more and more AI-based tools in the education industry. Tools that are beneficial for both students and teachers alike.
Here is a list of some of the apps that one can take help of, in terms of education:
Gradescope
Knewton's Alta
Knowji
Ivy.ai
Fetchy
Top EdTech Firms Making Use of Artificial Intelligence
These EdTech firms have been transforming education for students who can not reach a physical school. Below are some of the top EdTech firms that are currently utilizing AI to enhance their service. Here's a list:
The EdTech industry has been a boon for students who can't reach a physical school or simply want the best teachers & professors for their learning process. These EdTech firms are making use of AI to provide the best learning experience to their students.
Below, we have mentioned some of the top EdTech firms that are taking the benefit of AI and helping their students. These are:
Knewton
Cognii
Squirrel AI
Memrise
Risks of AI in Education
There is no doubt that AI has numerous benefits and applications. The limitation is simply the imagination. However, there are several risks associated with the tech too.
To further extrapolate, these are some of the risks associated with prolonged usage of AI for educational purposes.
1. Digital Divide amongst Students
With AI becoming the norm, every student that is a part of the ecosystem will become a problem for the ones who don't have access to it. See, AI is being implemented in almost every facet of life.
This includes multiple industries, our capability to find data (ChatGPT, Google Bard, etc.), and ease of completing tasks in general. With AI becoming so omnipresent, the students who don't have access to AI will lag behind.
2. Bias AI Models
The AI model used for creating AI tools for education uses data that is generated by humans. The problem here is that this data can be biased which further ends up training the AI system.
For instance, ChatGPT has been trained on a whole range of data that includes an informative website and a whole range of resources. Therefore, the makers behind the platform themselves suggest to cross-verify the facts provided with a trustworthy source.
3. Skill Gaps
Not everyone in the education industry is well-versed in AI technology. All the app entrepreneurs, startups, and established organizations that are coming up with AI solutions have tried to ease the process of using their apps. However, the process of dealing with an AI system can be a lot for many teachers and students from remote area backgrounds. For instance, teachers who are dealing with old age might find it difficult to comprehend AI-based educational tools.
4. Reduced Creativity
With so much ease in creating content, users often tend to lose their creativity with the integration of AI. This is the case with every niche. The moment a process has been eased out and there is a replacement that can do the heavy lifting, the creativity of the user decreases. In order to stay creative, we need constant challenges. On the other hand with artificial intelligence in education, the entire process is automated, and often times the presence of a human is simply participatory. A great example of this would be writers using ChatGPT for creating content often losing the capability to construct an article simply by themselves.
What's Next? Future of AI in Education and Concluding Words!
Obviously, with a bunch of new technologies coming our way, both positive and negative changes in our lives are inevitable. Even if AI can't completely substitute all teachers in the classroom yet, it has already become an amazing opportunity for everyone who's a part of the educational process.
It doesn't matter if it's inside or outside the basic classroom; it's amazing how far it has come. AI technology can create courses and curricula, it can help people learn and write papers, and it can already check those tasks on a basic level.
Who knows, maybe sooner or later classrooms will look like old movies and cartoons about the future, and students will be surrounded by human-looking androids only.
Written By
Aparna is a growth specialist with handsful knowledge in business development. She values marketing as key a driver for sales, keeping up with the latest in the Mobile App industry. Her getting things done attitude makes her a magnet for the trickiest of tasks. In free times, which are few and far between, you can catch up with her at a game of Fussball.
Follow
Want To Hire The Best Service Provider?
MobileAppDaily will help you explore the best service providers depending on your vision, budget, project requirements and industry. Get in touch and create a list of best-suited companies for your needs.