Best Home Cleaning Apps in 2023: Revolutionize Your House cleaning Routine
Discover the best home cleaning apps and how they can help you save time, money & more! Home cleaning doesn't have to be a chore- thanks to the best home cleaning apps of 2023.
Last Updated on :
June 27, 2023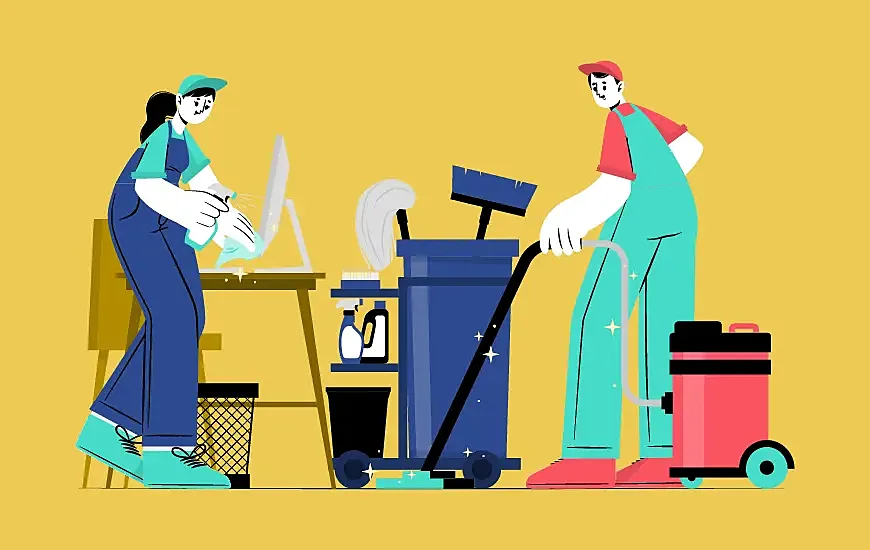 With ever-increasing demands on our time, hiring a house cleaner is becoming increasingly expensive and less feasible. So what can you do to keep your home looking and feeling its best? The answer might be simpler than you think. Home cleaning apps!
Modern technology has given us the power to keep our home clean, organized, and beautiful with a few taps on our smartphones.
If you are looking for the answer to what is the best house-cleaning app to make your life simpler and easier, you've come to the right place! In this blog post, we will take a look at the best home cleaning apps available in 2023. From organizing chores and creating shopping lists to managing duties and tracking expenses, these apps will help you take the stress out of home cleaning. So let's dive in!
Our Top Picks
While selecting the best clean house app for Android and iOS in 2023, we considered functionality, user experience, and affordability. Various factors like task management, scheduling, budgeting, and overall user experience were also taken into account.
After rigorous research and testing of different home cleaning apps, we have compiled a list of the 7 best home cleaning apps that will make your life simpler and more efficient.
Discover the Best Home Cleaning Apps for Effortless Cleaning
Below, we have listed the top home cleaning apps that will help you clean your house efficiently and make daily tasks easier for you!
1.
Tody
4.8
4.7
Tody is one of the best house cleaning apps in 2023. It helps you plan, manage and track the progress of your cleaning tasks on a daily, weekly, or monthly basis. Tody stands apart from traditional cleaning routines as it lets you manage tasks by actual indicators of need instead of arbitrary dates. This means you can prioritize what needs to be cleaned based on dirtiness levels instead of following a strict schedule.
Not only does it motivate you to clean with its dirtiness visualization, but it also visualizes the effects of your efforts, enhancing your satisfaction levels. Tody turns home cleaning into a fun game where family members can check-in and earn credits for their cleaning actions.
The app remembers your cleaning habits, and it adjusts your cleaning schedule based on those habits, making it an intuitive companion to keep your house clean and tidy. Tody is available for both iOS and Android devices, making it easily accessible to everyone.
Notable Features of Tody: Home Cleaning Service App
A simple and intuitive user interface

Visualizes the dirtiness levels of your home

Tracks and remembers cleaning habits

Ability to assign tasks to family members

Available for both iOS and Android devices
2.
Sweepy
4.7
4.5
Sweepy is another home cleaning service app. It helps you create a personalized cleaning schedule that fits your own lifestyle and preferences. With Sweepy, you can easily find time to clean even when your day-to-day activities are busy and full of obligations.
This app for household chores also comes with a tracking feature that allows you to monitor your cleaning progress and stay motivated. Sweepy helps you keep an eye on your entire home cleaning process with its built-in reminders, which make sure you don't miss any tasks. The app also has a special team of experts who can help you plan out the best home cleaning strategy for your needs. From helping you choose the right cleaning products to giving advice on how to organize your home, Sweepy has all of the answers.
Notable Features of Sweepy: House Cleaning App
A personalized cleaning schedule

Tracking feature for monitoring progress

Built-in reminders and notifications

A special team of home cleaning experts

Available for iOS and web users
3.
FLYlady
4.9
4.6
FLYlady is the best house cleaning app for busy moms. It provides a detailed and organized approach to cleaning that makes it easier to get your house in order without feeling overwhelmed. This app for house cleaning simplifies the entire process of organizing a household, providing step-by-step guidance on how to break down tasks into achievable goals.
The app also includes a habit-tracking system that helps you stay motivated by tracking your progress over time. With pre-loaded checklists, reminders, and personalized advice on how to organize your home in a way that makes sense for your lifestyle.
The app comes with an intuitive user interface that's easy to navigate, even for beginners. It also has a robust selection of features, including voice commands and reminders that can help you stay on top of your cleaning routine.
Notable Features of FLYlady: Free House Cleaning App
Step-by-step guidance for organizing household tasks

Habit tracking system to monitor progress over time

Pre-loaded checklists and reminders

Personalized advice on how to organize your home

Voice commands and reminders for easy navigation
4.
Nipto
4.7
4.8
Nipto is one of the best home cleaning service apps for all those who struggle with dividing household chores and maintaining a clean home. With Nipto, you can turn your monotonous house cleaning tasks into a fun-filled game that everyone in your family or room can enjoy. Nipto allows you to create an interactive game where players can accumulate points for completing daily home cleaning activities. The app is intuitive and customizable, so you can tailor it to your preferences and play style.
Moreover, this daily cleaning schedule app makes it easy to keep track of who is participating in the game and what tasks each person has completed. You can also reward the winner every week with a prize of your choosing. Furthermore, you can create reminders for important household chores or set bonuses for specific tasks, which can be a great motivator for players. With the app, you can assign a different point value or level of importance to each task. This kind of home management app helps ensure that everyone in your household is contributing equally, regardless of their preferences or abilities.
Notable Features of Nipto: Best App for Households Chores
Interactive game to turn house cleaning into a fun activity

Points system for completing daily tasks

Track who is participating in the game and what tasks each person has completed

Rewards for winners

Reminders for important household chores

Set bonuses for specific tasks
hype your product on mobileAppDaily
With our strategically designed marketing solutions
5.
Flatify
4.3
4.3
Flatify is the perfect clean-my-house app for busy professionals. It allows you to quickly and easily create a custom cleaning plan that fits your unique lifestyle. It provides an easy-to-use interface that makes household management a breeze.
One of the striking features of Flatify is the cleaning schedule checklist, which categorizes house cleaning tasks, and then assigns points according to relevance. This feature ensures that no cleaning task is missed and helps in better coordination and organization. The app helps to manage appointments, and absences with a household calendar feature, helping to avoid misunderstandings and mix-ups.
Notable Features of Flatify: Best App for House Cleaning
Cleaning schedule checklist for comprehensive coverage

Shopping list feature for direct accounting and expense splitting

Household calendar to manage appointments

Group chat feature for communication among roommates

Poll option in the chat feature for faster decision making
6.
OurHome
4.1
3.8
OurHome is the best free house cleaning app for busy households and people on the go. It offers a plethora of features that make it easier to handle all the cleaning tasks around the home.
OurHome assigns tasks and chores to every member of the family. With customizable lists and schedules, parents can easily assign and delegate household duties while children can feel empowered with a sense of responsibility.
An added bonus that sets OurHome apart from other best free house cleaning apps is that this app allows you to track personal progress and activities, giving you a bird's-eye view of how everyone contributes to the household's upkeep. Aside from household duties, the OurHome app includes a shared grocery list feature that everyone in the family can add to. With this feature, you can stay in sync with everyone in the household and avoid scheduling conflicts.
Best of all, OurHome is free of charge, and there are no ads or hidden costs that come with using it. You can install it on an unlimited number of devices, making it easy to keep everyone in the household connected and informed.
Notable Features of OurHome: Best Home Management Apps
Ability to assign tasks and chores to every member of the family

Customizable lists and schedules

Tracking personal progress and activities

Shared grocery list feature for everyone in the family

Family calendar for tracking important events

Messaging system for communication among family members

Reminder feature for sending friendly reminders or quick messages
7.
Do!
4.7
4.3
Do! is an innovative household chore app that makes home organization very easy.
The app is user-friendly and doesn't require any learning process. It comes loaded with various functionalities, which are self-explanatory and easy to understand. With Do!, you have the option to create personalized lists with multiple fonts, sizes, and colors.
One of the most exciting features of Do! is the double-tap. By double-tapping, you can complete your cleaning task, and it gives an immediate satisfaction of accomplishment. You can use it to create checklists for a deep cleaning session, a quick tidy-up before guests arrive, or prepare for a move. Moreover, Do! also has a reminder function that ensures you never forget a task.
Notable Features of Do!: Best House Cleaning App
Create personalized lists with multiple fonts, sizes, and colors

Double-tap feature to complete your task immediately

Versatile app for creating checklists for deep cleaning sessions or move preparation

Reminder function to ensure you never forget a task

Customizable alerts to notify by time, day of the week, or location

Integration with other apps and devices for easy access
publish unbiased & detailed reviews
That Promote Your Product's USPs
Conclusion
Finding the best house cleaning app for your needs is an important task. Each of these apps offers its own unique features, so consider which one meets your specific requirements and choose accordingly. Whether you are looking for a comprehensive deep-cleaning checklist or a hassle-free housekeeping solution, you can be sure to find the perfect app that fits your lifestyle. With the help of these home cleaning apps, you can have a stress-free and well-organized home in no time.
If you are looking to get your product featured on MobileAppDaily like this then feel free to contact us. Our team of experts will help you create the best marketing strategy for your business. List your product and services with us to get amazing visibility and more customers.
Written By
Pallavi
Content Head at MobileAppDaily
She is an avid writer of technology and trending mobile apps. When she is not busy updating you about the tech world, she spends time reading books and playing guitar.
Follow
Take the first step to
your Product's growth