5+ Best Burner Phone Number Apps For Your International Travel
In this blog, we have listed the top burner phone number apps on the basis of their feedback, reviews, and features.
Last Updated on :
May 04, 2023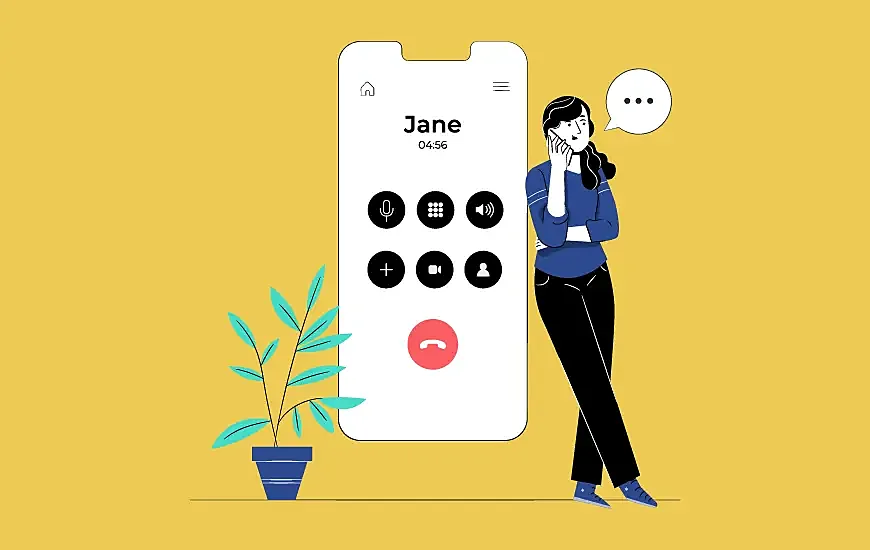 Having a burner phone or secondary number allows you to join up for various services while protecting your privacy. This can also help you save money on roaming charges while traveling abroad. Having burner number apps is a must-have on international excursions. If you want to know how to get a temporary phone number and how to create a burner phone number, this article is for you.
Burner phones and burner phone apps have a rather unusual reputation because of their depiction in movies and television, although they serve many useful functions. Using
mobile apps for Android and iOS
is one of the finest ways to obtain a burner phone number.
In this article, we will look at the best burner apps you can use immediately and effortlessly. So, without any further adieu, let's look at the best apps that give you a burner phone number.
Our Top Picks
Once you know how to create a burner phone number, you can look at our top picks for the creation of a burner phone number of 2023 which were picked after careful analysis of a variety of aspects, including accuracy, user interface, features, and overall user experience. We understand that various apps generate burner numbers on the market, and choosing the best one might be difficult. As a result, to make your job easier, we've compiled a list of the top fake phone number apps that stand out from the crowd.
Best Burner Phone Number Apps to Download in 2023
Let's take a look at our best burner phone app for the best experience and usage. It also includes hidden phone number apps.
1.
Burner - Second Phone Number
4.7
4.1
Burner, possibly the most well-known virtual phone number provider and one of the best burner number apps, provides a secondary line for calling and messaging without paying your carrier for a second connection. It gives you a throwaway VOIP phone number (with a local area code) to use for dating, avoiding salespeople, online shopping, or selling stuff on Craigslist. It's a celebrated burner phone number app Android. It walks you through how to get a temporary phone number.
You don't need to carry a second device because you can call, text, and maintain your contact from within the app. You can create many secret phone numbers, keep them for as long as you like, and then 'burn' them whenever you choose. It's a free burner phone number app.
Notable features of this free burner phone number app:
Users can preserve their privacy by hiding their phone numbers

Several phone numbers for multiple identities

Customizable voicemail feature for greeting and voicemail messages
2.
Hushed - Second Phone Number
4.6
3.7
Hushed, a fake phone number app, is another well-known secondary phone number program that functions similarly to the Burner phone app, but it provides burner numbers for 40 countries. This is in addition to neighborhood numbers from over 300 area codes in the United States, Canada, and the United Kingdom.
The program allows you to phone and text on your Hushed number, and your activities are completely separated from your carrier's actual number. Within the app, you may get a second phone number, add other numbers, and manage several lines. It's a highly used burner phone number app on Android.
You can use a WiFi/data connection to access your Hushed number(s) anywhere with this free burner phone number app.
Notable features of this fake number texting app:
Enables international calls and text messages

Customizable voicemail greetings

Correlate several Hushed numbers with your account
3.
Line2 - Second Phone Number
4.4
3.5
Line2, one of the easiest apps that give you a burner phone number, in contrast to the other applications on this list, is a business-oriented service with additional functionality for enterprise users. Conference calls, auto-attendants, and toll-free numbers for international customers are among the other services. The app provides unlimited VoIP calls and texts throughout the United States and Canada. Users can also communicate with other Line2 users for free.
An auto-attendant option also helps users direct their consumers to the appropriate call queues, such as sales or support. On-hold music and pre-recorded call greetings are also provided. You can also add, remove, or edit a business line by contacting the support staff. Users can also screen and block calls for each one. It's a free burner phone number app that all can use.
Notable features of this fake number generator app:
Get corporate functions like auto-attendant, phone routing, and more

Send and receive text messages with Line2 numbers

Connect with other programs such as Dropbox, Google Drive
4.
Grasshopper
4.8
3.8
Another excellent burner phone number program is Grasshopper, a temporary phone number app. It is a texting app that lets you create your own number. It adds a business line and digital phone system to your cell phone. Grasshopper, one of the biggest corporations in the enterprise virtual telephone industry, is mainly focused on small enterprises.
It includes typical features like Caller ID, unique automated greetings, and various extensions, allowing businesses to appear more professional without spending a fortune. The Grasshopper app is accessible for Windows, Android, and iOS, and support is available 24 hours a day, seven days a week.
Notable features of this top burner phone number apps:
Get multiple phone numbers on a single device

Call routing can be configured to forward calls to different numbers

Enables screen calls and chooses whether to answer them
hype your product on mobileAppDaily
With our strategically designed marketing solutions
5.
MightyCall Mobile
4.0
3.2
MightyCall, a temporary phone number app and fake number generator app, is another phone number software aimed primarily at companies. It is a texting app that lets you create your own number. It bills itself as the finest alternative to Grasshopper, and one look at its features explains why. MightyCall, like the aforementioned software, provides vanity, toll-free, and ordinary local numbers.
You also get multiple extension support for each number, personalized automated introductions, premium (EV) SSL certificates with 256-bit encryption, and other industry-standard features. It is also used as a fake number texting app.
Notable features of this burner phone number apps:
Explore the auto-attendant feature

Organizations can record all calls made and received

Rransmits voicemail messages through email or SMS
6.
Google Voice
4.4
4.2
Google Voice is another leading free burner phone number app. It is one of the most established virtual phone number programs available for over a decade. Google Voice is a virtual service that includes voicemail, text, and voice messaging. It is compatible with cell phones and laptops and syncs across all your devices.
Google Voice numbers are compatible with smartphones and the web, allowing you to make and receive calls from anywhere. The service includes a slew of capabilities, such as voicemail translation, AI-powered spam filtering, call forwarding, and more. Google Voice offers advanced voicemail transcriptions, which you may read in the app or have emailed. You can also use this fake number generator app for making international calls at low rates without paying any extra fees.
Notable features of this fake phone number app:
Customize voicemail greetings for individual callers or groups of callers

Prompt the user to accept or reject the call

Get spam filtering to reject unsolicited calls and messages
7.
Flyp
2.1
2.8
Flyp is another app that generates false phone numbers and is accessible for both Android and iOS. It allows you to add up to five US phone numbers to your existing phone. You can assign any area code to each number, ensuring you always have a local number. The phone numbers provide unlimited calls, texts, and photo messages.
Flyp allows you to call and text people in over 15 countries. A 'Do Not Disturb' mode can also be set separately for each number, letting you control who and when can call you.
Notable features of this fake number generator app:
Record personalized voicemail greetings

Route calls from one number to another

Enjoy low-cost international calling rates
8.
Sideline - 2nd Phone Number
4.3
3.8
Sideline - 2nd Phone Number is also a burner phone number apps that we decided to list down in this report. With this application, you get a second phone number that works without a wifi connection. You can pick your local area code and make calls or send unlimited text messages while on the go. The app also comes with several other features like text reminders, auto-reply, and custom voicemail.
Notable features of this free burner phone number app:
Send unlimited text messages

Set up custom voicemail in seconds

Auto reply to missed calls

Identify new callers
publish unbiased & detailed reviews
That Promote Your Product's USPs
Conclusion
Therefore, now that you're aware of the finest and temporary phone number apps for Android and iOS, utilize them to keep strange dates and potential stalkers far. These are also widely used as fake number texting apps. A few of them could also be hidden phone number apps. Small company owners can use virtual phone number applications to provide their clients with a professional support experience by utilizing some of these professionally curated services. Once you know how to create a burner phone number, these apps could be immensely useful.
If you are a developer, company, or someone with a finished product or have a soon-to-be-released app, email MobileAppDaily and list your product by exceptionally talented app experts. Visit our website to see all the new and intriguing content we publish daily. Sign up for our newsletters to learn more about MobileAppDaily.
Written By
Pallavi
Content Head at MobileAppDaily
She is an avid writer of technology and trending mobile apps. When she is not busy updating you about the tech world, she spends time reading books and playing guitar.
Follow
Take the first step to
your Product's growth