10 Best Online Auction Apps for Raising Funds in 2023
This article lists the best Auction apps that can facilitate the trading of items through your mobile device.
Last Updated on :
April 26, 2023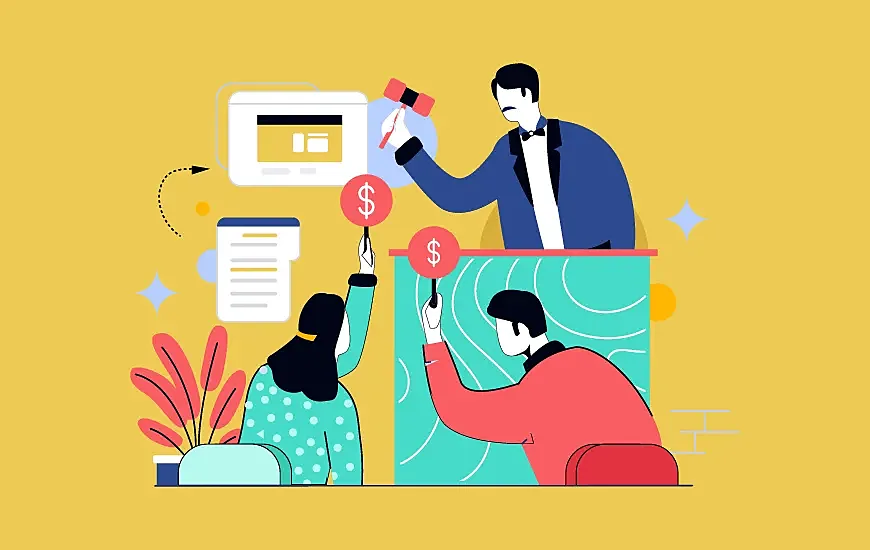 The landscape of fundraising and auctions has changed drastically. With more organizations turning to virtual or hybrid events to expand their reach and accelerate their fundraising goals, the need for
online fundraising apps
has also increased. Comparable to in-person auctions, an auctioneer describes an item on sale, bidders place the bid, and the highest bid wins in an online auction. The selling of items is facilitated by some of the best auction apps, which allow different buyers and sellers to connect through a common platform.
The auction apps are built with reliable backend technology and resilient architecture to ensure a smooth and seamless user experience. It is a marketplace platform that brings buyers and sellers from different backgrounds together. The apps optimize the mobile experience by enabling everything through a downloadable app.
Want to know more about the best auction apps? This article will give you an overview of how some of the best auction applications work and what are the benefits of using them. You can find a list of all our favorite apps for auction and learn about their features in detail.
Our Top Picks
We have rounded up the best online auction apps based on their usability, charges, security, and additional benefits. While there are many auction apps available online, here are our top 10 favorites out of the lot.
What are the Best Auction Apps to Get Top Deals in 2023?
If you are looking for good deals, there is a high chance you'll find them on one of these apps. If you are searching for clothing and shoes, jewelry and accessories, home and living, arts and crafts, and other collectibles, auction apps can help you find them all.

Here, you can find the best bidding apps to find your favorite items without breaking the bank. Let's begin with the list now!
1.
Auctria
4.7
3.1
Auctria is a one-stop shop that can manage and run the entire auction process smoothly. It is a cloud-based fundraising management solution that is specifically designed for small and midsize nonprofits. It is one of the top mobile auction apps that makes the process of bidding extremely affordable and convenient.
As one of the best silent auction apps, Auctria is ideal for organizing fundraisers, hybrid and virtual auctions, managing ticket sales and bid purchases, and simplifying other operations. It creates a flexible auction website for your event per your needs and preferences.
This mobile auction app can be used to promote your event or to run full online bidding. You can also avail of many other perks, such as real-time monitoring, streamlined inventory management, a "buy now" option for buyers, and many more.
Features of Auctria - A live auction app for small organizations:
Access popular fundraising features for free

Intuitive interface and is extremely easy to use

Responsive and quality support for the users

Best-suited for small and mid-sized organizations

Relatively more affordable than other auction apps
2.
Silent Auction App
5.0
Silent Auction is one of the top mobile auction apps that enables users to host, manage and record all the important information for charitable fundraising. The app is equipped with total auction management solutions for all users.
This app can be used by all types and sizes of organizations, including- non-profit charitable organizations, schools, churches, societies, national charities, service clubs, etc. you can build your auction catalog and can send out registration links through this app.
You can sell admission tickets, raffle tickets, sponsorships, and tables using this all-in-one bidding app. Users can tailor the app based on their requirements and can choose a suitable option from the five different subscription packages available.
Features of Silent Auction App - An app to simplify mobile bidding:
Streamline your fundraising events using effective management solutions

Provides online and offline program guides

Allows you to organize multiple auctions and set calendar reminders for the same

Allows you to account for everything from money raised to money donated
3.
Ebid
2.1
2.5
eBid is one the most popular apps for auction that promises users a platform for selling and buying goods in an auction format. You can expect exceptional quality goods at highly affordable prices from this app.
Similar to other mobile auction apps, eBid welcomes sellers to list their products or goods that they would like to auction off to prospective buyers. The buyers can choose products from different categories like- antiques, electronics, jewelry, watches, and other valuables.
Each product has a minimum bid price at which the bidding begins. The highest bidder gets to claim the product. It has become one of the best auction apps for buying and selling products at incredible prices.
Features of Ebid - The leading free auction app:
All auctions are free to participate and you only need to pay once you win

The users can participate in a wide selection of auctions

The app is fast-paced and extremely easy to use

The commissions are much lower as compared to other platforms

Offers a broad catalog for the users to buy products from
4.
Live Auctioneers: Bid @ Auction
4.8
3.3
Live Auctioneers is a worldwide marketplace that offers a variety of collectibles, art pieces, jewelry, etc. This mobile auction app provides access to remote sales and can offer a variety of products at desired prices.
By participating in thousands of auctions in real-time via the internet, you can win rare items from people around the world at affordable prices. The bidding takes place through a highly secured bidding network that keeps all your biddings private.
It is one of the best bidding apps that can have a significant impact on the growth of your business. It allows you to reach an entirely new audience of potential buyers who can participate in the auction.
Features of Live Auctioneer - Top live auction app across the Globe:
It is a fully featured software designed to serve start-ups and big enterprises

Offers bid management, billing and invoicing, absentee bidding, and live auctions

It is a one-stop shop for luxury items and antique pieces

Provides the best end-to-end solutions for Widows
hype your product on mobileAppDaily
With our strategically designed marketing solutions
5.
Auction Sniper
4.7
4.6
Auction Snipper is one of the most popular apps for auctions that offers a platform for hand-free bidding and winning. This mobile app provides a streamlined mobile experience for the users to snipe and win eBay auctions.
This tool places an automated bid, based on your preference, during the last seconds of an online auction which increases the likelihood of winning a bid at a lower final price. The Auction Snipper is an absolute must-have for all online bidders. The app can save you a lot of money and effort.
It is one of the best auction applications that can secure you a winning bid easily. As an auction sniper, you do not have to worry about other people bidding the auction up, as there is no time left for additional bids.
Features of Auction Sniper - Your sure-shot chance at winning:
Places the bid automatically and saves your time and effort

It is free to try for all users

It is fully automated, simple, and highly effective

Extremely reliable and safe
6.
Listia: Buy, Sell, and Trade
4.4
4.0
Listia is one of the most trending auction apps in 2023 that extends a marketplace for buying and selling used goods. The users can list their preloved items as auctions and other users bid on these items using credit instead of money.
You can easily buy and sell a variety of products across different categories like gadgets, jewelry, clothing, accessories, etc. The users can earn credits by signing up and giving away stuff on the app.
Listia allows users to earn points and props by exchanging their old items in return for the things that they love. It offers the simplest and the most rewarding way to declutter your space.
Features of Listia - Leading Auction App for Trading Goods:
Fast and extremely easy to use

Allows you to buy items at lower prices, listed by nearby users

Enables you to exchange multiple items available in different categories

A great alternative to selling things offline in a garage or yard
7.
AuctionZip
4.6
4.2
AuctionZip is the world's largest auction marketplace designed for local auctions. New items are listed every day for the users to choose from. As a leader in the auction industry, AuctionZip delivers the best in class service for auctioneers and users.
It is well designed mobile auction app that lists auctions near your area. You can find local machinery auctions, land and home auctions, local gun auctions, estate sales, auto auctions, etc.
It is one of the few online auction apps that promote regional marketing and improves sales within your local community. The site opens up to new sellers and updates new items every week.
Features of AuctionZip - A trusted, online, local auction app:
Features a diverse inventory ranging from coins, fine arts antiques, etc.

Allows you to manage bids, auctions, and purchases from your account

Enables you to search online and in-person auctions around the world

Uses technical functions to operate and facilitate excellent modern marketing
8.
Handbid
4.8
4.7
Handbid is widely regarded as one of the best auction apps in 2023. It offers an auction management solution that is much more engaging, fun, and simple to use. This platform powers online auctions, mobile bidding, crowdfunding, fundraisers, etc.
This app gives you everything that you require to host a successful auction. It is industry-leading online auction software that is equipped with necessary organizing tools that are capable of managing all your auction needs.
It has made its mark in the industry as one of the best auction apps by providing after-sale services and offering reliable maintenance support to users.
Features of Handbid - A smart solution for simplifying auctions:
Offers a user-friendly and intuitive interface for all its users

Allows you to create and manage auctions on the go through your mobile device

Allows you to bid from anywhere using desktops, smartphones, or tablets

It is equipped with integrated live-streaming tools and chat features
9.
Copart
4.8
4.4
Copart is a free auction app that has emerged as a global leader in online car auctions and is a primary destination for reselling non-repairable and used vehicles. The users can easily find, bid on and win the vehicle of their choice at the desired price.
You can sell your cars or other vehicles directly to the company and can avail decent offers on the same. Copart charges nothing if you sell your vehicle directly to the company. However, if you want to auction a car, you will have to pay a fee.
It is preferred over other apps for auction as it offers an easy car-selling process and delivers fast quotes online. This live auction app specializes in the resale and marketing of used, wholesale, and salvage vehicles.
Features of Copart - A salvage vehicle auction app:
It addresses the needs of a wide range of car sellers, including hobbyists, charities, financial institutions, insurance companies, etc.

Offers free pickup and towing for all users. Copart will pick up your vehicle without any charges or extra fees

You can get a sure-shot offer for your car if it is 2002 or newer. You can secure a good deal regardless of the damage

Copart handles all the paperwork and offers fast payment at the time of pickup. This ensures that the entire process is completed within less time
10.
Manheim
2.7
4.1
Manheim is a digital mobile auction app that has been designed exclusively for facilitating a smooth and effective online auction process. It enables you to search, bid, watch, buy, and sell in real-time on your smartphone.
Buyers, vendors, and dealers are enabled with the ability to attend physical auctions and can also perform all functions seamlessly from any iOS or Android device. You can save big on a discount car and secure an excellent price for the same.
It is one of the few online auction apps that allows you to research items thoroughly using full condition reports. As one of the top auction houses, Manheim acts as a fuss-free alternative for buying secondhand vehicles. It offers a wide variety of models and thousands of units for sale that are sure to meet your requirements.
Features of Manheim - Largest reseller auction app:
Auctions are streamed live with audio and real-time bidding that allows you to participate from anywhere

All the vehicles are displayed with a gallery of images and information. This enables the users to carefully examine the product before purchasing it

It is also capable of helping customers with insurance or any kind of roadside assistance that they might need after making the purchase

The app offers the simplest and one of the most convenient methods of accessing automotive auctions
publish unbiased & detailed reviews
That Promote Your Product's USPs
The article explains how the most recent advancements in technology can simplify the tedious process of auction. The above-mentioned apps are some of the best auction apps available for users worldwide.
These online auction apps have the potential to revolutionize the age-old methods of bidding. We have tabulated some of the best auction apps in 2023. We hope that these apps will cater to your needs and will ensure an effective and rewarding auction experience for you.
If you are an app owner and want to list your product, get in touch with us at MobileAppDaily. Our expert reviews can help in the growth of your app. You can get in touch with us to know more about the process. Meanwhile, keep exploring MobileAppDaily for more insightful information.
Written By
Pallavi
Content Head at MobileAppDaily
She is an avid writer of technology and trending mobile apps. When she is not busy updating you about the tech world, she spends time reading books and playing guitar.
Follow
Take the first step to
your Product's growth