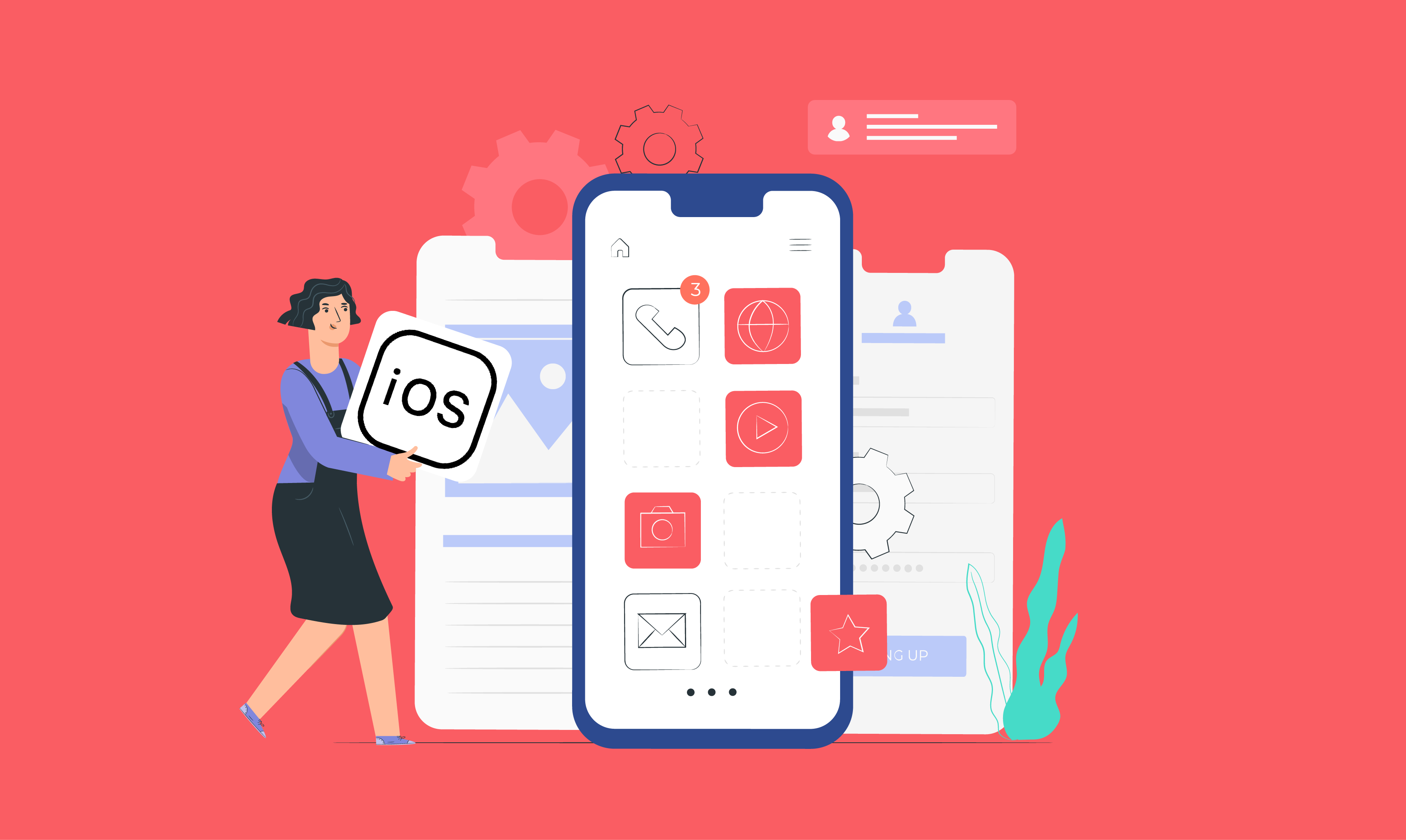 Since its initial release, iOS has gained hype and popularity at a rapid speed among users. Currently, iOS has a user network of more than 1 billion users globally. But this journey of iOS devices gaining popularity was not easy and had seen tough competition from its competitors such as Android.
Even though Android is currently leading the market, iOS still owns the crown of offering the best quality standards and security among smartphone users. In this blog, we are going through all of the versions of iOS. We will see how iOS grew from one version to another. Moreover, we will also know when did Apple start offering features that became USPs of the Apple devices.
So, let's time travel and dive into the details of the evolution of iOS.
History of iOS - A version-wise study of features
The iPhone over the years has seen crucial changes. From the layout grid to basic software, the device has removed and added features with speed like no others. Most importantly, the iPhone is known as the originator of many crucial features that we see in the market today. Moving further, we will list down all of the iOS versions and their features along with them. It will help us in understanding how many changes have been made to the OS to support Apple devices.
History of iOS 1
The very first iOS version came into existence in 2007. However, it was not called iOS back then, but iPhone OS. The iOS version brought some game-changer features for the market of that time- Multitouch Gestures, Mobile Safari, Visual Voicemail, Maps, iTunes Sync, Multitouch Keyboard, iTunes Wi-Fi music store, and web clips on home screen, among others. iOS 1's official support ended in 2010.
Evolution of iOS 2
With the release of the iPhone 3G, the iOS 2.0 came into existence in 2008. The iOS version brought support for third-party apps as the breakthrough in iOS history. At that time, there were almost 500 iOS apps available to release. Apart from other crucial features, iOS 2 also brought podcast support, public transit, and walking directions in Maps with update 2.2. The iOS version also brought the Apple App Store into existence and fixed the call-drop issue.
History of iOS 3
The iOS version accompanied the iPhone 3GS models with its release in 2019. Some features such as Spotlight Search, MMS support, copy-paste, and video recording, among others were added into this one of the earlier versions of iOS. The iOS version also supported iPad devices. Some more features added in this version and its updates were USB & Bluetooth tethering, Remote Lock, Ringtone Downloads, and Find My iPhone, among others.
Evolution of iOS 4
Released in 2010, iOS 4 gave features that accompanied the iPhone over the years. Some features that debuted with iOS 4 are FaceTime, Personal Hotspot, AirPlay, iBooks, Multitasking, and AirPrint, among others. iOS 4 also brought the concept of "iOS" into existence, which became a permanent trend for the iOS series. The support for this one of the old iOS versions ended in 2014.
History of iOS 5
Released in iOS 5, iOS 5 stayed active until 2014. The iOS version brought the Cloud concept into the world of iPhones. Some other features that it brought were Siri, Notification Center, PC-free, Wi-Fi supported iTunes synchronization, iMessage, and iCloud.
Evolution of iOS 6
Released in iOS 6, it was a crucial breakthrough for the iOS series. Among all iOS comparisons, iOS 6 plays a crucial role. The iOS version brought revamps for many major apps. Moreover, Apple also dropped the support for Google Maps in this version. The new map that came with iOS 6 offered turn-by-turn navigations, Siri's assistance, and a 3D-flyover feature.
Moreover, the new version of Siri in iOS 6 was smarter compared to its predecessor. It supported voice assistance for Schedules, Sports scores, and more. The Passbook feature, another breakthrough for the iOS series, made finance handling convenient. The iOS version integrated Facebook, Yelp, and Twitter as well. Moreover, some enhancements were made for FaceTime over cellular data, iCloud tabs, reading list, and Apple ID feature. The support for iOS 6 ended in 2015.
History of iOS 7
Released in 2013, iOS 7 replaced Skeuomorphism with Flat Design. Moreover, a few new features such as quick access actions for Wi-Fi, Do Not Disturb, BlueTooth, and Sliders, among others were released. Moreover, AirDrop also came into existence with this update. With the Auto-update feature, it got more convenient for users to keep their apps fresh. iOS 7 also focused on improving the multitasking feature, which enabled previewing active apps by double-tapping the home screen.
Evolution of iOS 8
The release of iOS 8 was focused on redefining the workflow for a better user experience. Released in 2014, the iOS version focused on the refinement of designs that iOS 7 brought. iOS 8 also made a better interaction possible between iPhone, iPad, and Mac Computers. Moreover, the AirDrop feature also supported these devices and made the wireless transfer possible.
This stage of the iOS evolution also brought support for third-party widgets into the Notification Panel. Some features such as HealthKit, HomeKit, Family Sharing, QuickType, and iCloud Drive debuted with this iOS version. Siri also got smart enough to get activated through voice commands in this update. Apple ended support for iOS 8 in 2016.
History of iOS 9
iOS 9 focused on stabilizing the performance as that was the need of the hour for users. At the time of the release of iOS 9, users were demanding better performance as new versions of iOS lacked that compared to the older versions. iOS 9 understood and tackled this problem. Moreover, it also brought a few new features such as Night Shift, Wallet, Low Power Mode, and more.
iOS 9 focused on improving the speed of devices, along with stability and responsiveness as well. Moreover, the official Public Beta Program was released for developers so they could use these codes and experiment with new updates for iOS devices. The support for iOS ended in 2018.
Evolution of iOS 10
iOS 10 tackled the customization problems and resolved them. The update allowed users to remove even built-in apps. Moreover, apps were also allowed to use other installed apps for supporting features. For instance, a few third-party apps enabled the support for Siri and voice commands became more accessible. The update also included animations and creative ways to make messages more interesting. Released in 2016, the iOS 10 version lost its support in 2019 from Apple.
History of iOS 11
Released in 2017, iOS 11 was an OS built for the modern world. The iOS version started supporting Augmented Reality and AirPlay 2 as one of the crucial features. Moreover, iOS 11 also brought Files into existence, which allowed users to rearrange or remove files individually as per their choice.
The new Dock feature allowed users to open or switch applications with a single swipe. Moreover, the newly added Drag and Drop feature made moving media and non-media content easier. Another fact is that iOS 11 focused more on improving iPads usability instead of iPhones.
Evolution of iOS 12
iOS 12 focused on commonly used features and improvements in performance. The iOS update was focusing on AR features as well as on improving the performance of devices from 2013. Moreover, some additional functionalities were image tracking, object detection, and sharing experiences in supporting apps.
Memoji characters were also introduced for iPhone X users during the same update. The Group FaceTime feature enabled up to 32 users in one group video chat. iOS 12 also introduced a screen time feature to maintain the digital health of the user. iOS 12 debuted into the market in 2018.
History of iOS 13
Released in 2019, iOS 13 brought discontinuation of the iTunes Store. Moreover, Apple also announced that iPad devices will get their OS called iPadOS. Some features that iOS 13 brought with it were Dark Mode, Face ID unlock, Portrait Lighting and improved Siri Voice, among others.
Conclusion- What is going on with iOS 14?
Well, the new iOS version is already in the market and it seems no major upgrades have been done since its predecessor. There are a few tweaks done with the UI and already existing features that we know of. Moreover, some notable features came into existence such as Home Screen Widget customization, Smart Stacks, App Clips, Picture-in-Picture mode, Built-in language translation, and more.
Now, with the latest iOS 14 version, the best iOS development companies are blessed with more performance and freedom features. However, iOS 14 is taking user privacy more seriously compared to its predecessors. The iOS version is banning third-party apps from tracking users' information unless permitted by the user itself.
Written By
Aparna is a growth specialist with handsful knowledge in business development. She values marketing as key a driver for sales, keeping up with the latest in the Mobile App industry. Her getting things done attitude makes her a magnet for the trickiest of tasks. In free times, which are few and far between, you can catch up with her at a game of Fussball.
Follow
Want To Hire The Best Service Provider?
MobileAppDaily will help you explore the best service providers depending on your vision, budget, project requirements and industry. Get in touch and create a list of best-suited companies for your needs.