Best outfit planner apps to unlock your perfect style
In this article, we have listed the top outfit planner apps to elevate your fashion game and organize your wardrobe with ease.
Last Updated on :
June 27, 2023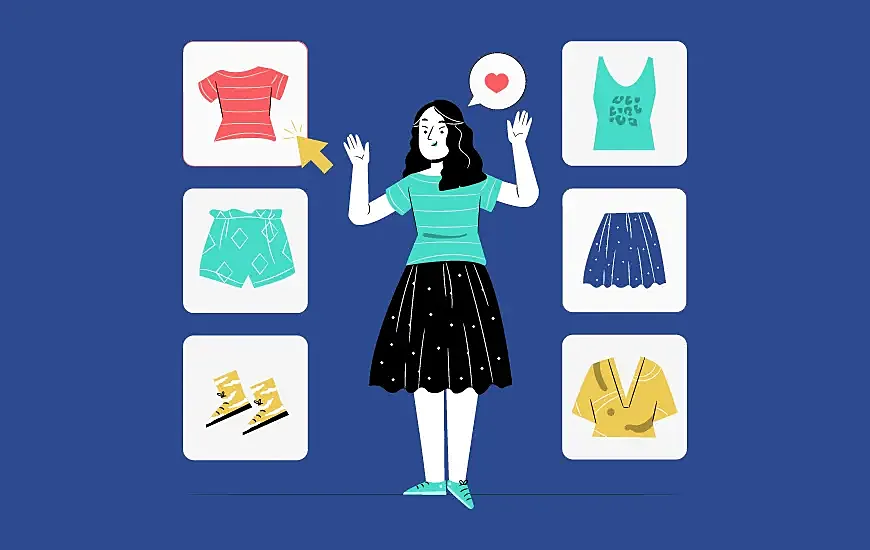 With the development of technology and digitalization, the world has become a global village. People have started to take advantage by taking control of their lives in an innovative way. Outfit planner apps are one such example of how people can manage their daily lives with ease.
Outfit planner apps allow users to keep track of the clothes they own and create outfits based on their preferences and the occasion. These apps are incredibly useful for busy people who don't have time to go through their closets every day to find something suitable to wear.
Outfit planner apps provide users with a variety of features designed to make dressing easier and more efficient.
In this blog, we will take a look at popular outfit planner apps that will help you create the perfect outfit for any occasion. We will discuss the notable features of each app so that you can decide which one best suits your needs. So let's dive in and explore the world of outfit planner apps!
Our Top Picks
While selecting the best apps for outfit planning, we have taken into consideration their user-friendly interface, easy navigation, attractive visual presentation, and, finally, the quality of the images.
Popular Outfit Planner Apps to Organize your Wardrobe
We understand that fashion is an ever-changing phenomenon, which is why we have included apps with the latest fashion trends, recommendations from experts, and personal customization options. Let's have a look at the best outfit planner app 2023 that can make your outfit planning experience successful and hassle-free.
1.
Get Wardrobe
4.1
3.2
Get Wardrobe is the ultimate wardrobe planner app for anyone seeking to organize their wardrobe effortlessly, plan their outfits according to the weather, and create magazine-style looks that suit their style preferences. This cloud-based wardrobe grants its users lifetime access to all of its outstanding features without any time limits or charges.
With a capacity of up to 100 items, users can easily take pictures of their clothes, upload them to the wardrobe, and organize them systematically using tags, filters, search options, and sorting tools. Get Wardrobe's outfit editor lets users combine different items in their wardrobes and create unique and stylish looks. Users can use this feature to try new looks, experiment with colors and accessories, and have fun trying out new things.
Notable Features of Get Wardrobe
AI-powered background removal techniques

Outfit planning calendar

Outfit editor

Cloud storage with no time limits or charges

Capacity for up to 100 items in the wardrobe
2.
The Pureple
3.9
3.5
The Pureple Outfit Planner is a feature-rich and highly intuitive application that revolutionizes the way you organize your wardrobe. This app not only arranges your closet into categories but also recommends outfits according to your style preference. With Pureple, you no longer have to spend hours staring at your closet or struggling to decide what to wear every morning.
Pureple is one of the best apps for outfit planning and a perfect application for capsule wardrobe planning. The app helps you create a versatile wardrobe that allows you to mix and match different pieces to create a variety of outfits. No more stressing over what to wear; the app has got you covered.
Notable Features of Pureple
Automatically categorizes your items

Option to add items directly from the web

Automatic outfit suggestions based on style preference

Customizable and flexible features

Supports multiple devices and cloud backup

Perfect for capsule wardrobe planning
3.
Smart Closet
4.4
3.9
Smart Closet is a game-changer in the world of apps to plan your outfits. It combines the best of fashion and technology to create a user-friendly platform that caters to your every fashion need.
One of the primary features of the Smart Closet is its ability to access thousands of brands and retailers, thanks to its powerful collaboration with ShopStyle.
With just a few clicks, you can easily add your favorite clothing items to your closet and create a personalized collection that showcases your unique taste and style.
Sharing your fashion looks with friends has never been easier, thanks to its social media integration. You can share your new outfits on Facebook, Instagram, and other social media platforms, turning your friends into your virtual stylist.
Notable Features of Smart Closet
Access thousands of brands and retailers

Automatically remove the background of your clothing items

Categorize your clothes based on color, brand, price, season, and more

Create new looks effortlessly

Get random looks with custom rules
4.
Acloset
4.5
4.4
Acloset is one of the best outfit-planning apps for fashion enthusiasts looking to manage their fashion items in one place without having to compromise their fashion choices. With features like outfit ideas, outfit recommendations, and style analytics, Acloset is a smart fashion app that provides users with the tools they need to stay on top of their fashion game.
What sets Acloset apart from other fashion management apps is its marketplace for pre-loved items. Not only does this feature allow users to get rid of clothes they no longer wear, but they also get to earn some extra cash in the process.
The platform boasts of a community of 1 million users worldwide, providing a global platform for sellers to reach potential customers. By selling pre-loved items, users are contributing to sustainable fashion while also making some money. With Acloset, users can buy and sell high-quality pre-loved clothing at affordable prices.
Notable Features of Acloset
Marketplace for pre-loved items

Digital closet management feature

AI technology to erase the background and analyze clothes

Track purchase date and cost of clothes

Create outfit ideas and get personalized recommendations
hype your product on mobileAppDaily
With our strategically designed marketing solutions
5.
XZ Closet
4.7
4.3
The XZ Closet is an innovative wardrobe outfit planner which provides solutions to all your clothing-related problems! Its easy-to-use and intuitive interface lets you easily upload your entire wardrobe within seconds. No more hassle of taking photos; the app uses advanced image recognition technology to match your clothes with the right images. Plus, the background removal and trimming image capabilities make your wardrobe look even more stunning!
The calendar feature is a great addition to the XZ Closet, allowing you to keep track of your outfits and schedules. It's especially useful if you tend to forget what you wore on a particular day or want to avoid repeating outfits in front of the same people. And the best part is that you can add future outfit ideas as well, so you're always prepared!
Notable Features of XZ Closet
AI-powered image recognition

Background removal and trimming capabilities

Mix-and-match outfit ideas

Outfit ideas based on the weather in your location

Take your closet with you wherever you go
6.
OpenWardrobe
4.3
3.0
OpenWardrobe is one of the best closet organizer apps for Android. An AI-powered tool that has revolutionized the way we think about clothing. This amazing tool provides a one-stop shop for everything related to your closet, allowing you to easily digitize your wardrobe, view your entire collection, and even plan your outfits with ease.
OpenWardrobe also provides you access to expert wardrobe tips and outfit suggestions from influential stylists and members of the OpenWardrobe community. With this wealth of knowledge at your fingertips, you can elevate your style and take your wardrobe to the next level.
Notable Features of OpenWardrobe
AI-powered image recognition

Easy importing of online purchases

Outfit planning tool for conscious wardrobe choices

Expert advice and outfit suggestions from stylists
7.
Cladwell
4.3
4.2
Cladwell is a revolutionary membership-based closet planner app that brings sustainability and simplicity to fashion enthusiasts. The platform offers a comprehensive guide to building a capsule wardrobe, which is a collection of versatile and timeless pieces that can be mixed and matched to create countless outfits.
What sets Cladwell apart from other fashion apps is its commitment to sustainability. By encouraging users to invest in high-quality clothes, Cladwell reduces the environmental impact of fast fashion. Additionally, the daily outfit recommendations help users get the most out of their capsule wardrobe and avoid unnecessary purchases.
Notable Features of Cladwell
Comprehensive guide to building a capsule wardrobe

Personalized daily outfit suggestions

Advice on where to purchase items for your wardrobe

Commitment to sustainability and conscious fashion
8.
Save Your Wardrobe
4.5
4.2
Save Your Wardrobe is not just another wardrobe organizing app; it is a complete package that allows you to access a range of on-demand local aftercare services, including alterations, repairs, eco-cleaning, customization, and upcycling of clothes. This app is designed to help you extend the life of your garments and reduce unnecessary repeat purchases, ultimately contributing to a more sustainable and circular fashion industry.
Save Your Wardrobe also includes a curated ecosystem of aftercare services, such as cleaning, repairs, alterations, upcycling, and customization. This service is particularly valuable for people who want to extend the life of their garments but may not have the skills or knowledge required to accomplish this on their own.
By partnering with local businesses, Save Your Wardrobe brings together brands, businesses, and consumers everywhere to contribute to sustainable fashion practices.
Notable Features of Save Your Wardrobe
AI garment scanning

Outfit collage feature

Comprehensive organizational capabilities

Access to local aftercare services

Shopping insights and Good on You ratings
9.
Combyne
4.8
4.6
Combyne has revolutionized the way we create outfits. It is one of the best closet organizer apps for Android and iOS. With its unique virtual dressing room, you can easily mix and match over 800 brands and online shops to create your perfect look. Whether you're currently searching for a specific pair of shoes, a new dress for a special occasion, or just general inspiration, Combyne has everything you need.
With over 35 categories, Combyne offers a vast selection of clothing options for every event and season. You'll never miss out on the latest fashion trends because our fashion team carefully curates a selection of must-haves and outfits to browse through every day.
Combyne is not only about creating outfits but also about creating a community. Get matched and find your fashion soulmate who thinks and dresses just like you! The chat feature lets you share your looks immediately with your friends and receive quick feedback.
Notable Features of Combyne
Virtual dressing room

35+ categories of clothing

Follow, comment, and like other users' outfits

Shop from 800+ brands and online stores

Get matched with fashion soulmates
10.
Closetspace for iOS
2.4
Closetspace is an innovative wardrobe planner app that helps users organize, style, and shop their clothes. This easy-to-use app offers a number of features to help make managing your wardrobe stress-free.
The first feature is the ability to scan garments. By scanning clothing items, Closetspace will automatically upload them into the app. This makes it to keep track of what's your wardrobe and access items quickly Closetspace also offers a variety of outfit ideas and styling tips tailored to your individual style. The app allows you to create multiple "closets," which can be used for different occasions or seasons. This way, you can build your own personal lookbook of outfits for special occasions or easily switch between styles.
Notable Features of Closetspace
Scan clothing items to upload into the app

Create multiple "closets" for different occasions or seasons

Outfit ideas and styling tips tailored to your individual style

Shop directly from favorite brands and stores.

Browse clothes based on your style preferences
Download this closet outfit planner app
iOS
publish unbiased & detailed reviews
That Promote Your Product's USPs
Wrapping It Up!
Outfit planner apps are the perfect solution for anyone looking to organize their wardrobe and find great fashion pieces. Whether you're a beginner or a seasoned fashionista, these apps will help keep your wardrobe updated with current trends and make getting dressed stress-free. With a range of features like AI scanning, outfit collages, styling tips, and shopping insights, you're sure to find the perfect planner app to suit your needs.
List your product in blogs like these for more exposure. This will help you create more brand awareness and, eventually, increase your sales in the long run. Email MobileAppDaily and get your product listed!
Written By
Pallavi
Content Head at MobileAppDaily
She is an avid writer of technology and trending mobile apps. When she is not busy updating you about the tech world, she spends time reading books and playing guitar.
Follow
Take the first step to
your Product's growth