Best Resume Building Apps to Expertly Showcase Your Strengths and Skills
Explore the features and functionality of the best apps to build a resume and choose the best one for yourself.
Last Updated on :
July 03, 2023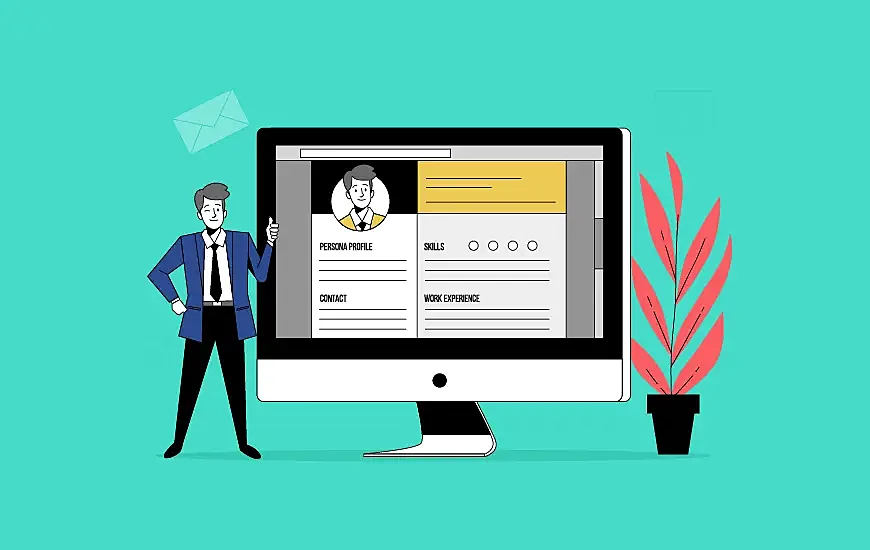 Job searches are fairly stressful and can take up much time and effort. When you search and apply for a new job, you wish to put your best foot forward in each and every round. Your final selection might come down to the interview, but all the prior rounds are equally essential.
The primary step in the hiring process is resume screening. A resume is a document that displays your qualifications, work experience, strengths, accomplishments, and other relevant information. Like the best job search apps, many resume builder apps are available to add sparkle and professionalism to your document.
There are plenty of resume-building apps, sites, and services available out there to help you craft the best resume, maximize how well it sells you, and get it in front of people who might want to offer you a position. All these apps are packed with tools and features that will assist you create a resume that takes you one step closer to landing your dream career- all from the convenience of your mobile phone.
Our Top Picks
If you plan to build a CV to enter the professional world or are looking for a switch in your current job, these top resume-building apps will help you. Not only do you get access to a ton of resume templates, but you also avail an overall enriching experience.
Best Resume Building Apps to Land the Job of Your Dreams in 2023!
A good resume has the potential of securing a great first impression in the professional world. A great-looking CV increases your chances of getting selected for the interview and, consequently, for the job. We have crafted an inclusive list of the best resume-builder apps that will help you ensure a lasting impact on your interviewer.
All these apps are mentioned along with their detailed descriptions, features, and downloadable links that will make it easier for you to install and launch the app. Selecting an app can be tough as it is a crowded market with hundreds of options- here are our top favorites out of the lot!
1.
Kickresume
4.6
3.6
Kickresume is among the best apps to build a resume and create cover letters. The app is powered by AI technology and is thus extremely reliable and effective in its performance. It offers users multiple templates and step-by-step instructions to build a professional resume in just a fraction of the time.
Through its innovative technology, Kickresume keeps track of the resumes that help its users to land jobs. You have an opportunity to use them or get inspired to build a professional resume for yourself. It is an easy resume maker that allows you to import information directly through LinkedIn.
Features of Kickresume- A Resume Maker App for Android
Offers a free plan for all users

Additional grammar editing and proofreading tools

Huge selection of templates for resumes and cover letters

Enables you to apply for jobs directly from the dashboard

Detailed instructions and guidelines to build the perfect resume
2.
Quick Resume Pro
3.4
2.8
Quick Resume Pro is a simple and handy tool that helps you create professional resumes from the convenience of your mobile phone. From basic layouts to advanced ones, this resume builder app for Android and iOS has it all.
All that you need to do is fill up the basic information about yourself, your qualification, experience, strengths, and achievements. The app will automatically convert the entire information into a professional-looking document in seconds.
Features of Quick Resume Pro- The Best Resume-Making App for Mobile
Friendly and intuitive interface

Creates resumes quickly and easily

Send and print resumes through your mobile

Re-order and customize sections as per your need

Send resumes and apply directly through the app
3.
Resume Builder- CV Engineer
4.8
4.4
Resume Builder is among the best apps to make a resume and design a cover letter to apply for your desired job. This app offers a huge library of ready-to-use templates that are designed for specific job roles and positions. It quickly creates a professional cover letter and resumes with just a few simple steps.
This resume maker app simplifies the resume-building process and ensures you have the best document to present yourself in front of your potential employers. With its smart technology, Resume Builder offers in-app suggestions on optimizing and perfecting your resume to secure your desired job position. The best part about using this app is that you can take assistance from professionals to craft the best resume for your job interview.
Features of CV Engineer- A Simple Resume Creating App for Professionals
Professionally designed, ready-to-use templates

Support template customization as per your preference

Assistance from professional resume writers is available

Hassle-free use without any paywalls or third-party apps

Customized resume suggestions and step-by-step instructions
4.
Canva
3.5
4.5
Canva is a popular editing tool that many professionals trust and rely upon for completing their projects and tasks. If you are applying for a creative job role or wish to build a resume that can really make you stand out, Canva is the best solution for you. This resume builder for Android offers a huge variety of unique design templates that can be customized and used.
Unlike some of the popular resume building apps, Canva crafts unique resumes that are extremely creative and expressive. With its outstanding and simple-to-use set of tools, Canva is the most preferred CV builder app for beginners and experienced professionals.
Features of Canva- Easiest and the Best Resume Maker App
Multiple industry-specific templates

Easy-to-use interface with smooth working

Free access to professional-looking templates

Offers high-level creativity in resume templates

Full command to customize your templates as per your needs
hype your product on mobileAppDaily
With our strategically designed marketing solutions
5.
MyPerfectCV
4.9
3.6
MyPerfectCV is a free resume builder app for iPhone and Android that is trusted by many job seekers and is recruiter-approved. The app lets you pick from a dozen of professionally designed templates to craft the perfect resume. Each and every template is carefully designed with correct formatting and will surely pass the Applicant Tracking System(ATS).
It offers a step-by-step guide and expert tips that empower you to design a relevant resume for your job application. Additionally, this is one of the best resume builder apps that automatically create cover letters that perfectly match the designed resume.
Features of MyPerfectCV- Among the Top Apps to Make Resume
Offers pre-written phrases to help you write easily

Professional resume writers for designing resumes

Simple and intuitive interface and tools for beginners

Responsive custom support via phone calls and e-mails

Highlights important keywords and skills as per the industry
6.
Professional Resume Builder
4.1
4.8
Professional Resume Builder is among the top resume building apps that offer a comprehensive suite of tools to design a professional resume. You can use the readily available resume templates to quickly draft a document to impress employers and secure your dream position.
It is the best resume maker app that offers basic and advanced tools for designing a resume. You can add multiple elements to your document, including your picture and signature. Along with this, you can also create custom sections to add relevant information as per your preference.
Features of Professional Resume Builder- Resume Maker App for Phone
Free to use basic tools for all users

Exports the document easily to PDFs

Simple and intuitive interface for beginners

Fairly easy to use with an intuitive interface

Supports multiple languages and publications
7.
Visual CV Resume & CV Builder
4.2
3.8
Visual CV Resume & CV Builder is considered the best resume maker app because of its efficient tools and technology. This app can be used to create job-ready resumes in just a few minutes. The efficiency of this resume maker app is justified by over 4 million users who trust the app to secure their dream jobs.
You can import content from LinkedIn, upload your information, and edit the existing content to match your requirements and preferences. Users can access all the basic tools without any cost. Apart from this, you can also opt for paid plans to avail exceptional benefits like resume performance analytics, unique domain, third-party integration, and more.
Features of Visual CV- Among the Top Apps to Build Resume
Supports working in nine different languages

Upload and edit your resumes through phone

Import content from LinkedIn and add it to your CVs

Builds resumes, CVs and offers career-relevant advice

Receive personalized suggestions and advice from experts.
8.
Wepik
4.6
4.3
Weepik is one of the best resume building apps that offers a huge selection of readily available templates for crafting a professional resume. The tools offered by Weepik are easy to use and can be fully customized to align with your needs and preferences. The Wepik resume builder app is perfect for anyone who is just starting their professional career.
You can select a suitable page layout based on your preferred theme and industry. Once selected, all you need to do is fill the columns with relevant information, and your resume will be ready. Weepik also enables users to make as many changes as they wish to in their resume design.
Features of Weepik- Among the Best Resume Builder Apps for Mobile
Enables full customization and alteration

Suitable for freelancers and new beginners

Huge selection of industry-specific templates

Easy to navigate and intuitive interface for users

Multiple themes and designs- Modern, Professional, Simple, etc.
9.
Microsoft Word
4.7
4.8
Microsoft Word is a widely used commercial word processor and an easy resume maker app designed by Microsoft. Along with a huge suite of productivity tools and software, Microsoft Office also offers resume-building tools to help aspiring professionals and job seekers. Users can download the templates via computer or their online template resources.
Microsoft Word is the best app to make a professional CV, as it can accurately customize your resume by matching your qualification to the job description. Both resume and cover letter templates are professionally designed to help you achieve your dream job.
Features of Microsoft Word- Top Resume Builder for iPhone and Android
Beginner-friendly interface and tools

Offers job-specific templates and layouts

Readily available templates for professional resumes

Enables you to edit your old resumes or build a new ones from scratch

Use basic templates for free and others with a Microsoft 365 subscription
10.
Resume Builder: PDF Resume App
4.8
4.6
Resume Builder is a free resume builder app for iPhone and Android that allows users to create professional-quality resumes by allowing them to customize the available templates. The app is packed with a wide range of pre-designed layouts that can be used to create CVs for almost any kind of job.
The user has to provide a few basic details and select the preferred layout, the Resume Builder app will generate the CV automatically within a few seconds. With over 2 million users worldwide, Resume Builder is definitely the easiest and the best app to make a resume.
Features of Resume Builder- Among the Top Apps to Make Resumes for Free
Highly customizable templates

Offers a wide selection of templates

Design high-quality resumes on the go

Creates striking and professional CVs in no time

Simple interface and intuitive tools for beginners
publish unbiased & detailed reviews
That Promote Your Product's USPs
What are the principal benefits of using apps to build a resume?
Creating a professional resume is an important illustration of your career. As a resume acts as the most crucial prerequisite for the interview selection process, you must craft it carefully.
Let's see how a resume creating app can help you in the process-
1. Professional Presentation and Formatting
This is the primary USP of a CV builder app that is available for you in the market. With professionally designed templates and layouts, you can easily create your resumes within a few seconds. A predesigned template saves you a lot of time and effort that goes into organizing the information.
A resume maker app is pre-equipped with important headings and sub-heading that are aligned with your job industry and personal preferences.
2. ATS- Friendly Formatting
An ATS-friendly resume is easy to scan and thus is likely to get selected by the employer. The best resume maker app will design a layout that is neatly organized and simply formatted. The tools offered by a resume-creating app will ensure that all the sections are clearly defined with relevant headings.
An ATS-optimized resume also features all the relevant keywords and information that match the applied job position and is included in a thoughtful manner within the information.
3. Customizable Templates
A resume creating app is great for improving the overall look and appearance of your resume. Some of the best apps to make a professional CV offer ample customizable options and layouts for users to choose from.
You can select a predesigned layout that can further be modified to match your preferred theme and job preference. Many apps also allow you to add premium backgrounds and images with a paid subscription plan.
4. Expert Tips and Guides
Apart from offering customizable resume templates, some of the best resume maker apps also offer expert tips to improve the quality. These apps provide suggestions and reviews to give you a fair idea about creating a professional resume.
You can also browse downloadable CVs of other applicants in order to get a clear idea about the process. Along with this, some apps also offer career advice and suggestions from professionals and industry experts.
5. Language Optimization and Proofreading
While designing a resume with a resume building app, you can be sure of the language proficiency and easy comprehension of the information. The apps are capable of automatically proof reading the text and correcting any spelling or grammar mistakes.
6. Available 24*7 round the clock
The convenience of use offered by the resume builder apps, stands as their primary benefit. These apps can be downloaded on your mobile phones or tabs, allowing you to create professional resumes on the go. A resume builder for Android and iPhone can be used anytime and anywhere.
How to select the best resume builder app?
There is a huge selection of resume builder apps that are available for both Android and iOS users. With so many options, it can get confusing for users to select the best one for themselves. To help you out, we have detailed the key considerations that you must adhere to while choosing an app-
1. Intuitive Interface
An app that is tough to navigate and explore can create a lot of confusion and hassle while working. To overcome this, you must opt for an app that has a simple and user-friendly interface. A simple resume building app can be used quickly and effectively without wasting much time and effort.
2. Template Library
A resume creating app must offer a variety of templates and layout ideas for users to choose from. The templates should be professional looking and should offer customizable options for all users. Most resume-building apps offer basic templates in their free plans.
3. ATS Compatibility
An ideal resume builder app must ensure compatibility with the Application Tracking System. An ATS-friendly resume can easily pass through the screening process, consequently increasing your chances of getting selected for an interview. A resume must be well-aligned with professional standards to ensure that it can pass the initial screening process.
4. Pricing and Subscription Models
Most resume-building apps offer basic tools and templates without any charges or fee. However, if you are looking for something more specific and premium, you must opt for the paid subscription plans offered by these apps.
Final Verdict!
These were our few suggestions of the top resume building apps that can level up your professional game. Before selecting an app, you must carefully examine the features and look for functionalities that can enhance and simplify the resume-building process for you. With their optimized tools and advanced technologies, these apps can help anyone from a new beginner to a seasoned professional.
By adhering to the considerations and experimenting with different apps, you can easily find the best resume-building tool for yourself. Our top 10 apps are worth a try as these will surely streamline your resume designing process and will maximize your chances of securing the job of your dreams.
Lastly, if you are app owner and wish to list your product, get in touch with us at MobileAppDaily. Our expert reviews will improve the reach of your app and will help in its growth and development. Until then, keep on exploring MobileAppDaily for more such updates and information on mobile apps and more.
What is the best resume builder app?

What is the best free resume builder app?

Can I create a resume on my phone?
Written By
Pallavi
Content Head at MobileAppDaily
She is an avid writer of technology and trending mobile apps. When she is not busy updating you about the tech world, she spends time reading books and playing guitar.
Follow
Take the first step to
your Product's growth