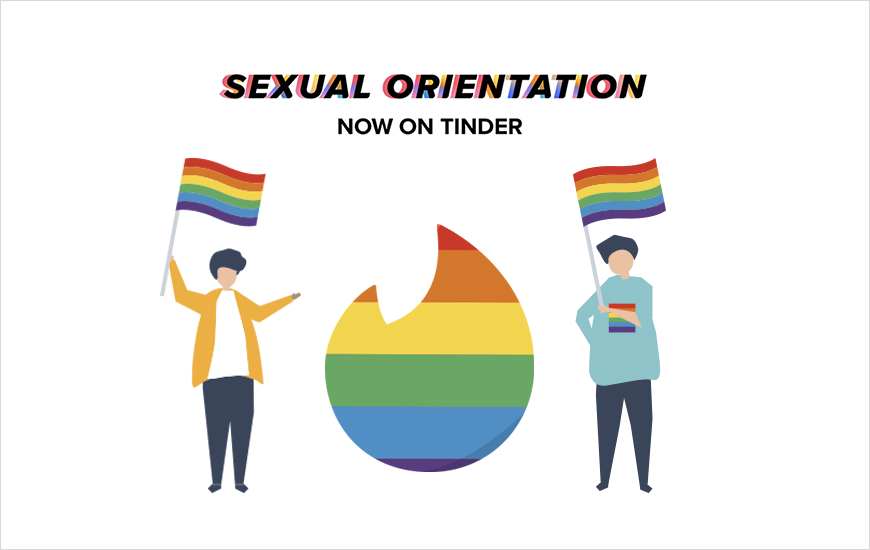 On the occasion of Pride Month, the Tinder app's new features have been launched to aid the LGBTQ community. The dating app Tinder, announced on Tuesday that it has added more sexual orientation and gender identity terms to its user profiles.
With the new Tinder update, you can now choose up to three terms from nine preferences in your profile that include Straight, Gay, Lesbian, Asexual, Bisexual, Demisexual, Pansexual, Questioning, and Queer. New users will be able to see these options to choose from their sexual orientations at the time of the sign-up process.
The Tinder app's new features are being introduced by collaborating with LGBTQ advocacy organization GLAAD. In the past, users were restricted to choosing a preference of "men," "women," or "both" only.
Elie Seidman, the CEO of Tinder stated,
The GLAAD organization's new research found that 80% of LGBTQ adults in their community have benefited from online dating apps and websites.
How does the Tinder app's new feature of sexual orientation and gender identity work?
To update your information on your profile, choose the edit option, then tap on "Orientation." You will then be able to choose up to three sexual orientations. In the end, it is up to you to display these sexual orientation preferences on your profile.
The Tinder app's new update is also offering better control to users to manage ordering matches. Under the "Discovery Preferences" tab, Tinder users can select to first see users of similar orientation.
Tinder app's new features will be available in Canada, U.K., U.S., Ireland, Australia, New Zealand, and India by the end of June 2019. Tinder keeps on updating its app on a regular basis and this might also be the reason that it secured the top position in the category of top grossing non-game app in Quarter 2019, beating Netflix.
Russia Requests Tinder For Its Users' Personal Data
Recently, Russian authorities were reported requesting Tinder for the personal data of its Russian based users, including messages and photos.
In its defense, Tinder stated,
Previously, the Telegram app refused to comply with Russian authorities' requests and in return, the government threatened to block the app.
However, this shouldn't overshadow the new features of the app that is a big leap towards embracing the LGBTQ community.
For more interesting news related to the mobile app industry, subscribe to MobileAppDaily and if you've gotten bored of using Tinder and want to look for alternatives, check out our exclusive article on Tinder app alternatives.

Written By
Manish
Content Strategist
With a mixture of literature, cinema, and photography, Manish is mostly traveling. When he is not, he is probably writing another tech news for you!
Follow
Think Your Professional Journey
Deserves A Spot In Our
40 Under 40

Report?