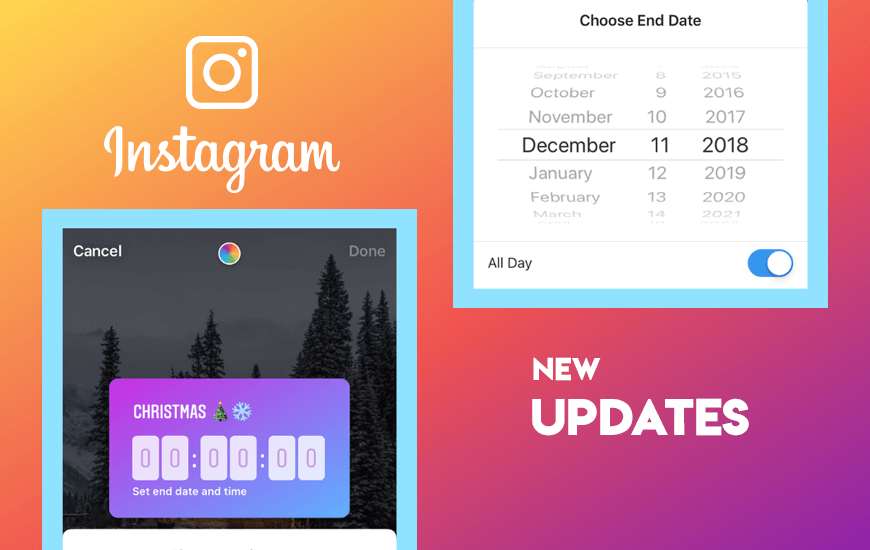 It seems like Instagram has been on a roll lately because in the last 24 hours we have been bombarded with quite a few Instagram updates. And in this article, we will be discussing all about these three new updates that Instagram has just released to the public and how you can utilize them to the fullest.
So without wasting any time, let's just get straight to all the new updates that one of the biggest social media platforms, Instagram has come up with.
Update 1: How To Put a Countdown In Instagram Stories
Yes, Instagram has decided to surprise its users with a countdown timer update on the Instagram Stories feature, which is a great strategic move because currently, we are in the middle of a Christmas countdown.
With the help of the new Countdown sticker feature, you can now share your excitement for a special occasion with your friends, family and Instagram followers with the help of a countdown timer.
Steps To Use a Countdown Timer Update?
First, make a story where you wish to include your countdown timer sticker
Then create your own countdown by using the countdown sticker and select the appropriate date.
Here you also have the option to customize your Instagram sticker as per your choice.
Add a customized story to your Instagram profile.
Now you can share this countdown again and again for your followers to see the progress.
The user can also continue the same countdown in new stories.
Update 2: How To Use Custom Share Music Feature In Instagram Stories
Another Instagram update includes the option of adding a new custom feature to share music on the mobile application of Instagram. All thanks to Instagram Music, now the users can effectively personalize their Instagram stories along with their favorite soundtrack playing in the background.
There is even an extensive catalog of amazing songs from various categories that Instagram has incorporated for its users.
Steps To Use Share Music Feature Update?
The initial step is to make an Instagram story by clicking on the camera icon on the right side of the screen.
Then look for the questions sticker and add it to your custom Instagram story.
After that select 'What song should I listen to?'
Now you can personalize the Instagram question sticker by changing the color and theme of your story
Once you are done with the song selection and sticker personalization, just click ready to post your special story.
Here the user has the option to choose which piece of a song they want to share in their Instagram story by sliding down the horizontal bar. In case they select the default extract sound, then they will listen to the most recognizable part of that particular song.
Update 3: How To Turn Instagram Question Stickers Into Live Q&A's
The third Instagram update is more likely a combination of the other two Instagram story updates that were mentioned earlier. One of the main issues of Instagram's question stickers has just found its solution i.e. the late response received by everyone that answers the question mentioned in the Instagram stories.
But now you have the choice to run a live Q&A session on your Instagram stories. This new Instagram update will come in quite handy for Instagram users who want to conduct impromptu sessions of Q&A with their followers on the social media network. The above image shows an example of a makeup and beauty blogger.
Along with this, followers of those Instagram users can respond to those personalized question stickers by making use of Instagram's music library, where they can also ask for on-the-spot song recommendations as per their preference. This new Instagram update as taken the 'Ask Me A Question' sticker to a whole new level.
Final Thoughts
All these new Instagram update features are now available for both Android and iOS users. In addition to this, if you are an Android user then this might take some time to reach your device and Android OS (Operating System) model.
Although both Android and iOS app users can create as well as participate in live Q&A sessions but only the iOS users can take benefit of the option of sharing mid-stream photos and videos at present. On the other hand, Android users can just look at those shared images and videos.
To read more such interesting articles about social media platforms like Facebook, IGTV, Twitter and Instagram, make sure you follow MobileAppDaily by clicking on the 'Subscribe' button.
Written By
Manish
Content Strategist
With a mixture of literature, cinema, and photography, Manish is mostly traveling. When he is not, he is probably writing another tech news for you!
Follow
Think Your Professional Journey
Deserves A Spot In Our
40 Under 40

Report?