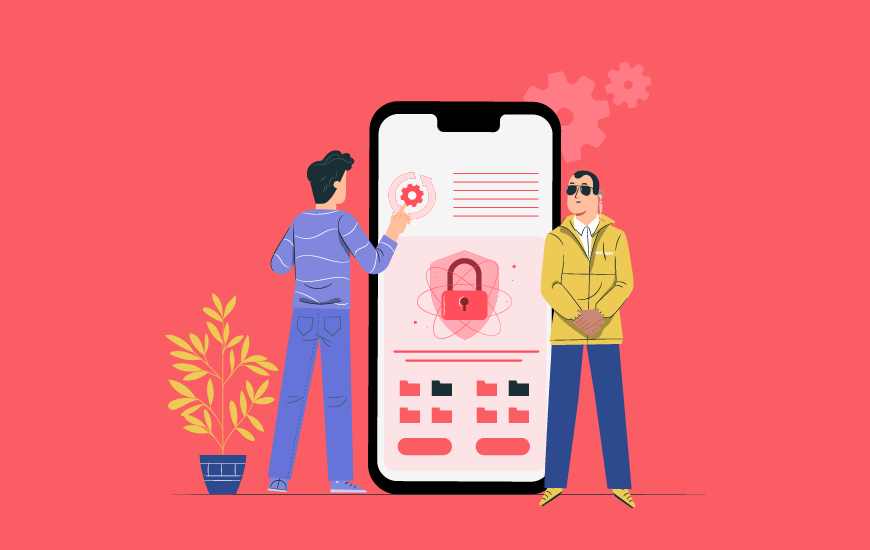 When you run a mobile app that collects personal information from its users, then you need a Privacy Policy to abide by the legislation around the world. However, even if your app does not precisely collect personal data, you may still need a Privacy Policy, primarily when you utilize a third-party tool like Google Analytics to collect data on your behalf.
Personal data can be a lot of things: location data, email address, log data, IP addresses, a telephone number, a first and last name, and many more like ads or analytics. If you collect any of this data, you know you will need an app policy.
In this article, we will look at what the requirements are and the reasons why your mobile app needs a mobile app privacy policy.
Building trust
One important reason why you should highlight the importance of privacy policy for apps is for your clients/users. Being transparent towards them is one essential moral reason. Providing customers and clients with a secure picture of why and how you process their personal data makes users feel more secure.
That being said, having a steady, concise, transparent and easily accessible Privacy Policy means you can reinforce their trust through a privacy safety trust seal. What does that mean? Apart from emphasizing the fact that you maintain an up-to-date Privacy Policy, this visual representation immediately improves the level of trust between your potential users and visitors and you as a business owner.
When users see privacy policy for mobile apps, undoubtedly, there is a subconscious belief that the user can trust the developer. No matter what the fine print of the privacy policy says for an app, the simple fact that such a clause exists can increase the level of trust between your company and your users.
Moreover, an app privacy policy can also provide users and potential users with peace of mind. That being said, you will need to explain to your users in plain language exactly what you're planning to do with their personally identifiable information.
Keeping up with Privacy Protection Laws
There are many privacy laws around the world that are set forth if you plan to collect or use personal data. For instance, the United States is one of the few countries without a policy at a federal or national level mandating a Privacy Policy. However, the California Online Privacy Protection Act, or CalOPPA, clearly mentions that if your mobile app or website gathers personal data from the residents of California, you must have a Privacy Policy. What does that mean? If your website or mobile app could be used by a California resident, no matter where you are currently located, the California Online Privacy Protection Act ends up having a very wide reach.
According to CalOPPA, websites or applications that collect personal data must conspicuously provide users with a detailed and complete privacy policy post on how the app collects, uses, and shares their data, which is like a mobile app privacy policy template. Such a rule applies globally to any website or app that may affect a California resident.
Let's say your app targets only European users. The picture does not really change. The same rule applies under the EU legal framework of the Data Protection Directive (95/46/EC). This is available in any case where the use of apps on smart devices implies processing data of users.
The following mentions a list of countries including the US and their legal requirements for a mobile app privacy policy:
The United States of America
Surprisingly, there isn't one federal law that makes the app privacy policy a mandate in the US. But you'll find different fed and state laws that allow provisions on data privacy. They are the–
Americans With Disability Act
Cable Communications Policy Act of 1984
Children's Online Privacy Protection Act (COPPA)
Computer Fraud and Abuse Act of 1986
Computer Security Act of 1997
Fair Credit Reporting Act
California Online Privacy Protection Act (CalOPPA)
The apex body which authorises data protection within the US is the Federal Trade Commission (FTC).
European Union
The General Data Protection Regulation (GDPR) is a regulation in EU law on data protection and privacy within the legal peripheries of the European Union and European Economic Area. It was created on April 14th, 2016, and implemented on May 25th, 2018 replacing the 1995 EU Data Protection Directive. The GDPR privacy policy generator for apps imposes stringent new rules and regulations on acquiring and controlling confidential data which is personally identifiable.
Australia
The governing law in Australia, which also acts like a mobile app privacy policy generator, is the Privacy Act 1988. Section 14 of the Act lists a number of privacy rights (13) which are collectively called the 'Information Privacy Principles'. The act mandates and administers the use of personal data of an individual and regulates the sampling, usage, storage, and disclosure of the acquired data.
Canada
The Canadian law which stipulates personal data collection, usage, and disclosures by private companies is the Personal Information Protection and Electronic Documents Act acronymed as PIPEDA. It came into effect on April 13th, 2000 to promote consumer trust in E-Commerce. Apps with a privacy policy clause in Canada are regulated by law. PIPEDA is also subject to FWUBs, which expand to federal works, undertakings, and businesses.
Avoiding costly and expensive legal battles
There are various examples of lawsuits being rolled over questionable Privacy Policies and copyrighted music as well. Google and Snapchat are only a few among the many who have suffered as they have made a few mistakes regarding their privacy Policy. But when it comes to app development, music can be a powerful addition to any app. It can drive enthusiasm, provide emotional depth, and even make an app significantly more enjoyable.
However, it can also be a legal minefield when you don't know what you are doing. But the best way to avoid legal issues is to either pay for the rights to royalty-free music websites like Melody Loops Music for Mobile Apps or use public domain recordings.
The EU is now even increasing the number of fines, regardless of where your business is currently located. Whether you own a website, mobile app, or a blog, you should learn to avoid potential lawsuits and fines.
Rules of the game tightened for third-party apps
In addition to laws, you must also comply with the requirements of the Play Store and App Store privacy policy. This is applicable for mobile apps that you want to submit to Google Play or the iOS App Store, but also if you want to use a third-party service such as Google Analytics or Google AdSense to display ads and gather website data.
The Play Store and Apple Store (and others) have Terms and Conditions that you should abide by if you wish to list your app in their stores. There's also an iOS and Android app privacy policy template that you need to know beforehand.
Privacy Policies for iOS Apps
In 2018 Apple confirmed that all new apps or updated apps will require a Privacy Policy regardless of whether or not the app collects personal data. If you plan any time soon to list your app on Apple's Apps store, you should be aware and abide by their store review guidelines for laying the privacy policy for an iOS app.
Privacy Policies for Android Apps
The Google Play Developer Distribution agreement states that if you plan to make your app available on their platform, you must:
Protect your user's legal rights and privacy
Make your users aware that their data will be used by your app
Provide users with legally adequate notification and protection
Apart from ensuring happy users and avoiding potential lawsuits, the best thing about having a privacy policy for an Android app can help you make and keep more money. As numerous studies have shown, a company that is being honest and transparent with their customers by providing an app privacy policy is more efficient in encouraging them to follow the desired call for action. In fact, the privacy policy for apps have also proved effective in getting users to fill out surveys, complete online forms and sign up for emails.
Ensuring customer satisfaction via trust-building
It comes after the Facebook-Cambridge Analytica fiasco, which is said to have played a critical role in the 2016's US Presidential election. This led to a lot of tension and uproar among users worldwide as they reckoned their personal data is not safe. But this did not lead to the downfall of its usage.
Facebook's example can be taken as a sample privacy policy for mobile apps.
Facebook has worked on revamping its privacy policies and worked on regaining the trust of its consumers and has been more vocal on a number of socio-political issues and cyber ethics. Facebook's example can be used to understand why privacy policy for a mobile app or website is mandatory and why platform owners should strictly adhere to it and take proactive steps to gain users' trust.
Albeit there are legal purposes for creating an app with a privacy statement, a good privacy policy clause invokes a (subconscious) belief that users can safeguard their trust with a particular company. It's a fact that users usually skip the privacy policy part and just go on with the 'I Agree' option. But the very notion of it being provided makes the user think his/her data is in safe hands.
So the go-to terms are trust, solace and relief.
Do I need a privacy policy for my app?

Do I need a privacy policy if I don't collect data?

What is required in a privacy policy?
Written By
Aparna is a growth specialist with handsful knowledge in business development. She values marketing as key a driver for sales, keeping up with the latest in the Mobile App industry. Her getting things done attitude makes her a magnet for the trickiest of tasks. In free times, which are few and far between, you can catch up with her at a game of Fussball.
Follow
Want To Hire The Best Service Provider?
MobileAppDaily will help you explore the best service providers depending on your vision, budget, project requirements and industry. Get in touch and create a list of best-suited companies for your needs.