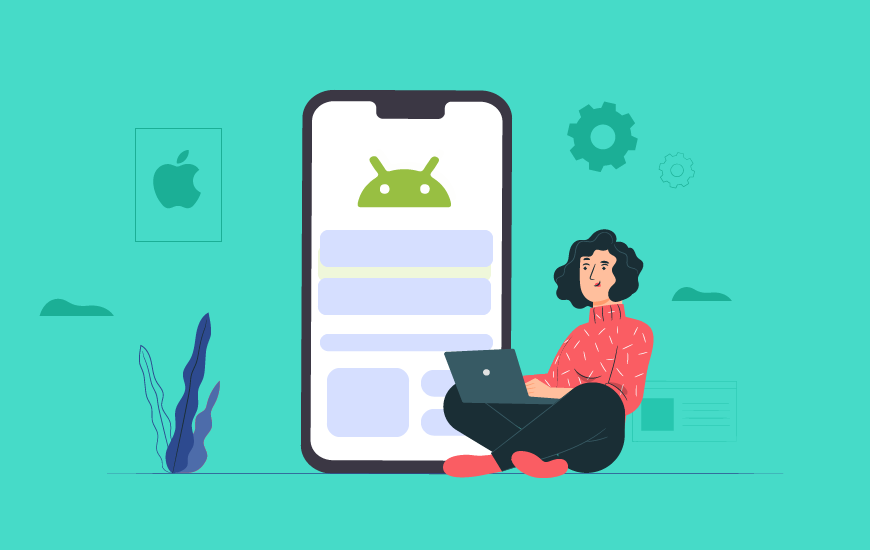 Android and iOS have always been arch rivals of each other, and are in a constant race to become the most preferred operating systems by a large share of smartphone users in the world. Having said that, Android is currently gaining over iOS in the global smartphone market by a decent margin and the reason behind it is a major point of debate.
Various factors may hint at the features to play a major role in it. Apart from having a larger user base when compared to iOS, Android even offers some dominant features that are relatively similar to Apple, that too at modest prices.
However, even though Android is dominating the smartphone market, it is not easy to market newly developed apps, especially when it comes to Android since there are millions of apps on the Google app store available for download.
As for Apple, the tech giant has always focused on being disparate and unique from its competitors. The majority of iPhone users today find it unattractive to use other OS devices. This is because of the features in iOS that are more usable than Android.
Now talking specifically of features, a large share of the Android app development companies have come up with features that are inspired or imitated from Apple. To understand how Android developers have taken inspiration, it is imperative to take in some examples of such Android features.
Top Android Features Inspired by Apple
Whether Android inspired iOS or vice-versa is a debate that will go on for ages. However, with recent reports showing how Android has imitated Apple for its features, it becomes all the more crucial to discuss the issue.
Below are the best features in Android that have been inspired by Apple's iOS:
1. Rapid Sharing Feature for Files
As per a report, Google is developing a new feature that will allow Android users to share their files at a much faster rate than before. It is estimated that rapid sharing will be inspired by Apple's AirDrop, one of the fastest file-sharing applications that are used on iPhones nowadays. The feature will allow Android users to combine the benefits of WiFi and Bluetooth to make file-sharing hassle-free.
However, this rapid sharing option developed by Google will be different. Unlike AirDrop, the feature will be used to share files using a Chromebook, iOS smartphone or any wearable Android device.
Image Source:- Androidauthority.com
2. Battery Saver a New Addition
Earlier, smartphone batteries were wobbly and used to run for a short span of time depending on the usage. But since the launch of the battery saver feature, the phone batteries can stay on for a longer duration.
The majority of Android app development services are highly inspired by this Apple feature. In an iPhone, this feature is known as the Low Power Mode that can keep your device working even when your battery runs critically low.
3. Face Recognition for Quick Unlock
The popularity of the Face Unlock feature today has risen tremendously over the years. Face recognition became an instant hit when it first got integrated into iPhones. The tech giant provided its users with Face IDs to unlock their phones and secure the information. Since then, multiple Android smartphone manufacturers have embraced the feature and have come up with Face Unlocks of their own.
Android users can now unlock their smartphones with the help of their faces or secure their applications and files with the help of a face lock. It is predicted that Android may come up with an advanced, faster and more adept version of Face Recognition in the future.
4. Native Augmented Reality (AR)
With time, Augmented Reality has become one of the crucial assets for the industries. There are thousands of AR-based apps on the app stores, for both Android and iOS platforms. When it comes to Google, its AR features are highly successful and popular amongst worldwide users.
Undoubtedly Google is harnessing AR successfully. On top of that, Google's new messaging application which is set for massive transformations will be more like Snapchat. It will be done to stay in the competition with Apple's iMessaging App which is highly famed amongst iOS users. Apple was the first company that realized the potential of AR in smartphone devices and embraced it.
5. From Night Mode to Do Not Disturb (DND)
Smartphones today have features like night mode which many of us are familiar with. But the Do Not Disturb option on Android devices has gained considerable imminence. Thanks to Apple, this feature is already considered by many Android smartphone manufacturing companies.
By clicking the DND option, users can block all the calls and messages coming from anywhere for a particular time duration. When it comes to Apple, the DND feature in iPhones allows users the similar options which Android users are getting, the only difference is, Apple invented it first.
Image Source:- online-tech-tips.com
6. Gesture Control for Ease of Use
Smartphone users around the world find gesture control features well adept as per their preferences. There are so many gesture controls available on Android smartphones today. This is another Android addition that is again inspired by Apple. The only contrast that a user would find is that Google is rather successful with this addition, largely because of the bigger screen sizes of Android smartphones that enhance the gesture control experience.
There are apps that can take photos just when the users blink their eyes or swipe their hands over the camera. These applications offer unique gesture controls to users. For example, TikTok has gesture control integrated into the app and it is working a treat.
Image Source:- Androidauthority.com
7. From Emojis to Animojis and Memojis
Apple is the first smartphone company in the world that made chatting on iPhones much more likable. It introduced realistic Emojis and soon after that, Android smartphone manufacturers came up with their version of emojis. But Apple didn't stop there. It came up with Animoji and Memoji which became thought of amusement for the users.
Since then, Apple's Emoji, Animoji, and Memoji have been a constant hit on social media channels. As for Android, Google is trying to improve its Emojis. Even the best Android application development companies are trying to integrate more interactive and newer Emojis in their apps.
Image Source:-blog.emojipedia.org
8. Performance Enhancement is the Key
Apple has an age-old policy of scrapping any update for old devices whenever the company launches a new product in the market. That allows the tech giant to keep up the standards when it comes to performance enhancement and constantly keeps improving. This policy by Apple relieves the burden of compromising on performance as it completely throws the older devices out of the picture. As for Google, the tech giant has now started following the same policy and is fighting the issue of platform fragmentation in this way.
The Closure
Now we know that iOS started many trends that are followed by mobile app development companies and smartphone manufacturers around the world. Multiple reasons depict how Android manufacturers today take the essence and develop something of their own around it, that is one of the biggest factors that has led to the rising popularity of Android phones.
Apart from some Apple-inspired features, the user base of Android today is also a sizable reason behind its success as only around 15% of the worldwide users today use iOS while 75% of users use Android.
It just goes to show that while features do play a herculean role, there are other factors as well like prices, user base, etc, that too play a major role. So if this article stimulates your thoughts and you wish to share your opinions with us, let us know in the comments section below or tell us about your favorite Android feature from the above list.
Written By
Cyber Infrastructure (P) Ltd
Cyber Infrastructure (P) Limited is an custom software development company provides services such as custom application development, mobile application development, creative web design, Microsoft solutions, SAP solutions, open source development, Java development, Oracle development, big data solutions, digital experience solutions, CAD/CAM architectural services, testing automation, infrastructure automation and cloud, digital marketing, ITeS, etc.
Follow
Want To Hire The Best Service Provider?
MobileAppDaily will help you explore the best service providers depending on your vision, budget, project requirements and industry. Get in touch and create a list of best-suited companies for your needs.