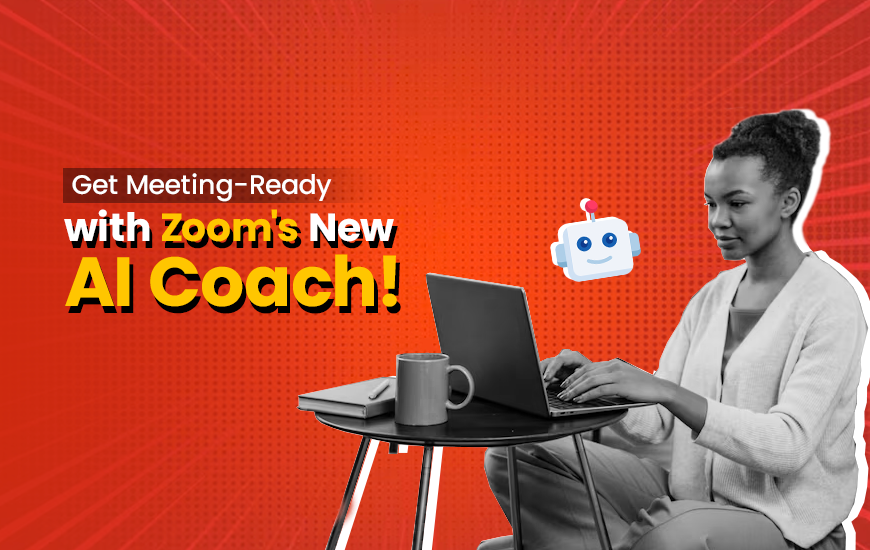 Zoom is one of the leading software the Corporate world uses to conduct the most boring aspects of work - Online meetings. Even the most critical meetings have some boredom attached to them. While teams across the globe connect, discuss, ideate, and present over Zoom, technological access does not help much in improving the productivity of the sessions. So, the new Artificial Intelligence-driven services that Zoom is building will address this very issue first-hand starting next spring.
Zoom's AI Companion
The new AI feature is not just a productivity tool but a proactive presentation improvement coach designed to give real-time feedback and analysis to improve the skills you need to conduct better meetings. The additional AI feature will be free for all paid users of the existing Zoom plans.
The current trial version, which started in June, accumulated a team chat thread into a brief summary of the entire session. The full launch of the AI tool will have much more, including a detailed critique of how the participants did in the meeting.
"Planned for spring 2024, users will also have the ability to receive real-time feedback on their presence in meetings, as well as coaching on their conversational and presentation skills," the company said.
The Smarter Meeting Capabilities
After the meeting ends, the AI tool will suggest ways to be more concise, pay closer attention to details, and polish communication to meet the optimal standards of an online meeting. Apart from these unsolicited skill improvement insights, Zoom will help you capture the most of a meeting.
In case you are running late, it will concisely summarize what happened until you joined and share it with you over chat so that you don't ask the host, "What did I miss till now?" It will also take notes of things whenever prompted and convert the entire meeting session into smart chapters for you to read later. You can generate these summaries and send them to all the relevant team members in a single click.
The Risk Factor
While these features will help make meetings smarter and the participants more productive, they may pose some risk of errors. It has a high chance of facing AI hallucinations and recording inaccurate readings, misunderstanding the intent, or even worse, incorrectly summarizing the meeting, which could hurt productivity instead of optimizing it. Another risk it may bring is to promote laziness in employees who don't show interest in online or offline meetings. But Zoom is quite confident about its product and the results it has already started putting out during the test phase.
"We are transcending the hype in generative AI by delivering tangible products," said Smita Hashim, chief product officer at Zoom, in a statement. "We firmly believe that offering Zoom AI Companion at no additional cost to our paid Zoom user accounts delivers tremendous value as we all navigate the challenges facing us today."
The full-package Artificial Intelligence tool has a tentative release in spring 2024. Considering the fall of Zoom's stock price from $559 during the lockdown period to $75 per share, including AI may attract investor interest and lead to further growth in the company's future.
Written By
Manish
Content Strategist
With a mixture of literature, cinema, and photography, Manish is mostly traveling. When he is not, he is probably writing another tech news for you!
Follow
Think Your Professional Journey
Deserves A Spot In Our
40 Under 40

Report?