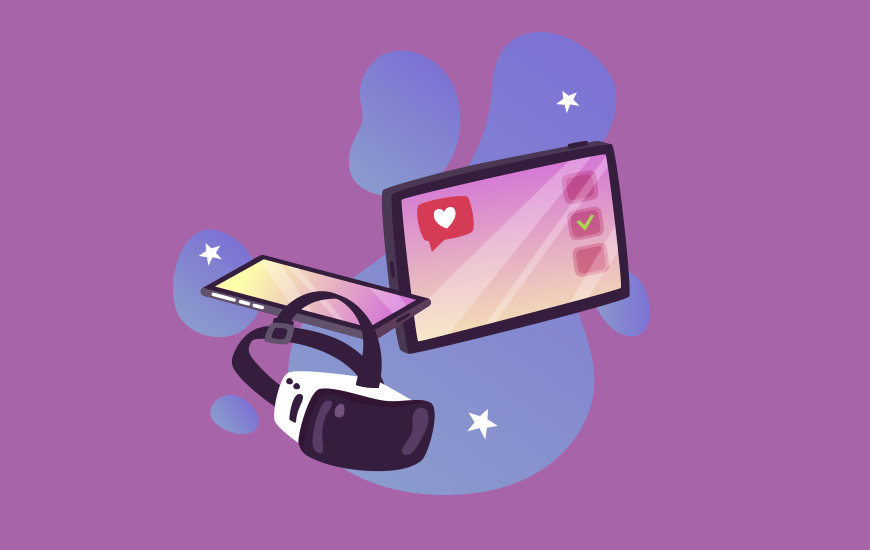 In times gone by, procrastination due to watching videos was restricted purely to the desktop for most of us, then to the laptop, and finally to the phone. The next step in entertainment was introduced in the form of AR and VR mask apps.
Thanks to the advancement in technology, people can experience virtual reality at an affordable cost, which gives room for a fresh new market for the 3D virtual reality headset apps. There is an unprecedented push in the development of VR mobile apps.
The significance of VR can be well gauged by the fact that the US Navy and Army have employed VR technology in the form of parachute training simulators for their soldiers.
MobileAppDaily has compiled a rundown of the best virtual reality viewer apps that have the capability to transform the way we consume entertainment.
Best Virtual Reality Apps for Android and iOS
Here are the top virtual reality apps that are reviewed by our app experts on the basis of their popularity, downloads, and user reviews.
1. YouTube VR
YouTube is the most favored spot to catch up with the trending and new videos, YouTube VR app is no different. The app is free to access and the user can experience endless hours of VR supported content from 3D 360 videos to standard rectangular videos.
Like the regular app, YouTube VR comes with options like subscriptions, playlists, watch history, and more. Also, the user can switch between voice and keyboard controls for better ease in browsing.
Notable features of the YouTube VR app:
Supports full 360-degree videos;
Spatial audio, for a rich experience;
Supports video and browsing at the same time;
Sheer responsive controls and more.
Download for Android
2.  Fulldive VR
Fulldive is a robust VR app that promises the best virtual reality experience and offers a rich user-generated VR content. With its various social channels, users can follow their friends' videos and even comment on them. Fulldive VR app enables watching 3D and 360 photos and videos on the go.
In the upcoming updates, the app developing team plans to come up with new features like a VR video player (2D/3D player), a VR browser, a VR camera, mixed reality apps, and a VR store for new apps.
Notable features of the Fulldive VR app:
Streams all YouTube videos in VR;
Streams 3D YouTube videos in VR;
Store and access the pictures and videos in VR;
Option to browse the internet in VR and more
3. Daydream
Daydream is another popular VR app that brings high-quality VR videos to Daydream-ready phones. The VR entertainment app also allows launching the favorite virtual reality experiences and browsing fantastic apps and games.
With its great visuals and mesmerizing graphics, the Daydream app takes the user on a virtual tour of the imagination. To make the app exciting, it is set with featured content in the front and center, so that the user always get something new to watch.
Notable features of the Daydream app:
Easy headset and controller setup;
Browsing and installing apps on-the-go;
A wide collection of VR apps and games;
Comes with health and safety information and more.
Download for Android
4. Titans of Space
Space Odyssey is always interesting, whether they're through planets or zooming past the solar system. Titans of Space is a stunning VR app that guides the user on an educational tour of the space.
This app can be quite helpful for school kids to learn, share, and get the most recent information on outer space and its hidden mysteries. Due to its feature-rich games and puzzles, the app is considered as one of the best VR apps for the phone.
Notable features of Titans of Space app:
The soundtrack matches the background tour;
A multitude of options for pace and depth;
Supports NFC;
Multiple languages translation and more.
Download for Android
5. GoPro VR
GoPro has carved its name in the video camera domain and is still going strong. To complement its splendid camera captures and video editing software, there is a dedicated GoPro app that sends the latest footage to the device to transform it into a QuikStory.
The VR entertainment app can also be used to manage the controls of the GoPro camera. With its HERO7 Black camera, the user can even stream through Facebook Profiles, YouTube, or other compatible video platforms that support an RTMP URL.
Notable features of the GoPro VR app:
Live streaming option;
Video editing options;
Integration of social media platforms;
Unlimited cloud backup and more.
6. Netflix VR
Netflix is a popular online video streaming service that has come a long way, and we now have its VR app. The Netflix VR app allows us to experience the favorite series, movies, and documentaries on Daydream-supported Android devices.
The one thing that sets this VR app apart from others is that the more videos are played, the better Netflix gets at recommending shows. So, the app gets more customized to the user's needs.
Notable features of Netflix VR app:
Original series of top shows;
Gear VR Trackpad;
Floating screen for better ease;
Dedicated sections for different categories and more.
Download for Android
7. InCell VR
Watching videos on a VR headset is common nowadays, but having an action/racing game is unusual. Thanks to the InCell VR app, we now have the luxury of playing intelligent and exciting games that require a combination of strategy and science to solve the mysteries of human cells.
This VR app sets an ideal platform to kickstart a new journey with Cardboard VR or receive new VR impressions. Its games are not limited to virtual reality only; the user can continue without the headset too.
Notable features of the InCell VR app:
Involves strategies to solve science mysteries;
New VR impressions;
Cardboard's trigger for easy accessibility;
Compatible with View-Master, Fibrum, and more.
8. Discovery VR
VR apps can be an excellent option to learn new things. Discovery is known to blend curiosity and the same goes with its virtual reality app, which turns videos into amazing stories. With the Discovery VR app, there can be an exploration of new places, characters, and ideas.
This VR app hosts some of the best shows like Shark Week, MythBusters, and Deadliest Catch. Other heart-pounding adventures videos include incredible thrilling videos. To keep the VR entertainment app updated, its makers keep adding new content to it. 
Notable features of the Discovery VR app:
'Continue Watching' option available;
Allows saving 360 videos to the playlist;
Support continuous streaming;
User interaction with VR Cardboard apps and more.
9. WITHIN - VR
This VR app works well with Google Cardboard. Interestingly, it comes packed with gripping tales set in the world of a vivid imagination to some of the best-known documentaries.
After downloading the app, the user has to download individual videos to experience the VR with this app. The best thing about this app is that it can also work without a viewer with the 'magic window' option that transforms the video into a 360 degree VR experience.
Notable features of the WITHIN VR app:
Works with Google Cardboard and Google Cardboard;
History of the hit show's main character;
360° VR support for all the videos;
Supports multiple partners like Apple, NYT, NBC, and more.
10. Orbulus
Orbulus is the last app on our list of best VR applications. The app is particularly optimized for Google Cardboard, but it fits well with DODOcase Smartphone VR Viewer, the Stooksy VR, and the Durovis Dive. The user needs to have a Smartphone VR Viewer to experience it.
The VR viewer app offers some fantastic pieces of photography from around the world. Much like other awesome VR apps, it has some of the best locations to experience like Mars, New Year's Fireworks on Hong Kong Harbour, visiting the Salt Flats, and more.
Notable features of Orbulus app:
Simplifies VR interface;
Supports Google Cardboard;
Photo Sphere for ease of accessibility;
Supports DODOcase Smartphone VR Viewer.
Our Take on Best VR Apps
Among so many amazing VR apps, here is our take on the best free VR apps for various platforms:
Best virtual reality apps for iOS
GoPro VR
YouTube VR
Discovery VR
Best virtual reality apps for Android
Daydream
Titans of Space
Netflix VR
What Does Future Have in Store for VR Apps?
VR has instilled its name in the tech industry and in the coming days, we expect to experience more such exemplary VR applications. Due to this increase in demand, the top Virtual Reality development companies can translate existing technology and create products for unique platforms.. 
The drift in the VR apps has multiplied due to the splendid, immersive, and unique gaming experience that comes along with it and can't be attained via any other medium. To compliment smartphones and the entertainment industry, we need more such apps, which can break the shackles of conventional apps.
Written By
He is an experienced wunderkind, who embraced technology at a very early age, and today he is at the helm of it. Mobile apps are something that excites him the most, and now he is up to give this vertical the best shot. He routinely catches up with the new apps and comes up with the top apps that can excite you to the core.
Follow