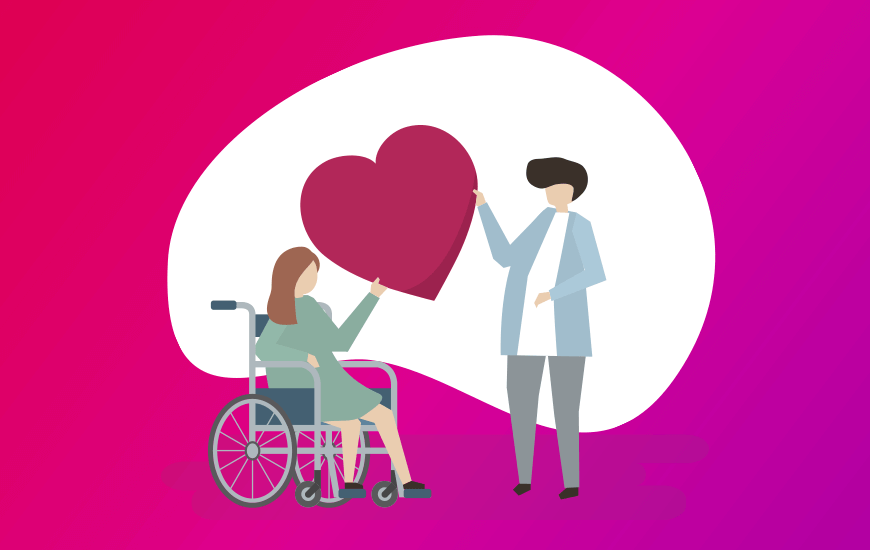 It's a blunt fact that people with disabilities find it harder to find a mate. Sadly, many people don't even know about the dating apps for disables itself, forget about finding a match through an app.
First, the search for a companion for such people involves invasion into a very personal, intimate sphere. Between two people with disabilities, there are a lot of barriers. To establish a good relationship, there must be a lot of different nuances.
The main of these nuances is the willingness to let someone in your life. It is indeed a very delicate moment, which requires a developed sense of tact from partners. Not so long ago, there was another problem - the distance and a small chance to meet a person who truly understands you and can understand your situation. However, the Internet brought revolution to our lives. This revolution has affected absolutely everyone - including people with disabilities.
Modern applications and dating websites have changed the rules of the game. Now, absolutely anyone can find a soul mate in whatever situation they are. In this article, we will look at the most popular sites and dating apps for disabled people which are tasked to give disabled people a chance to enter into a romantic relationship. We will show you how you should act to reach your goal act and how to become braver.
General Dating Advice for Disabled People
1. Choose a convenient location
People who travel around the city in a wheelchair are well aware that traveling from point A to point B can turn into a whole adventure. Yes, modern cities are becoming increasingly convenient for people with disabilities, but the situation is still far from ideal.
Therefore, we recommend that you pay particular attention to the choice of location. Find a place where you and your partner will be as comfortable as possible. It will save you from the need to constantly distract from the most important thing - the process of getting to know each other and getting pleasure from communication.
2. Be honest about your disability from the very beginning
It means starting from your profile. This step will prevent you and other people from plenty of uncomfortable situations and shattered expectations. Mixed matches are not what you need - not everyone is ready to build a relationship with disabled people, as same as disabled people most often are looking for a real soul mate who can truly understand their situation, and who won't distract from communication.
Modern matchmaking algorithms are good enough to make your match lists the way you want them to be. So, rely on modern technologies at this point, and don't be afraid. By the way, your honesty will help you avoid anxiety because of fear to be revealed - it will positively affect your future relationship.
3. Your disability isn't the dominant aspect
You should not focus on this issue - you came on a date, so behave accordingly. It also applies to your partner. Talk about each other: about your hobbies, interests, life. If your new friend pays too much attention to your disability, move the conversation to a different direction. First of all, you are just people. Proceed from this statement.
Best Dating Apps and Websites for People with Disabilities
1. Glimmer
Glimmer looks like another dating app for iOS and Android. But it has an extraordinary mission - to make the dating industry more inclusive. Hence, it has some special and unique feature - a possibility to choose a disability from a list. It helps people feel more liberated and avoid anxiety because of fear of rejection.
2. Inclov
Creators of Inclov realized that things with disabled people and dating are not on the best stage right now. So, they designed an exceptional dating app for disabled people- the app help disabled people from India to find love and a life partner according to their expectations and desires. Inclov genuinely stands for inclusive love.
3. Dating4Disabled
Dating4Disabled is free. It allows users from all over the world (an American man looking for a Russian wife is a common situation here) to find other people with disabilities and build relationships. Dating4Disabled has improved matchmaking system - just try it.
The Wrapup
The apps mentioned over here are incredible and offers you an unprecedented scope of getting a match on the go. So, if you are the one, who is looking out for a partner, go out with these apps and feel the difference.
For any other concern related to dating apps and more, feel free to comment below and get in touch with us. Merry Dating.
Note
Finding the right match can be a challenge. But it won't be if you have the right app at your disposal. MobileAppDaily has compiled a list of such user-friendly and algorithmic apps to help people find their suitable partner. If you want to get your app featured, reach out to us for top-notch
mobile app marketing services
!
Written By
He is an experienced wunderkind, who embraced technology at a very early age, and today he is at the helm of it. Mobile apps are something that excites him the most, and now he is up to give this vertical the best shot. He routinely catches up with the new apps and comes up with the top apps that can excite you to the core.
Follow