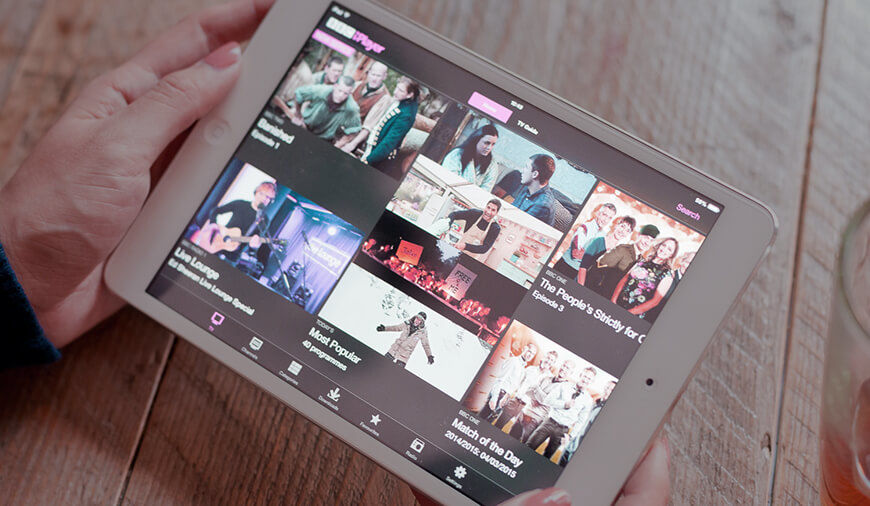 Everyone likes binge-watching and one can always use an hour to stream their favorite TV show on their Android or iOS device while commuting in the subway.
However, free tv streaming apps often receive negative reviews by users for its in-app adverts and low video quality, so, one can always shell out a few dollars to get a more refined experience. Nevertheless, the apps are the best thing one can find for free. Else, sites like 'The Pirate Bay' is always at your disposal.
Here's a list of 10 best free tv streaming apps 
With more than 100 million subscribers, Netflix is definitely the king of online streaming apps. Despite its popularity, the free tv streaming app for Android and iOS devices gives you a FREE 30-day trial to decide whether you want to continue or not.
Netflix will begin to bill your payment method for the Netflix membership fee at the end of the free month unless you cancel before the end of the first month. But considering the entertainment flow it offers, most of the viewers are instantly hooked.
Hulu not only offers a personalized and intuitive User Interface but an extensive streaming library. From popular shows like Seinfeld, Fargo, South Park and Fear the Walking Dead to kid's series. The free tv streaming app for Android devices even features its own bold Hulu Originals such as The Handmaid's Tale, Harlots, The Mindy Project, and other shows that you can't stream anywhere else.
Even kids can enjoy this free tv app for iOS devices as it features educational and animation channels like FOX, NBC, Disney Channel, ABC, Cartoon Network, FX, and A&E. Although the creators shifted to a subscription-only model in 2016, users can still access most of its previously free content on a new platform called Yahoo View.
Once you get past the tricky setup, Plex will bag your loyalty instantly. The free tv streaming app for Android and iOS devices is an excellent choice for anyone who's missing out on their favorite service, just because it isn't compatible with the existing device.
Plex is not only available for all mobile devices running on iOS to Windows 8 but also supports a plethora of set-top boxes including Android TV platform, most smart TVs, the new Apple TV, Amazon Fire TV, Chromecast, Ouya, Roku, Xbox 360, Xbox One, PlayStation 3 and PlayStation 4.
4. IntoNow
This free tv streaming app from Yahoo is a perfect TV companion for anyone who's a fan of discovering new information. The app does for TV what Shazam app does for audio. You can access any information about a film/TV show while you're watching it on any other device around you. This app also offers the option of social media sharing that lets you engage in social media interactions through Facebook, Twitter, Gmail, and even the address book, while you're comfortably binge-watching on your comfy couch.
Another great add-on feature offered by IntoNow is Capit, which shows you still images of the film/ TV show as soon as select the option. Although you can unlock plenty of super cool features with a premium subscription, the free subscription also offers a satisfactory experience.
5.ThopTV
Next in the list is ThopTV is a well-known entertainment application, which assists users in watching more than 3000 international as well as Indian TV channels, movies, TV serials, and even VODs from all across the globe. This app is also available for various platforms including Windows, Linux, and MAC OS. Here, users can easily get ThopTV for their existing device from the official site. Some of the key features of this application are user-friendly Ul (User Interface), chat support and free of cost. 
Unlike most free tv streaming app for Android and iOS devices, Internet Archive lacks that basic categorization of its movie/ TV shows that most apps offer. Primarily because streaming films isn't its primary purpose, but once you get the hang of using it, there's a lot to explore. The Movies available at Internet Archive are categorized in sub-collections such as Comedy, Sci-Fi, Computers & Technology, Sports Videos, Vlogs, Horror, Drama, Documentary and Animated movies.
The only trick is that you have to type the exact movie/ TV show title and (sometimes) even description to find the file you're looking for. The best part of all, it's 100% legal to not only stream these movies but also download them, so you know which app to download before you hit the next movie marathon.
Get free access to all your favorite movies, TV shows, and exclusive Crackle Originals, all in one place with this free tv streaming app for Android and iOS devices. Crackle offers an intuitive and efficient UI that lets you search for any old or new movie from genres such as comedy, drama, action, fandom, and forgotten favorites. Its 'What's On Now' feature helps you discover new movies recommended by Crackle's team from Sony Pictures Studio in Hollywood.
Besides offering free access to movies and TV shows in various genres, Viewster also gives access to biography pages of actors and celebrity news. There's a lot of genres to choose from including Anime, Sci-Fi, Action, Martial Arts, Horror, Comedy, Drama, Korean Drama, Documentary, Animation, Classics, Crime & Gangster, Festival Darlings, Music & Musicals, Romance, Thrillers, LGBT, War, and Western. The free tv streaming app for Android and iOS devices even breaks language barriers by offering its films in more than three languages.
The free tv app not only lets you watch thousands of films and TV shows for free but also enables you to share them with your friends over social media. The free tv streaming app for Android and iOS devices also categorizes these movies into collections which makes it easier for users to view similar movies even if they're not in the same genre. Unlike many free movie streamings apps, not only does SnagFilms show minimal advertisements but also high-quality movies (720p or 1080p).
If you're looking for a free tv streaming app for Android and iOS devices that lets you watch more than 700 films and TV shows instantly without any subscription or fees, Popcornflix™ is the ultimate free TV app for you. Just grab some popcorn and choose from a wide range of genres to choose from, including Comedy, Romance, Family/Kids, Drama, Urban, Action/Thrillers, Horror, Espanol, Documentaries, Bollywood and many more.
During my hunt for the free tv streaming app for Android and iOS devices, Tubi TV caught my particular attention. Not only because it offers a wide range of free movies and TV shows but also features a special category called "Not on Netflix." Other 34 categories provided on the app are just as innovative and fun which gives movie browsing an exciting approach.
The free TV app does come with the drawback of in-video advertisements, the app's free pricing model, and innovative UI make it a downloadable movie streaming app.
Written By
He is an experienced wunderkind, who embraced technology at a very early age, and today he is at the helm of it. Mobile apps are something that excites him the most, and now he is up to give this vertical the best shot. He routinely catches up with the new apps and comes up with the top apps that can excite you to the core.
Follow