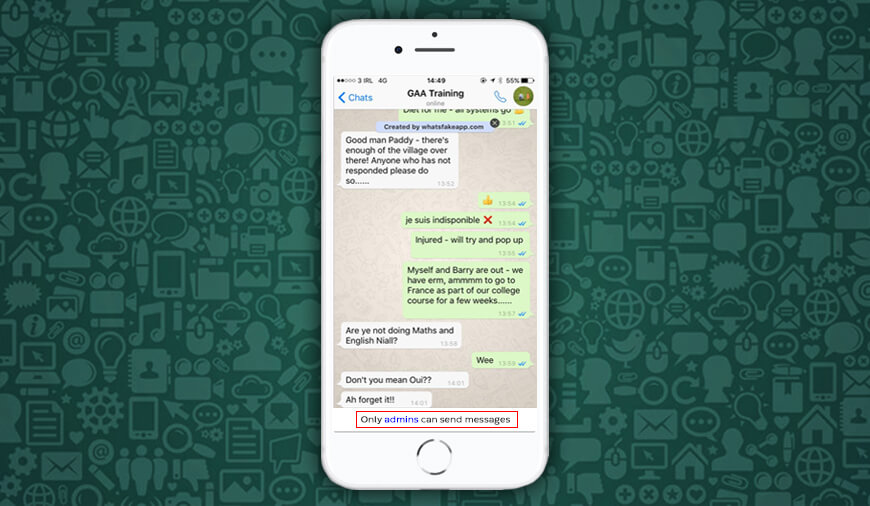 Sometimes WhatsApp group chat can be irritating and annoying. Though the constant buzz can be handled by muting the group notification, still, you will see the number of messages in the muted group.
To counter the flux of never-ending message in the group chat, WhatsApp has come up with a feature that will restrict the sending of messages to just administrators. It will make the users send the message to the group admin first, and if approved, the message will be shared with the rest of the users.
Read: WhatsApp Soon Allow You To Delete Or Unsend The Sent Messages
To enrich the user experience after being in a group, the cross-platform messaging and Voice over IP service brought out features like group descriptions, a catch up feature, and protection for people who are being repeatedly added to groups they've left.
WhatsApp conveyed in a blog post, "Today, we're launching a new group setting where only admins are able to send messages to a group. One way people use groups is to receive important announcements and information, including parents and teachers at schools, community centers, and non-profit organizations. We've introduced this new setting so admins can have better tools for these use cases."
How To Enable New Group Chat Setting For Admins:
This setting is available for all users around the world on the latest supported versions of the app. WhatsApp has rolled out the feature for the users who have upgraded to the newest version of the messaging app.
Read: 5 Secret WhatsApp Feature You Probably Didn't Know About
The Facebook-owned company is fiercely focusing upon offering urbane experience to its users. Earlier, WhatsApp tossed up a Chat filter exclusive for the business app. The feature enabled the user to search for anything by applying filters to the chat history.
Another notable addition was Restricted Group feature. This feature extends the leverage to the group admin to send a message to a group, and other members can only read the messages and cannot reply to the same.
Written By
Manish
Content Strategist
With a mixture of literature, cinema, and photography, Manish is mostly traveling. When he is not, he is probably writing another tech news for you!
Follow
Think Your Professional Journey
Deserves A Spot In Our
40 Under 40

Report?