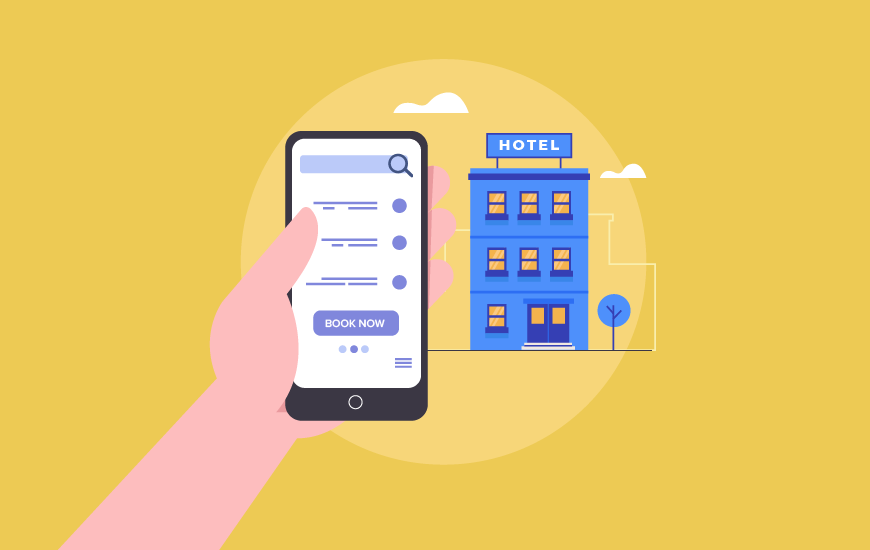 These days, travelers expect the hotel to be mobile-friendly. Therefore, it's crucial that hotels must embrace the guest with the user-friendly mobile environment.
However, the most important question that most of the hotel owners struggle with is whether or not a well-developed app is essential for them to stand out from their rivals. To make it easier for such hotel owners, we have come up with a list of the pros and cons of a hotel app.
First, we will talk about the Pros of having a hotel app.
Pros of Creating an App For a Hotel
1. Offer the Ease of One-Touch Booking
A hotel app can save important information of the customers like payment details, and with such stored information, guests only need to go for a few clicks to book the room. Ease of booking is indispensable in offering a pleasant user experience.
2. Effectively Consolidate Guest Details
A hotel app can track in-house behavior of the guests and their booking habits. For instance, the app can track the interests of the customer by tracking the activities like spa appointment, dining reservations, and timing of room services. This way, the hotel can anticipate the needs of the guests for their future stay.
3. Hotel Apps Create Loyalty
A hotel app becomes effective when it's integrated with the guest loyalty program. Guests will be able to collect points for their stays and direct bookings, which can be eventually converted into rewards.
4. Enables Better Communication
The app can help the hotel staff to quickly respond to guests' requests and offer them real-time updates. Besides, even the guest can perform many time-consuming tasks with ease like requesting room service, early check-ins, and request their car from valet.
Cons of Creating an App For a Hotel
1. More Preference is Given to Mobile Sites
A well-designed hotel website is as essential as a hotel app. The audience for the mobile web browser is vast, and it makes the site a necessity and hotel app an option. It can help in saving hefty fees linked with app creation, as well as its maintenance.
2. Highly Complex and Costly
If you are looking forward to creating a truly worthwhile app, then you should not forget that it requires a hefty investment in development. In addition to this, there can be difficulty in syncing the app with mobile check-ins and concierge functions.
3. Not flexible to Different Devices and Technology Updates
You need to create different versions of the app for iOS and Android devices, whereas one hotel website is compatible across all devices. Every year new devices are launched with new operating systems, which need constant upgrades. Sometimes compatibility issues also crop in and these things create an unnecessary nuisance and a lot of investment over time.
By having a look at these above-mentioned pros and cons, you can make a good decision before opting for a hotel app.
Written By
Aparna is a growth specialist with handsful knowledge in business development. She values marketing as key a driver for sales, keeping up with the latest in the Mobile App industry. Her getting things done attitude makes her a magnet for the trickiest of tasks. In free times, which are few and far between, you can catch up with her at a game of Fussball.
Follow
Want To Hire The Best Service Provider?
MobileAppDaily will help you explore the best service providers depending on your vision, budget, project requirements and industry. Get in touch and create a list of best-suited companies for your needs.