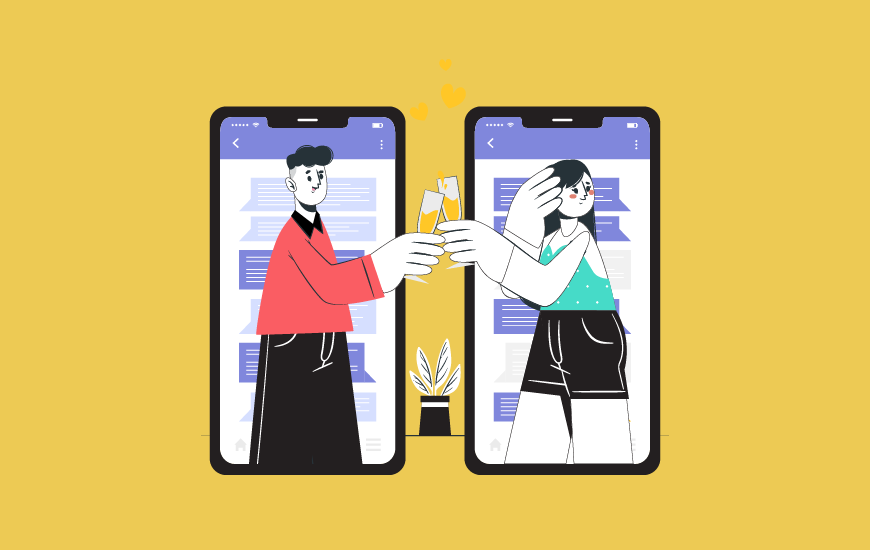 Omegle is one of the best online chat platforms for users to connect with random strangers from across the globe. Since its inception, this platform has gained huge popularity because it allows free texts and video calls between users while being anonymous.
However, the site is poorly moderated as there are lots of bots and spammers. Over the years, Omegle has seen numerous recordings of strangers hacking other users' accounts, spewing hate speech, and more.
This has prompted people to look for answers to 'How to get unbanned from Omegle' or an alternative to Omegle. Fortunately, there are several chatting apps like Omegle that offer a variety of interesting features and a safe platform for everyone. Most of these platforms are free; all you need is your device's browser, a camera, and an internet connection.
In this blog, we have decided to list down some of the best alternatives to Omegle. These video chatting sites have been shortlisted on the basis of their popularity, user ratings, and features. With each app, you will also find website links that will land you directly on the page of these popular online chat platforms.
Best Omegle Alternatives to Download in 2023
If you are looking for answers to questions - Is there something better than Omegle or what can I use instead of Omegle, you have arrived at the right place. In this section, we have listed the top Omegle alternatives along with their prominent features. You can go through their descriptions and choose the one you prefer the most. So, without further ado, let's get started!
1. Chatrandom
Chatrandom is one of the best Omegle alternatives that lets you connect with others by just selecting the gender and clicking the Start button. To get a better match, you can share your interest and specify a country.
The best Omegle alternative 2023 is quite easy to use and offers a premium subscription that gives you features like adding an intro message, a verified badge to stand out from the crowd, hiding location, and more. You can also explore fun masks to make your video chats more interesting.
Key features of Chatrandom
A lot of options for finding a match
Explore fun masks
Intuitive interface
Get face filters to break the ice
No sign-up required
Available on Web
2. Chatroulette
Chatroulette is another best Omegle alternative in the market today. The platform allows you to video chat with other random users. Chatroulette is pretty easy to use because you don't have to sign up to talk to people.
The site has a currency system that provides 30 coins to start with, and you'll get 30 more with every minute you spend chatting. Besides, you will earn eight coins if someone chooses you and lose five coins every time you search for another user.
Key features of Chatroulette
Get a quick recap of the currency system
No sign-up required
Image recognition to block indecent content
Simple and attractive UI
Leave the chat whenever you want
Get customer support
Available on Web
3. TinyChat
TinyChat is an Omegle alternative that allows chatting with random strangers via text, call, or video. It does not feature a one-to-one chat format like Omegle but has pre-made groups that you can join based on your interests. You can also start chatting immediately once on the platform as registration is optional.
But you may be required to sign up to access a few chat rooms. You can also share your chat room on Facebook to engage more users. This best Omegle alternative 2023
also offers paid plans that provide additional features like high-quality videos, removing ads and pop-ups, and accessing multiple rooms simultaneously. You also get to color your username green to make it stand out.
Key features of TinyChat
Get chatrooms to connect with multiple users
Free to use, but can opt for paid plans
Features a virtual store
Registration is optional
Supports text, audio, and video chats
Available on Web
4. Y99
This live chat free service is completely free to use and does not require you to create an account before getting started. However, you're required to set up a nickname. Y99 is focused on chat rooms that can either be group rooms or individual one-on-one rooms.
Moreover, you can also play games with your chatmate on this video chat like Omegle. Y99 also has a feature that allows users to watch YouTube videos with added friends and a group video call option.
Also, if you find yourself getting bored with chats, you can quickly pop into Meme chat rooms for some fun.
Key features of Y99
No registration required
Get access to Meme Hub
Watch YouTube videos with friends
Get group video call option
Send emojis, pictures, and more
Available on Web
5. Emerald Chat
EmeraldChat is an online meet website focusing on community guidelines to make it a safe platform for everyone. Although you are not required to signup, the site may send you popups for unlocking more features, such as gender filtering and karma rating.
This one of the best chatting apps with strangers also features many communication modes such as one on one chats, one on one video calls, and group chats. You can choose the free plan or subscribe to the paid plan, depending on how much you want to explore the site.
Key features of EmeraldChat
No sign-up is required
Participate in group text chats
Strict guidelines to make the platform safe
Start chatting instantly
Intuitive pairing system
Available on Web
6. Shagle
Shagle is a random video chat platform where you can send and receive images, audio files, and video chat with other people. You can select a chat room you like and start interacting with people having the same interests.
This one of the best Omegle alternative apps also has a special built-in feature that allows you to delete offensive content. You can apply filters to select a gender to chat with and send virtual gifts to people you like during chatting sessions.
Key features of Shagle
Start video chatting instantly
Connect to random people in over 70 countries
Send virtual gifts to people you are chatting with
Not required to provide any personal information
Available on Web
7. Chathub
ChatHub is an easy-to-use website for anonymous text or video chats with random people. Just click on the Start Video Chat button to use the service, which means no registration is required. ChatHub has two types of chat rooms - the main room for random discussions and the adult room for flirting.
You can also be matched with a gender of your choice, but this feature requires you to opt for a Plus subscription for $14.99/month.
Key features of ChatHub
No sign-up is needed
Watch videos and type text at the same time
Avoid matching with the same partners over and over
Match with the gender of your choice
Available on Web
8. Camsurf
Camsurf is another ideal website to video chat with strangers. This is one of the fastest-growing platforms with more than 40,000 users and provides filters to choose criteria such as gender, country, and more. Setting up an account is easy, and you can directly plunge into chatting. You can also filter chatters by country using this one of the best Omegle alternative apps.
Camsurf offers a paid tier ($19.99 per month) that unlocks a gender filter and private chat and reconnecting options. It also allows you to link your Instagram account to the service to get more followers.
Key features of Camsurf
No sign-ups are required
Simple and intuitive interface
Has a mobile app for Android, iOS
Link your Instagram account
The best website to video chat with strangers
Available on Web
9. Bazoocam
Bazoocam offers its users to play multiplayer games such as Tic Tac Toe and Tetris in addition to meeting new people. This video chatting website also allows users to match nearby strangers using their geolocation by checking a box before entering the chat room.
Furthermore, the website lets you skip to other conversations with a random stranger instantly with just a press of the 'Next' button until you find the perfect match.
Key features of Bazoocom
Play multiplayer games
Match with nearby strangers
Talk to strangers via video call
Moderated by more than 40 people at a given time
It is one of the best apps similar to Omegle
Available on Web
10. MeetMe
If you are interested in making new friends, then MeetMe is the go-to platform for you. But before starting chatting, you are required to sign up for the service, whether it will ask you the name and ZIP code for pairing you with a person nearby.
Alternatively, a sign-up can also be done by connecting a Facebook account to make the process a bit easier. MeetMe also comes in the form of a smartphone app for Android and iPhones.
Key features of MeetMe
Has a large concurrent base
Modern and intuitive user interface
Can sign-up using your Facebook account
It is one of the popular apps similar to Omegle
Available on Web
Wrapping Up
Well, these were all of the best Omegle alternatives that we wanted to recommend to you. If any of these websites caught your eye, you should use them without thinking twice, as all of the above-listed video chatting platforms are shortlisted after thorough reviews to offer you only the best possible experience.
Now, if you own any platform like Omegle or working on building one, you can get your product reviewed by our tech experts. It will help your platform from a marketing perspective, and you will be able to know the real potential of your product as well.
Written By
Arpit
Business Development Head
He is responsible for marketing programs, brand management, and corporate sponsorships. He thrives on challenges, particularly those that expand the company's reach. Next to work, Shadow, his dog, immensely contributes to his happiness.
Follow
Want To Hire The Best Service Provider?
MobileAppDaily will help you explore the best service providers depending on your vision, budget, project requirements and industry. Get in touch and create a list of best-suited companies for your needs.